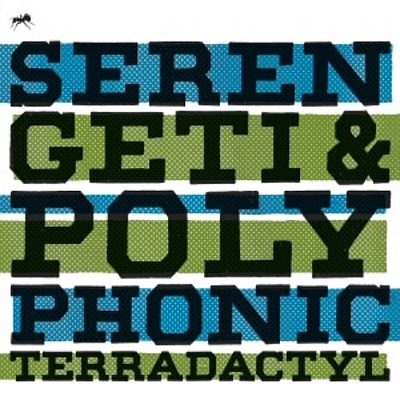 From what I'd read about
Terradactyl
,* the second album from
Serengeti and Polyphonic
, I imagined it was going to be totally off the wall, like rap beamed down from another planet. This Chicago duo are currently on tour supporting psychedelic five-piece Black Moth Super Rainbow and I've seen their second album described as a 'headfuck' and 'peerless,' like a hip-hop Kid A. Get in. Fantastic Damage times 1000, I thought.Well, if that's what you're expecting, I'd advise you—to a large extent—not to believe the hype. It's an interesting listen but
Terradactyl
doesn't stand alone. Rather, it appears to bear the mark of some smart influences, including cLOUDDEAD, Cannibal Ox's
The Cold Vein
, Madvillain and Flying Lotus, resulting in a collection of stories shot through with social commentary and stream of consciousness rapping over twitchy electronic beats. In fact, with added acoustic instruments, sung duets and Serengeti's laconic lyrical delivery it often doesn't sound like a rap album at all. Bloody hell, you're probably thinking. Where's the fun in that? Why don't they just get back on their Grizzies?Well, I'd be inclined to agree, if doing so didn't ignore
Terradactyl's
strengths. The production is excellent, at its best when unpredictably dropping instruments such as mandolin and accordion into the mix. On 'My Negativity' the string writing is cut through with fizzing effects, and on 'Down Under the Bridge' a vocal duet, harp and glitchy, stuttering sounds combine to create a glorious whole. It's one of the album's best moments.Like
Buck 65
's
Talking Honky Blues
, most of the tracks are told from the perspective of characters marginalised by society; pill-poppers, the homeless and the miserable poor "trapped by healthcare." On paper, some of these sound dangerously mawkish, such as the couple who sleep under bridges but find life "not so terrible" when they're together. However, on record it's a different story. 'Playing in Subway Stations' comes across as really rather moving, as does the album's stellar closer 'Calliope'. Here, an unhinged and presumably young male looks back with regret at not having enlisted. It's bleak and sad, like much of
Terradactyl
.For my money, it's this mood that holds the album back from being outstanding; it's all a bit caught up in itself. There's nothing here to match the witty wordplay of Doom or Aesop Rock, or the sheer fun of say, Edan's Beauty and the Beat. In fact, it's exactly what I expected from an Anticon release that features guest spots from Doseone and Buck 65—intriguing and thoughtful, if not necessarily something I'd want to boom in my jeep. Still, given that 2009 has been a pretty barren year for hip-hop (again), you could do a lot worse than give this a spin.
70%
Serengeti and Polyphonic on Myspace
*
Oh and in case you're wondering whether that funny name is a misspelling or an Americanism I think it's neither. The urban dictionary suggests it's slang, for a gang bang, and a scenario in which a woman—and I quote—takes in "a lot of cocks." Dearie me. It would apparently, in that situation, be appropriate to say that the lady in question "did the terradactyl." I bet you're glad I told you that.