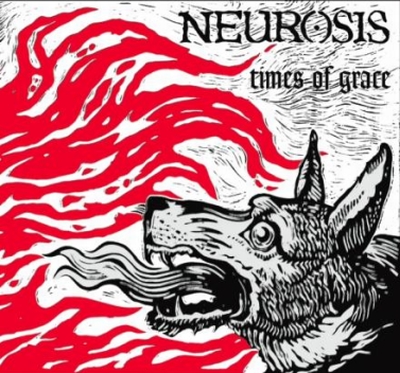 With a few other re-releases in the past couple of weeks from the Southern Records distro hub, it seems that there is now little excuse not to be aware of some of the other records that have passed through them. Out on Neurot Records is this re-release of
Neurosis
'
Times of Grace
and their sibling release
Grace
by the
Tribes of Neurot
. Both are out together as a double CD, which is not surprising given that it is said that you should play both theses albums at the same time to get the full aural experience. On a side note, this multi-layered and textured approach later inspired post-metal band Rosetta to do the same with their first album
The Galiean Satellites
.Under the guidance of Steve Albini,
Neurosis
first released
Times of Grace
in 1999. It was the start of not only a recording relationship between Albini and the band that has remained since, but it cemented Neurosis' transition towards an increasingly menacing and experimental sound through Albini's stripped down / no bullshit production – the band at this time seemingly a couple of chapters through their next story arc. Neurosis' later releases would contain the same abrasive and sludgy guitars and spatial drum patterns but with an added sense of density and heaviness – quite a difference from their crusty/punk/hardcore beginnings.Although a side-project, the Tribes of Neurot recordings pretty much coincided with Neurosis releases. The band would get together with other invited musicians and record 'tribal' music using synths, samples, and various other instruments to create a mind-warping experience.
Times Of Grace
is a good album on its own, but I am not convinced about the dark ambient and sinister tribal twiddling on
Grace
– I have heard better ambient music than this. Though I shouldn't knock it completely; without this scheduled freedom of expression the band would not be where they are today.This may sound contradictory, but to properly listen to both of the recordings together, I had to merge mp3s together to create one album. The result is spectacular though. The murky ambient noises and samples add a new dimension to the tracks. But I have to ask this: why was a mixed version of both albums not included in the release? Or better yet; why not release just a mixed version?