"Montage of Heck: The Home Recordings"
Release date: 13 November 2015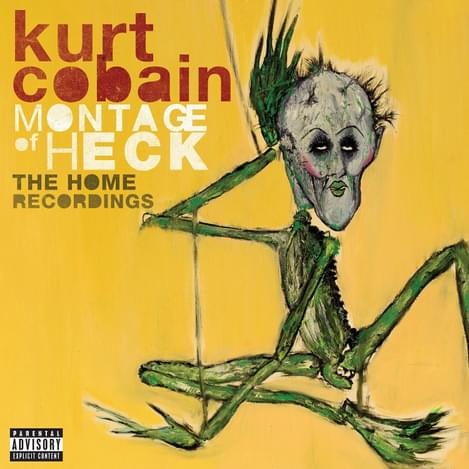 Right up until the final weeks approaching his death in April 1994, the urge to create art - in any form - was something that never left Kurt Cobain. Even as his working relationship with his Nirvana bandmates began to unravel, new ideas - be they for songs, videos, side projects, record labels - continued to spring from Cobain's mind.
These come well-documented: whether studio-recorded (see the 2002-released, "You Know You're Right"), home demos of tracks that never came to full fruition ("Do Re Mi"), or in countless ideas jotted down - with varying levels of progress - in his now well-circulated journals.
One topic that's been endlessly discussed in the years since Cobain's untimely demise is the idea of what he'd have gone on to do in the wake of Nirvana; what a solo Kurt Cobain record - perhaps without any exterior record label pressure - might sound like. Some close sources have suggested that the band's lauded 1993 MTV Unplugged performance might offer the best possible indication of what laid ahead for the band, suggesting a move towards softer terrain and more collaborative ventures. Indeed, in his final months Cobain had been planning studio time with the Screaming Trees' Mark Lanegan (with whom he'd been in a Leadbelly covers band, The Fury, years earlier), The Fluid's John Robinson and R.E.M.'s Michael Stipe - the latter even going so far as to book Cobain tickets to fly to Atlanta for a March 1994 session. Cobain would go on to cancel this at the last minute.
As recently as 2012, Courtney Love's Hole bandmate, Eric Erlandson, spoke of the idea of such a record existing in one way or another. In an interview with US TV station Fuse, he described how Cobain "was headed in a direction that was really cool. It would have been his White Album. That's really what he was going towards, a solo album but working with different people…He was cut short. Who knows where this music would have gone?"
In spite of frequent references to it as such in the press in the past few months, in no way should Montage of Heck: The Home Recordings - a companion album of uncovered demos and half-cooked sketches compiled by Montage of Heck director, Brett Morgan, to sit alongside his 2015 documentary - be considered as this 'lost' Kurt Cobain solo album.
We're presented here, doubly so in the album's exhaustive 31-track deluxe edition, by what ostensibly feels like one last act of barrel-scraping but also an attempt to draw some kind of line under Cobain's artistic legacy. Morgan describes it as not being "scraps and discarded, insignificant material," but, "furthering our understanding of one of the most significant artists of our time."
The problem with that assertion - particularly when compared with Morgan's much more illuminative film - is that The Home Recordings rarely succeed at shedding further light on Cobain, the musician or the man. This rings especially true when considering the tireless flow of reissues that have accompanied his deification in the rock pantheon over the past two decades: from the posthumous release of Unplugged in New York to 2004's comprehensive With the Lights Out collection and the countless bootlegs - most notably the Outcesticide series - that were rendered largely irrelevant by that boxset's sense of completeness.
At the time of its release, With the Lights Out felt like the final word on Cobain's output. It compiled radio sessions, b-sides, studio outtakes and, yes, countless home demos - several of the most notable of which, including the rather infuriating curio "Beans", re-appear here. Its chronicling of what was being produced by Nirvana around each of their three studio albums offering virtually all that needed to be said about the band's, and Cobain's, creative process.
Instead, The Home Recordings largely serve as a further step back along the creative path, to a point where we either see songs at their most infantile stage or at a crossroads where Cobain, the tireless perfectionist, probably realised he could take them no further. The latter is certainly true of "The Yodel Song" or "The Happy Guitar" - experiments in melody that fit certain moments of the film's narrative but are hard to enjoy as standalone tracks.
True, there's a sense of enjoyment to be drawn from hearing lightbulbs - metaphorical ones, of course - appear above Cobain's head as he gradually fleshes out a demo version of In Utero's "Frances Farmer Will Have Her Revenge On Seattle" or the chorus melody from Bleach's "Swap Meet" beginning to rear its head during the "You Can't Change Me/Burn My Britches/Something in the Way" medley, but they're very much passing pleasures. In fact, it's a pretty hard task to imagine even the most diehard enthusiast listening to this set for prolonged enjoyment.
It'd be all too easy to romanticise Montage of Heck: The Home Recordings as some kind of last great statement from Cobain, 21 years removed from his death. That is, until you listen to the recordings themselves and it becomes quite clear there's little here in the way of new insight. Montage of Heck, the movie, was an insightful, evocative retelling of the events of Cobain's life, but the truth is that, for some time now, nothing further has needed to be said. Perhaps on "Serve the Servants", Cobain said it best himself: "that legendary divorce is such a bore."
Get the Best Fit take on the week in music direct to your inbox every Friday