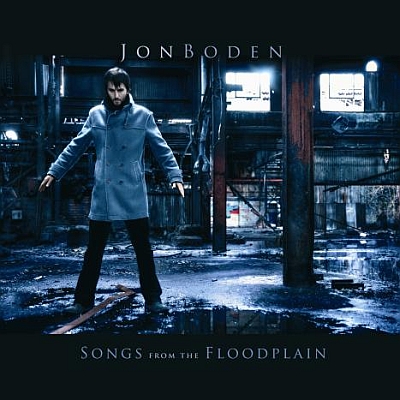 Jon Boden
is a busy man - besides being one half of duo Spiers and Boden, and the
de facto
frontman for
Bellowhead
, he's also a solo artist, and
Songs from the Floodplain
is his second album in that capacity. Boden is a purveyor of "proper" folk, I suppose you could crudely call it - and
Songs
is no exception. Partly because of this, it feels like quite a niche record. This isn't aiming at a wide audience - it's sparse, dark, and is generally a lot less fun and energetic than the last Bellowhead record,
Matachin
. A lot of people, frankly, would find this stuff pretty boring, and by any standards it can be rather a languid listen.But fans of Boden's previous work will definitely want to give this a listen. It's a very wordy, narrative album - more like a storybook than a songbook. The themes are almost universally dark - linked often by the titular floodplain, the songs cover prophecies, decay, and other assorted nigh-on-apocalyptic themes. The musical accompaniment to these tales is stripped-down and sparse - mostly just consisting of almost perfunctory acoustic guitar in some tracks, which adds to the homogenous feel
Songs
often suffers from. Boden's voice is always the key instrument and contribution to the sound though, and it's still an engaging and odd thing to behold.A somewhat gruelling listen,
Songs
will be worth hearing for existing Boden/Bellowhead fans, but even then, you may find yourself wanting to turn back to less inpenetrable, more upbeat songs like the ones on
Matachin
. For everyone else, this album isn't likely to hold a lot of appeal.
59%