Courtney Barnett - Sometimes I Sit and Think, and Sometimes I Just Sit
"Sometimes I Sit and Think, and Sometimes I Just Sit"
Release date: 23 March 2015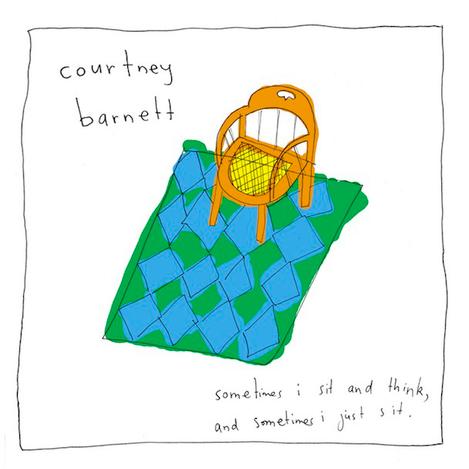 I feel like I've spent a lot of time with
Courtney Barnett
lately. Her debut album proper, Sometimes I Sit and Think, and Sometimes I Just Sit, has soundtracked my walks to and from work, cleaning the house, doing the washing up - the kind of mundana that her songs catalogue so well. It's a one-way conversation – the only verbal contribution I can make is singing along – but if you're a person of a certain age, it's hard not to feel like
Courtney Barnett
Gets You. Sure, since the 2013 release of her EP collection A Sea of Split Peas, Barnett's life has changed somewhat – Sometimes boasts as many songs about the tedium of touring as the dullness of domesticity – but her outlook is as relatable as it was last time around.
The biggest issue with Barnett's records is the fact that, given how unique her take on the world is, you wind up almost forgetting there's music behind it. Especially compared with some of the…let's say sketchier offerings on Split Peas, Sometimes makes a convincing case that music is still worth making on guitars. There's stomping garage rock, effervescent jangle pop, a couple of captivating Malkmus-style sprawls and an introverted doff of the hat to pre-shit Camera Obscura – unassuming influences all, but ones which come together to cement Courtney Barnett (and her shit-hot band) as a force to be reckoned with.
As for the lyrics…well, they're so rich and detailed that to write about them in depth would either necessitate a spoiler alert or have me dissecting the LP line-for line. This isn't lit crit, nor is it genius.com, and this isn't the place for me to start dancing about architecture (note: it is, and I will), so here are some pull-quotes (tongue/cheek interface optional):
"Elevator Operator" is the best three-minute character study Ray Davies never wrote.
Courtney Barnett is the kind of writer who can turn a cracked ceiling into a metaphor and not make you wince.
All whirlwind heat and two-chord thrash, "Nobody Cares If You Don't Go to the Party" is the textbook encapsulation of the mind-numbing ennui of life in your mid-twenties.
Courtney Barnett is the ideal rebound for anyone who's outgrown the Los Campesinos! obsession of their uni years.
Still, for a so-called slacker, you can tell that Barnett has thought this stuff out as thoroughly as any stand up comedian. The precise pauses between thoughts on the home/love-sick "An Illustration of Loneliness (Sleepless in New York)" are more Seinfeld than Sebadoh, and the chorus of the irresistible "Debbie Downer" reveals that the eponymous recipient of the big-hearted pep-talk doesn't exactly want any of Barnett's advice. Debbie is probably the only one.
The perfect pacing even extends to the way the album is sequenced; "Pedestrian at Best"'s blitzkrieg word-vomit seems to take so much out of her that it takes three more songs for the pace to pick back up. And whilst any other artist would kill to be able to frontload an album with tracks as immediate as "Aqua Profundis!" or "Dead Fox", Barnett tucks them away towards the back end. Then again, if you can't sit through the album long enough to actually get to "Dead Fox", a relentlessly catchy diatribe which somehow takes in the GM debate, the dangers of the Australian motorway system and its prevalence of roadkill, you don't deserve ears.
Courtney Barnett isn't the voice of our generation. She's just a voice in our generation. Lucky for us, she's the most interesting one we've got. Sometimes is the work of probably the best lyricist writing today, and roundly deserves to be an album for the ages. If it's not, that's only because she'll have found a way to top it next time around.