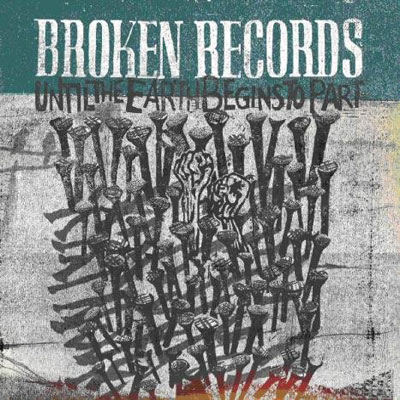 You get the idea that 4AD's latest signings
Broken Records
are so proud of the orchestral grandeur present throughout their music that they walk through the streets of their native Edinburgh with their violins in machine gun cases, these archaic strings and bones are their weapons. Not dissimilar in scope and scale to countrymen The Twilight Sad,
Before The Earth Begins To Part i
s unashamedly epic from it's title onwards.Vocalist Jamie Sutherland sings like a great big Scottish bear of a man, genuine passion and gusto dripping from each and every raw syllable and he can do falsetto just as adeptly as son of Edinburgh.Opener 'Nearly Home' is a-whirl with heart wrenching strings and trumpets that blast and mourn in equal measure. The lyrics tend to play a supporting role to the music and as such Sutherland's delivery works more as an instrument, the varying textures of his voice mean that how he sings is more important than the words themselves.Arcade Fire are an obvious but relevant touchstone and there are hints of British Sea Power's epic sweep, not least in early single 'If The News Makes You Sad...', Sutherland this time finding a real depth of ire to unleash upon a backdrop that is slightly harsher and more up-tempo than much of the record before a slower, ornate coda closes the track in style.The only complaint is that the record trails off slightly with the Beirut influenced of 'If Eilert Loevborg Wrote A Song It would Sound Like This' and 'A Good Reason'. Both feature somewhat forced Balkan-isms, are unwieldy in name and execution and leave the band in danger of sounding like Gogol Bordello.These are minor quibbles when placed next to gems such as 'A Promise', which shifts from stately piano twinkles to a cataclysmic wall of orchestral noise which sounds like the end of everything in the best possible way and is pretty life affirming stuff.It seems that with Bat For Lashes and now
Broken Records
releasing two of 2009's best albums so far that British music is once again something to be proud of. While for the last few years those of more discerning tastes have instinctively looked to the US let's hope the that the next wave of home-grown successes aim to satisfy a musical ambition ahead of fame and fortune.
84%
Broken Records on MySpace