Gospel-era Bob Dylan hits some heavenly highs on Trouble No More
"Trouble No More: The Bootleg Series Vol.13 / 1979-1983"
Release date: 03 November 2017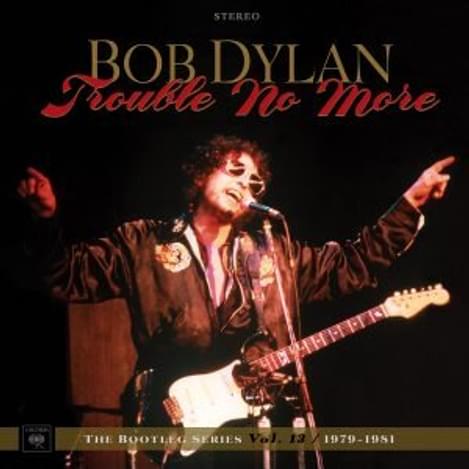 By 1979, Dylan already had a history of sudden transformations: switching from socially conscious 'finger-pointing' protest songs to looking inwards for inspiration around 1964; recording sepia-tinged, roots-y hoedowns in a basement with The Band as the rest of the world was indulging in psychedelic splendour in 1967; embracing smooth mainstream country sounds on 1969's Nashville Skyline.
Even so, the gradual realization that Dylan had not so much found as dived headfirst into Christianity and would from now on devote his concerts (explored in exhaustive detail on Trouble No More, the 13th instalment in the ongoing Bootleg Series which delves into the extensive archive of unreleased Dylan recordings) entirely to the new 'Gospel' material caused the kind of furore that made the booing that greeted Dylan's 'going electric' in 1965 seem like a minor upset
Considered from a remote of 40-odd years, the stern tone of some of the criticism that greeted the concerts that followed the release of 1979's Slow Train Coming – a considerable commercial success - seems a bit excessive. Nick Cave, Sufjan Stevens, even The Killers: we're pretty used to artists and bands holding unhidden religious beliefs which may occasionally bubble into surface in their work. In any case, Dylan's most cherished work was created in the 60's, a time when every on-trend rock star signed up to some sort of a personal guru or spiritual leader, notions that Dylan back then steadfastly resisted, and his songs had occasionally dipped into religious imagery from 1964's "When The Ship Comes In" onwards. Drawn from approximately two dozen of the countless concerts that tireless road-hog Dylan performed between 1979 and 1981 (as well as rehearsals and the odd studio outtake), and available as a cherry-picking 2-CD set and an exhaustive and at times exhausting eight disc and a DVD deluxe box set, Trouble No More helps us understand the criticism whilst rendering it totally ludicrous.
It's easy to grasp the bafflement and even hurt feelings when an artist who once famously advised that we ''don't follow leaders'' and epitomised – possibly against his will – a certain free-spirited, questioning ethos of the psychedelic era was now openly promoting the type of evangelical Christianity that doesn't think much of viewpoints that differ from those posited in the Bible. "There's only one authority and that's the authority on high," Dylan testifies in a steaming 1979 live rendition of "Gonna Change My Way of Thinking" contained here, representative of the set as a whole in both its unwavering acceptance of God's status as the supreme ruler and the immense power of the performance, so intense it occasionally sounds a bit unhinged (in a good way). Dylan had chosen to embrace an old-fashioned vengeful God who is quite happy to rain, er, biblical miseries on non-believers and send sinners down to fry forevermore in Devil's barbecue pits: it's still quite troubling to hear the pretty melody of the middle-eight of the previously unreleased, rousing "Ain't Gonna Go to Hell for Anybody" carry lyrics that take just a little too much pleasure in describing the tormented eternity in hell that await all those who do not repent from an artist whose early work - which now no longer troubled Dylan's setlists - had showcased such a masterful grasp on empathy for others.
Then again, it's worth bearing in mind that Dylan once famously described himself as just a song and dance man. Once you move beyond the, at worst, clunky, mean-spirited and one-dimensionally Lord-praising lyrics, Trouble No More practically bulges with irresistibly thrilling performances. For all its other qualities, Dylan's music has never been particularly funky. That, however, is the only appropriate term to describe the colossal grooves cooked up by bassist Tim Drummond (who used to play with James Brown) and drummer Jim Keltner, certainly the greatest rhythm section this side of the Band's Levon Help and Rick Danko that Dylan ever shared a stage with. It's almost impossible to connect the opening double-KO of 1979 live versions of "Slow Train" – lifted ever higher by guitarist Fred Tackett's stinging riffs - and "Gotta Serve Somebody" with their fine if overly polite studio counterparts on the MOR-hued Slow Train Coming album, nevermind the road-weary, ramshackle vibes of the other two records in Dylan's Gospel trilogy, Saved (1980) and 1981's Shot of Love. Accompanied by an uncommonly slick and large band, Dylan's 1978 jaunt across the world in support of 1978's underrated Street Legal – during which Dylan underwent what he later described as a 'born again' experience – was described by some critics as his Vegas tour, suggesting that Dylan was now as irrelevant as Elvis. Due not least to liberal usage of female background singers, some performances here – especially a positively explosive 1980 take on "Saved", which makes it leaden studio counterpart sound dead from the neck down – bring to mind the ultra-tight band that backed Elvis in his later years, but with a leader who is always fully capable of harnessing their momentum-building potential: this is in many ways the most deeply soulful and physical music Dylan ever made. It's impossible to imagine even the most militant atheist failing to be moved by such tirelessly energetic, nuanced and deeply funky performances, regardless of how unsubtle and undemonstrative of Dylan's capabilities as a poet the lyrics might be.
Trouble No More isn't just about sweaty intensity. The gentler moments - including a sublime rehearsal version of the contemplative gem "Every Grain of Sand", the one bona fide masterpiece from this era, written as Dylan was relaxing on the Gospel-only policy in concert and easing off on the unadulterated fire and brimstone in his songwriting - provide pretty compelling evidence that Dylan has never sang with more conviction and clarity before or since. Even as the lyrics preach impending Armageddon and eternal damnation for those who don't share his beliefs, Dylan rarely sounds smug or condescending in his delivery. There's an air of pleading sincerity, even an edge of desperation to Dylan's absolutely stellar performances on the likes of "When He Returns", almost as if he's striving to make the audience see what he's seeing through the power of his voice and intonation alone. Add this to the dynamite band (the line-up evolves as the set moves from 1979 to 81, but the quality of the musicianship remains sky-high), and there's a compelling argument to be had that on musical merits, the shows Dylan delivered between 1979 and 1981 were easily equal to the hallowed 1966 world tour with the Band and the mid-70's Rolling Thunder Revue.

There are issues with the set. The previously unreleased songs prove that for once, Dylan did end up placing the strongest material on the albums during this era. The exceptions being the bluesy "Trouble in Mind" and "Making a Liar Out of Me", a tentative rehearsal take on the deluxe edition that could've begat something special. Then there's the repetition of the same limited selection of tunes on the deluxe box. Whilst Trouble No More certainly exceeds the limit of how many identical versions of Gospel stomper "Solid Rock" anyone with balanced music habits could possibly need in their life, multiple renditions of the same tune from the different stages of Dylan's 'Gospel Years' can also provide compelling moments. For example, "Slow Train" moves from an awkwardly over-egged 1978 soundcheck version and a 1979 rehearsal with horns that still sounds something like - although much stronger than - the smooth studio version to a positively sizzling 1981 live take, by which point the original's promise of a wrong-righting ''slow train coming around the bend'' has turned into an ominous threat, with the arrival of the titular mode of transport seemingly signalling the imminence of the end times. By this point, Dylan's old classics had been allowed back in to the setlist, and by the end of 1981 the Gospel era was over: Dylan's next album, 1983's Infidels (the sessions for which would make an interesting future entry to Bootleg Series, alongside 1993's acoustic Supper Club shows, originally intended as Dylan's entry to the MTV Unplugged series) included no overtly religious material.
In some ways, Trouble No More might just be the most compelling Bootleg Series yet, prove as it does that Dylan was actually operating with feverish (if somewhat one-dimensional) creativity and inspiration during a generally vilified and dismissed era when everyone - including his own label - had concluded that he'd lost the plot for good. In some ways, this is so much more interesting that shedding further light on one of Dylan's acknowledged peaks. Less obsessive (and deep-pocketed) fans will be absolutely fine with the 2-CD set, but repetition aside, the deluxe set certainly offers multiple delights. A stripped-down duo take on 60's civil rights anthem "Abraham, Martin and John" is one of the finest performances on the box, but you'll only encounter it during the closing credits of the accompanying Trouble in Mind DVD (a context-free selection of powerful 1979 live performances, intercepted with actor Michael Shannon portraying a preacher speechifying in an empty church in place of the on-stage sermonising Dylan used deliver during this era). Seek and ye shall find, as the good book says.
Get the Best Fit take on the week in music direct to your inbox every Friday