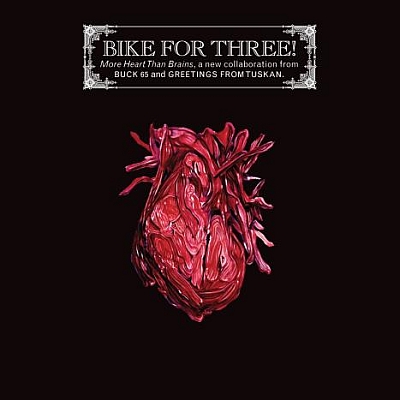 Did you ever have a penpal as a kid? Someone who you could share your innermost thoughts and feelings, hopes and dreams with? Someone you could confide in safe in the knowledge that you would never have the awkwardness of having to meet face to face, for real? That is exactly the process by which
Bike For Three!
has been formed, with Canadian Buck 65 (Richard Terfry) and Belgian Greetings From Tuskan (Joelle Phuong Minh Le). What started as a friendship developed in to more when Phuong Minh Le began to send unfinished songs to Terfry, he would send his work back and the track would grow from there.Like so many pen pal letters,
More Heart Than Brains
deals with musings on life, regret and past mistakes. After 15 years in the game, Terfry has honed his storytellers art, his lyrical dexterity lifting this effort far above the usual lexicon of hip hop records. Considering the two have never met, Greetings From Tuskan's production shows an innate understanding for the way in which Terfry's flows are constructed, and her production consistently brings the best out of him. Utilizing music boxes, xylophones, flutes as well as pots and pans in her production Phuong Minh Le creates dense and ever changing soundscapes. Somehow the production is at once warm and glitchy, for the most part avoiding any sterile coldness that can so often be associated with electronic music. There is plenty of musical variation here too, with 'All That Can Be Said About Love' seeing Buck 65 croon "
Woah Woah Woah Woah
" like a club singer and the minimal soundscape verse of 'There Is Only One Of Us' exploding into a full on breakbeat banger of a chorus. Title track 'More Heart Than Brains' even features a throbbing synth line that would have done Casey Spooner proud hidden among the skittering beats.While for the most part
More Heart Than Brains
is brooding and meditative in mood there are occasional positive moments, such as 'Can Feel Love (Anymore)'; a look at the possibilities of life from the point of view of a prospective father. The cover of MC Shan's 'MC Space' is a loving tribute to one of Buck 65's MC heroes. However, in the context of the rest of
More Heart Than Brains
it sounds woefully out of place, like a Flight Of The Conchords take on electro hip hop in comparison to the sophisticated beats and flow present elsewhere on the record.Collaborative records can be patchy at times, and when the collaborators are on opposite sides of an ocean things should become even more difficult.
Bike for Three!
seems to rise above these problems however, and there seems to be plenty more left in the tank for future records, even if the lyrics of 'Let's Never Meet' seem to rule out a closer collaboration:
'Let's never meet and regret a past endeavor/ What we have is rare indeed and guaranteed to last forever
.'
79%
You can download a podcast by Bike For Three on the Anticon website now