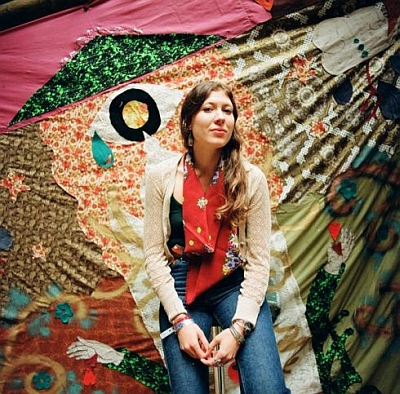 Nevada City is a township of just over 3,000 in rural Northern California but one that has been populated by artists, hippies, Senators, actors, poets and writers. It also was the home of the first Californian Gold Rush where a huge seam of gold was discovered by prospectors, "found by the old buzzards who roamed the hills" like those in Central City from On The Road.
Alela Diane
is one of the souls that inhabit Nevada City. This is important because Diane's music is rooted in traditional forms of American music. Her ouevre is an evocation of pine covered mountainsides, miners shacks, campfires with beans and franks cooking, plateaus and plains. The Sierra Nevada is deep in Steinbeck country, so these associations aren't unwarranted and Diane certainly draws upon the topography of California. There is something so evocative for a non-American of these paradigms of Americana that is hard to keep from being swept along by utterances such as "California hills could surely welcome us back home".'To Be Still' is the title track from Diane's sophomore album and is a meditative and lyrical evocation of folk pastoralism. This isn't to say that Diane is a revivalist concerned only with antiquity and content to trade on folkisms or archetypes. Instead Diane uses the frameworks of folk and blues without becoming reverential, yielding poignant narratives all told by that beautiful, plaintive voice. 'Fat Mama' sketches a tale of a housewife in a faded backwoods town - "she cooks and she washes and carries on all day long" and acts as a companion piece to 'The Ocean' from To Be Still. There is a similar honesty and depth of interpretation at its heart.The sparse melancholia of her debut
The Pirate's Gospel
has been augmented by an increase of, in her own words, "instrumental filigree". This is particularly the case on 'To Be Still'. Woozy sighs of dreamlike pedal steel guitar accompany Diane's vocal, as clear as still water, alongside finger-picked guitar and mallet drums.Despite this newfound ornamentation there is an economy in phrase and execution across the three tracks. Diane's diction is less cluttered and an unhurried approach to production and songwriting yields great results. Yes, heritage acts are marketable right now (see also: Fleet Foxes, Joanna Newsom etcetera ad nauseum) but the quality of Diane's work allows her to also transcend any attempt at positioning or typecasting.
80%
Alela Diane on Myspace