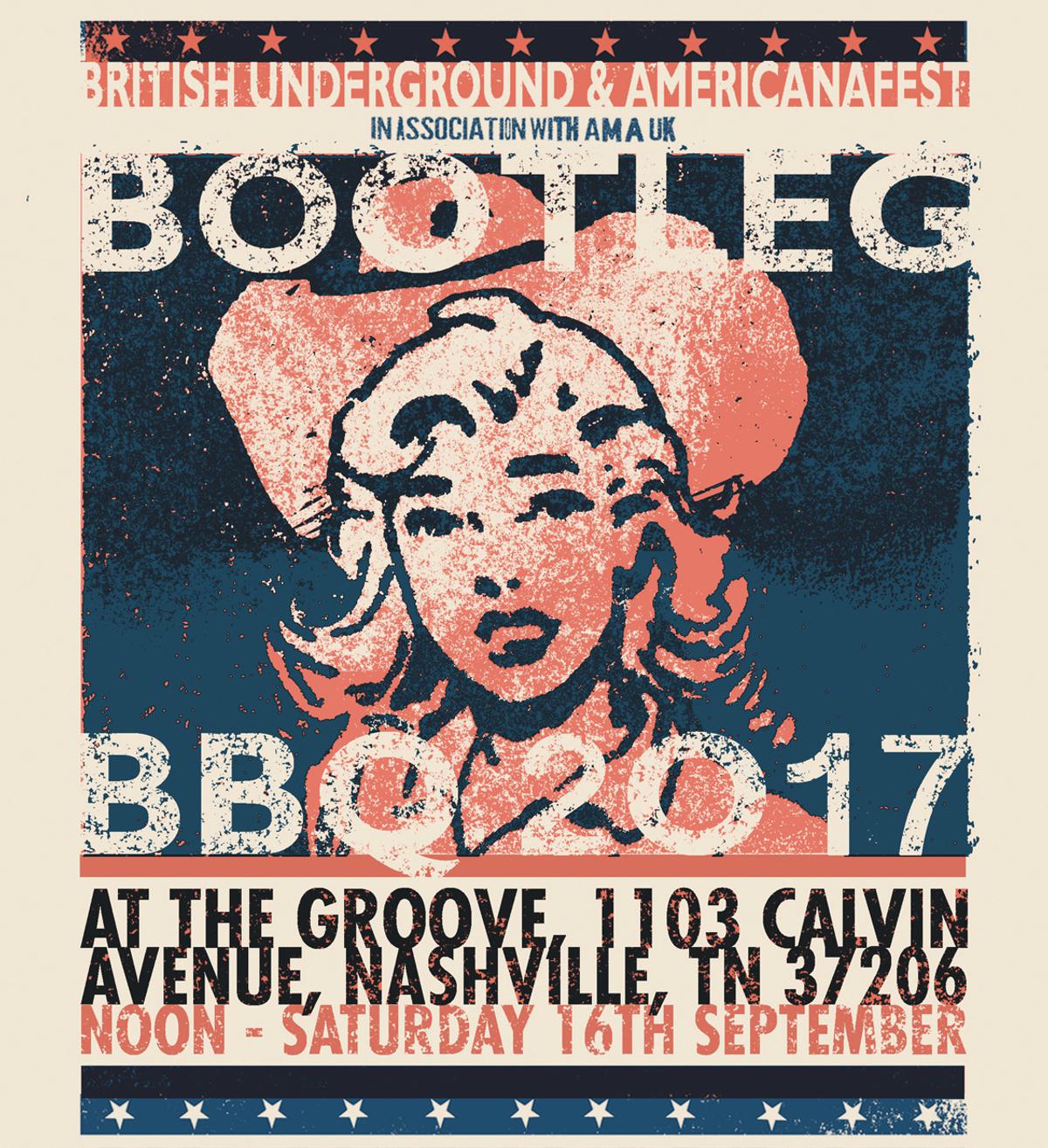 British Underground Presents Bootleg BBQ at The Groove, Nashville 16 September
Joining forces with UK arm of the Americana Music Association and The Line of Best Fit, the British Underground are bringing the likes of Bristol born soul sensation Yola Carter and family affair Wildwood Kin to Nashville record shop The Groove for an afternoon of incredible music. Supporting British acts tapping into that American sound are break through natives Erin Rae, Courtney Marie Andrews and Aaron Lee Tasjan.
It's going to be one hell of a party, don't miss out.
Main Stage Line Up
12:30 – 13:00: Danni Nicholls

You could be forgiven for mistaking Nicholls for a Nashville native if it weren't for the distinct English edge that cuts through those honeydew vocals and rich country guitars. Musically devoted to Nashville but raised on rock 'n' roll in Bedfordshire, Nicholls' deeply personal songs – as collected on UK Americana Association's nominated album Mockingbird Lane - come into a life of their own on stage.

13:15 – 13:45: Erin Rae & The Meanwhiles

To produce such emotionally fragile, bittersweet and simple melodies without a hint of cliché is a rare thing. Having recently returned from a tour of the UK, Nashville native Erin Rae and her band The Meanwhiles return home to break, mend and melt hearts with their delicate and pointed songs.

14:00 – 14:30: Wildwood Kin

Wildwood Kin is the work of guitarist Emillie Key, her bouzouki/keyboard-playing sister Beth and their drumming cousin Meghann Loney. But that's just factual information, what you actually need to know is that they create vocal harmonies to die for. Their debut album, Turning Tides, has its roots steeped in folk traditions but its playful too … delving into atmospheric electric territory with modern twists and turns.

14:45 – 15:15: Yola Carter

Yola Carter is a country-soul singer in the truest sense of the word. The fact that she was raised in a small seaside town in the South West of England does nothing to diminish her gospel soul prowess and pedigree. Returning to Nashville after the meteoric rise spurred by last year's AmericanaFEST, she will be treating us to songs from her highly anticipated debut album.

15:30 – 16:00: Courtney Marie Andrews
A voice as wise and as silk-laden as the laurel canyon greats, Courtney Marie Andrews is responsible for one of 2017s stand-out records. Honest Life is an instant classic, and Andrews an instant star. Simply put, she is not to be missed.

16:15 - 17:00: Angaleena Presley
Critically acclaimed country singer-songwriter Angaleena Presley will perform tracks from her fierce new album Wrangled, the explicitly forthright journey through her experience in the business of Country Music – tackling head on, the uncomfortable realities of the discrimination against female artists at the height of Bro-Country, the high school mentality of Music Row and the pain that's just beneath the surface of the road to stardom.
Best Fit Presents The Indoor Stage

12:15 – 12:30: Aaron Lee Tasjan
East Nashville's own Aaron Lee Tasjan joins us for an intimate acoustic show, letting that spectacularly strummed guitar and rich voice of his weave rich, dramatic stories of romance, success, and failure.

13:00 – 13:15: Lindi Ortega
The Toronto, Ontario native makes her triumphant return to Nashville to treat us to material from her latest EP Til the Goin' Gets Gone.

13:45 – 14:00: The Honey Ants
London duo John Grimsey and Rebecca Hamer put a British spin on an American classic, developing the folksy roots of their sound into something altogether more modern and complex.

14:30 – 14:45: Ben Smith and Jimmy Brewer
Having met when they were both supporting the legendary Joan Armatrading on tour in 2015, Ben Smith and Jimmy Brewer create intricate vocal harmonies and just about ready to unleash them on the world.
The Bootleg BBQ at AmericanaFEST, 12pm Saturday 16 September at The Groove in Nashville. Entry is free,
RSVP here.