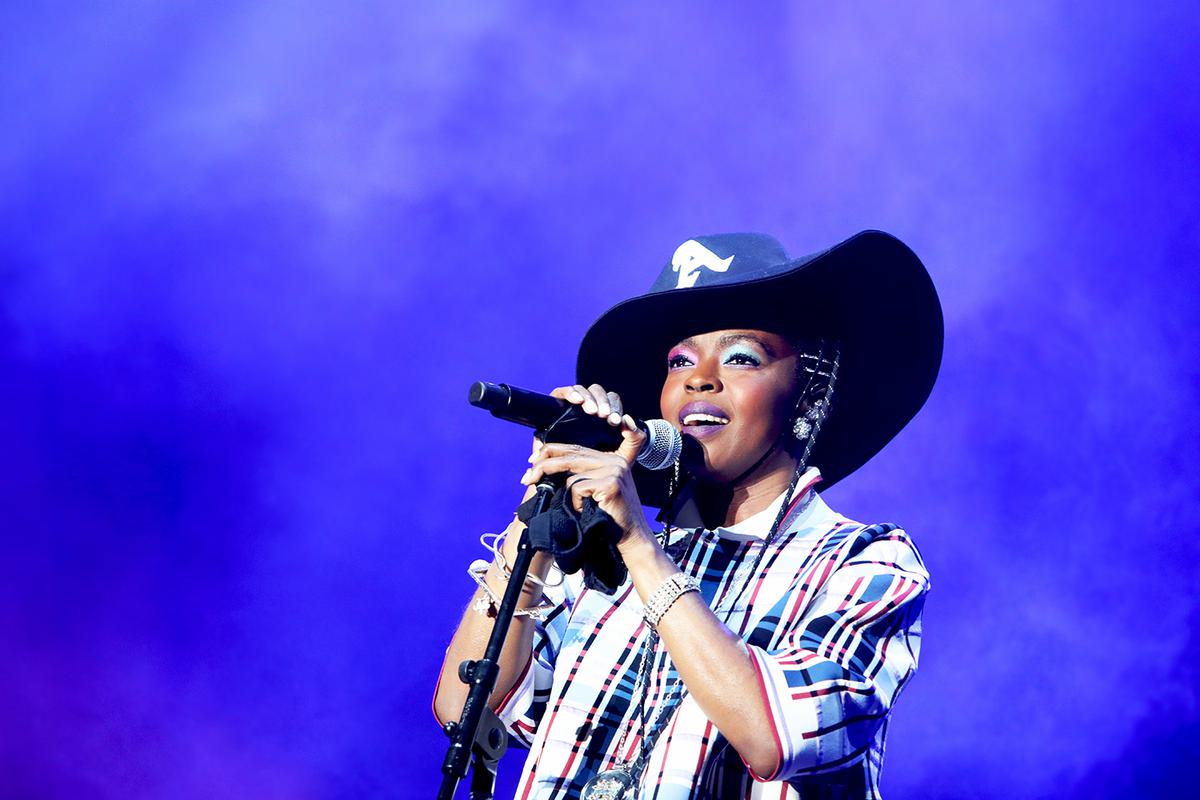 Ms. Lauryn Hill hosted a surprise Fugees performance at Global Citizen Festival 2023
During her headline performance at 2023 Global Citizen Festival, Ms. Lauryn Hill brought out Wyclef Jean and Pras for a surprise Fugees reunion in New York City's Central Park on Saturday (23 September).
Fugees reunited earlier this year at The Roots Picnic in Philadelphia, where Ms. Lauryn Hill performed in celebration of the 25th anniversary of her only solo album, The Miseducation Of Lauryn Hill.
At Global Citizen Festival, following six tracks from her 1998 debut, including "Doo Wop (That Thing)" and "Everything Is Everything," Hill brought out her Fugees bandmates to perform "How Many Mics", "Ready or Not", "Killing Me Softly With His Song", and "Fu-Gee-La". Red Hot Chili Peppers bassist Flea was also on hand to play trumpet in the house band.
Hill is set to embark on a full 25th anniversary tour of her debut album later this year, with Fugees co-headlining the North American dates.
Lauryn Hill back with Wyclef Jean & Pras Michel, The Fugees, at the Global Citizen Festival tonight!! Killing Me Softly, I never thought I would hear this live 😭 and @MsLaurynHill was SO AMAZING! @GlblCtzn #GlobalCitizenFestival pic.twitter.com/rg1BkYiAt8

— Annie Tan on the 3rd draft! ✍🏼 (@AnnieTangent) September 24, 2023
Global Citizen Festival works to end poverty and combat the climate crisis. During the 2023 edition, the festival raised over $240 million in commitments to fight against world hunger, and with the stage made entirely out of repurposed and recycled materials, and the all-vegetarian menu coming with fully compostable packaging and utensils – among other initiatives – this was its most sustainable event since it began in 2012.
In a video message, Emmanuel Macron, President of France announced a $150 million commitment to the International Fund for Agricultural Development (IFAD) – currently the most committed by any government in its 13th replenishment. Anne Beathe Tvinnereim, Norway's Minister of International Development also pledged $90 million to the fund.
The Taoiseach of Ireland, Leo Varadkar, announced his government will provide €149 million in climate financing this year, and committed to uphold its promise to contribute €225 million annually from 2025 onwards. Meanwhile the Belgian government are continuing a year of dedicated action to address the inequity of women and girls, by committing €2 million to support the United Nations Population Fund (UNFPA) Supplies Program, which provides lifesaving and life-changing sexual and reproductive health services.
For more information on all of the commitments made at Global Citizen Festival 2023, visit globalcitizen.org.