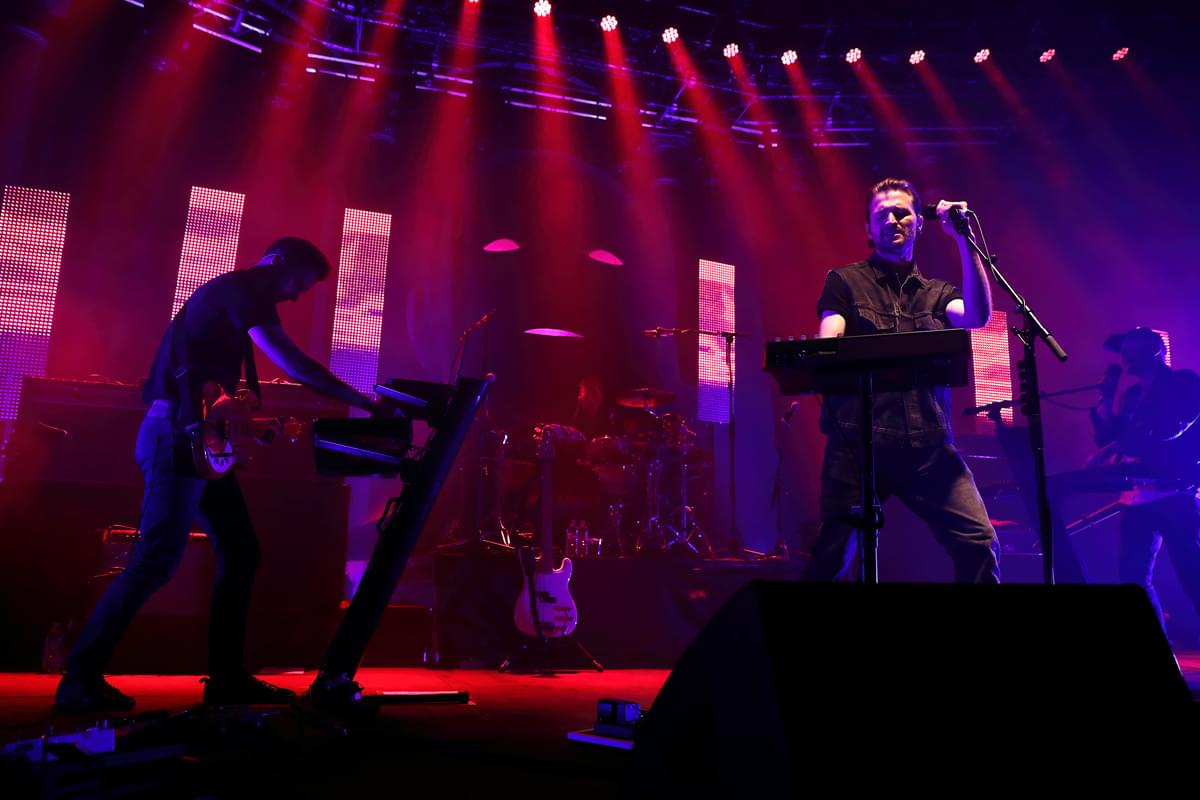 End Come Too Soon: Wild Beasts bid adieu at Hammersmith Apollo
17 February 2018, 10:20
| Written by
John Bell
Last night the iconic Wild Beasts said their final goodbyes at London's Eventim Apollo.
Following performances at Dublin's Olympia and Manchester's Albert Hall, the show marked the end of a special farewell tour hinted at when the band announced back in September that it was "time to leave this orbit".
An early start and no support meant that Thorpe, Talbot, Little, and Fleming could deliver a comprehensive, two-hour set which could do justice to their decade of songwriting. Their performance was divided in two, with the first half mainly comprising of the band's intricate and spritelier material, from opener "The Fun Powder Plot" from 2009's Two Dancers, to the sparkling pianos of "His Grinning Skull" from the four-piece's debut Limbo, Panto.
A confetti explosion aptly announced the beginning of the second act with "Get My Bang", and indeed this second half focused on the band's synth-heavy, slower-burning material, taking generously from last year's Boy King. Perhaps humbled by the weight of sentiment behind their last performance, the band kept niceties and stage talk to a minimum, and the normally verbose Thorpe spoke only briefly in abstract aphorisms to introduce certain songs, such as with "Celestial Creatures": "Down here on Earth, all is forgiven..."
Fleming seemed visibly lost for words in the encore when trying to introduce "All The Kings Men", one of the band's most characteristic songs, but was rewarded with several thousands of "Watch Me!"s from the audience in return. Always ones for poetic irony, the beasts brought their performance to a close with "End Come Too Soon", and soon returned with a full choir for a particularly poignant revival of "Cheerio Chaps, Cheerio Goodbye".
Setlist:
The Fun Powder Plot
The Devil's Crayon
Reach a Bit Further
A Simple Beautiful Truth
We Still Got The Taste Dancin' On Our Tongues
Ponytail
Bed Of Nails
Mecca
Loop the Loop
His Grinning Skull
Lion's Share
Get My Bang
Hooting & Howling
Big Cat
Wanderlust
Deeper
This Is Our Lot
Alpha Female
Daughters
Celestial Creatures
Encore:
Brave Bulging Buoyant Clairvoyants
All the King's Men
End Come Too Soon
Cheerio Chaps, Cheerio Goodbye
Get the Best Fit take on the week in music direct to your inbox every Friday