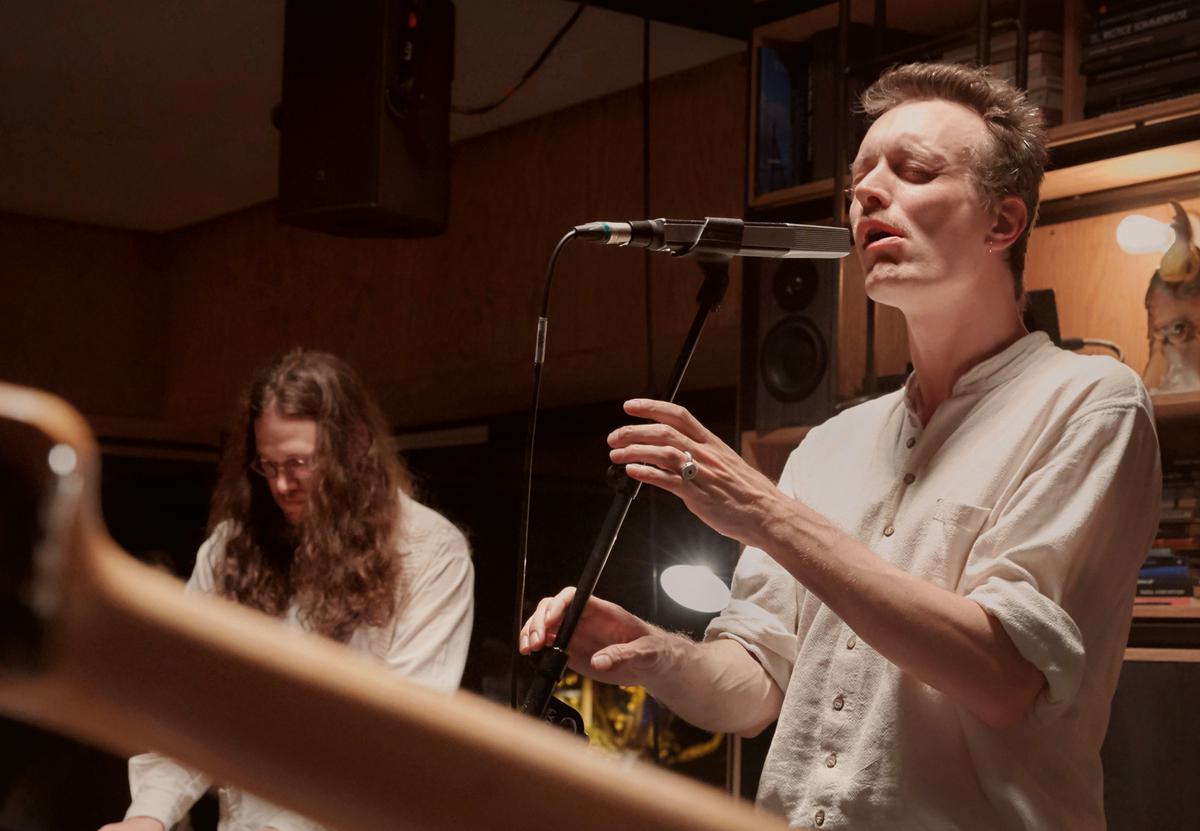 Watch Efterklang perform in the home of an English bulldog named Brodie; US tours dates announced
Efterklang kick off a new sessions series today alongside the announcement of a mammoth European and US tour.
The Brodie Sessions are filmed in the Copenhagen home of the eponymous English bulldog and his owner - a mind meddling architectural experience by Danish Architect Lene Tranberg. The Brosie Sessions will be intimate house concerts captured on 16mm film by a music loving team. Efterklang's session, filmed last month, sees them perform "Verden Forsvinder", "Vi er uendelig" and "Hold mine Hænder".
"We wanted to capture the spirit of our current live-band and our new songs, the sound, the vibe of this band, at this time," Efterklang's Casper Clausen tells us. "We really enjoy playing with these wonderful musicians & beings. This house is literally one big space, with huge windows and layers of platforms, with million different corners and perspectives. We performed in the middle of it, surrounded by all sorts of art, including works by danish sculptor Sonja Ferlov Mancoba, who was actually an inspiring force in our making/understanding of Altid Sammen. And a very special intimate crowd of friends, family and fans around us. It was a truly special experience that we'll remember for a long time to come. I hope it translates!"
The band hit the road in January next year for a long run of dates across Europe, followed by their first North American shows in seven years. Tickets go on sale for those shows at 5pm today (12noon EST) and full dates are below
January 31 - AALBORG, DENMARK, Northern Winter Beat
February 5 – AARHUS, DK, Voxhall
February 6 – GOTHENBURG, SE, Pustervik
February 7 – STOCKHOLM, SE, Södra Teatern
February 8 – MALMÖ, SE, Babel
February 10 – BERLIN, DE, Admiralspalast
February 11 – LEIPZIG, DE, Werk 2
February 12 – FRANKFURT, DE, Mousonturm
February 13 – MUNICH, DE, Muffathalle
February 14 – VIENNA, AT, Gasometer
February 15 – PRAGUE, CZ, Archa Theatre
February 25 – HANNOVER, DE, Pavillon
February 26 – AMSTERDAM, NL, Muziekgebouw
February 27 – COLOGNE, DE, Gloria
February 28 – BRUSSELS, BE, Cirque Royal
February 29 – LONDON, GB, Barbican
March 2 – PARIS, FR, Trabendo
March 3 – LUXEMBOURG, LX, Rotondes
March 4 – ZÜRICH, CH, Mascotte
March 5 – LAUSANNE, CH, Les Docks
March 6 - MILAN, ITALY, Ohibò
March 27 - KNOXVILLE, TN, Big Ears
March 29 - BROOKLYN, NY, Elsewhere
March 31 - MONTREAL, QC, Bar Le Ritz
April 1 - TORONTO, ON, Garrison
April 3 - VANCOUVER, BC, Biltmore
April 4 - SEATTLE, WA, The Sunset
April 5 - PORTLAND, OR, The Old Church
April 7 - SAN FRANCISCO, CA, Swedish American Hall
April 8 - LOS ANGELES, CA, Lodge Room