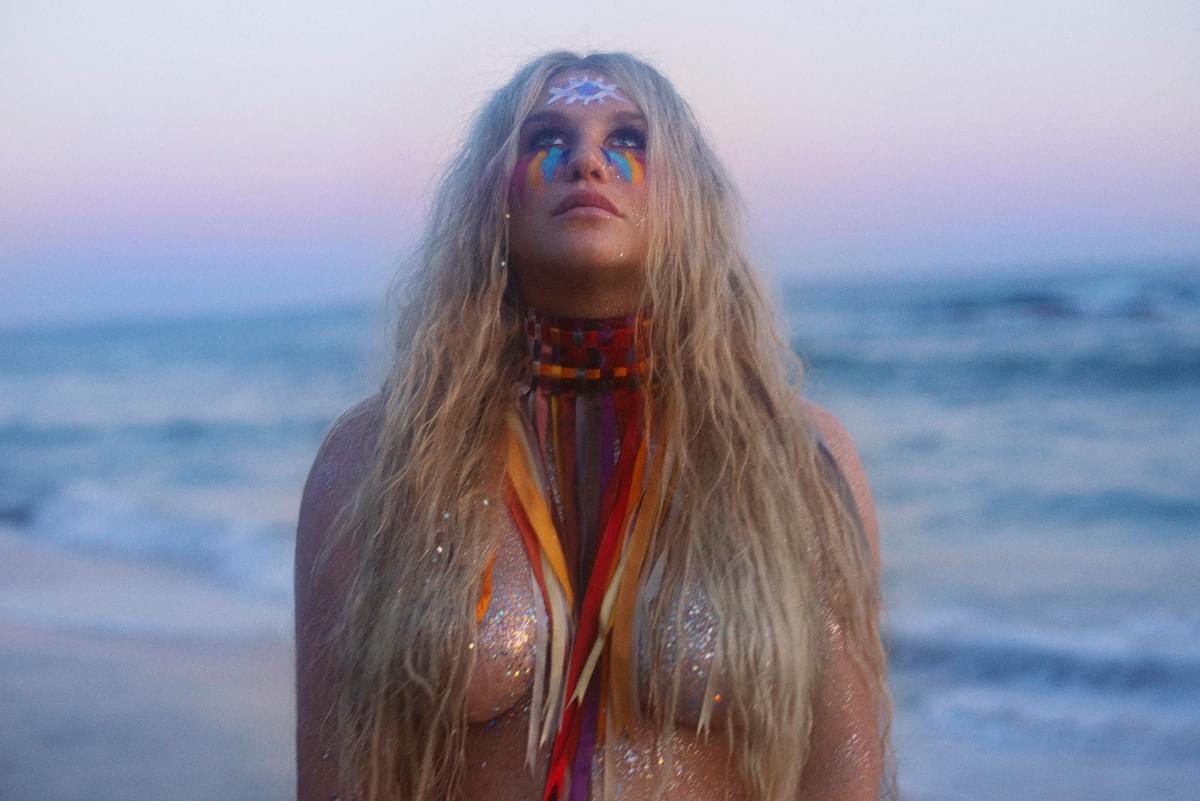 Kesha announces emotional new single "Praying" at candid album playback
It's been a tough few years for Kesha. The artist who signed a six album deal at 18 and rose to fame with her glitter- and whiskey-drenched pop opened up about a decade of alleged abuse from producer Dr. Luke, only to find her career come to a grinding halt due to the nature of her contract.
Almost three years after the original lawsuit was filed, the California-born singer takes to the stage at a tiny members' club in central London to announce that she is finally going to be releasing music again. Lead single "Praying" is an emotional ballad with serious pop heft, co-written with Ryan Lewis of Macklemore and Ryan Lewis. The track is the first taste of music from her album Rainbow.
"I had to fight like hell for it," Kesha says, of the video for "Praying". Directed by the legendary Jonas Åkerlund and shot "in the middle of nowhere", the singer describes the psychedelic clip as "worth it, as most things that you fight like hell for are."
The evening is emotional, with Kesha speaking tearfully at length about each of the six tracks taken from the forthcoming LP, and how they interwove with the trajectory of her past few years.
5 July 2017
"This project is the project I've always dreamt of making," she tells the room. "There's a part of me that [was] always scared to make it. The stars didn't quite align until now, but they finally have. This is truly from the inside of my guts, and is dedicated to my fans."
As well as "Praying", the playback features new tracks "Hymn For The Hymnless", "Woman", "Learn To Let Go", "Rainbow", and "Bastards". The latter, a mostly acoustic track orchestrated by producer Ben Folds, is - somewhat incongruously with its title - perhaps the softest and rawest we've ever heard Kesha. It's a gentle, uplifting cut that doesn't seem an obvious choice for the "Timber" singer, but nonetheless makes up a key part of the Rainbow story. When explaining what it's about, Kesha's words are simple and direct: "Bullies. I don't like them. I think they're bastards. I know I may sound like a five-year-old, but being nice is just so nice, and I really don't think it's overrated."
Between the acoustic "Bastards" and ballad of "Praying", fans might be concerned that Kesha has decided to step away from the dancefloor-filling pop that made her name. There's no need to worry, however, as - aside from the orchestral title track - the remaining cuts see Kesha at her bombastic best.
"I wanted to be a 30-year-old woman singing honestly and truthfully about where I am in my life, currently," she says, of her choice to abandon sex and sleaze to focus on her own empowerment. "Hymn For The Hymnless" tackles her feelings of not fitting in anywhere, whilst "Woman" is a response to Donald Trump's now-infamous "grab them by the pussy" comment.
"That made me so infuriated, as a hardcore feminist," Kesha explained. "Ever since I was a kid and knew what a feminist was, I was a feminist. [I was] raised by a feminist. Once I heard that [comment] I was like, okay, well, I'm going to write this song about being a badass motherfucking woman who you don't want to fuck with."
With the Dap-Kings playing horns, "Woman" sees Kesha ticking off a bucket-list item, but that wasn't the most exciting part of the recording process. "During that session I got locked in a vocal booth and almost suffocated to death," the singer laughs, surprisingly blasé. "I had to get drilled out and pulled through a window."
There's plenty said by the songs that Kesha chose not to elaborate on, but it's clear that every one of the tracks shared has been informed by the singer's tumultuous past few years. "I had so much emotion that I had to get out," she explains. "I wrote so many songs, and sonically there was a lot of experimentation. I think I was scared before, and didn't really try to go for the sound of my idols and the kind of music I always wanted to make."
Acknowledging the influence of the Beach Boys' Pet Sounds on title track "Rainbow", Kesha adds: "This record is hopefully sonically pushing a little more towards the kind of music that I listen to in my spare time."
As a whole, Rainbow sees Kesha refusing to apologise for her emotions, even those that are more painful and less palatable than those of previous releases. "That's what this record's about - being vulnerable," she says, summarising the new album with a candour so often absent in the world of pop. "This really is the rainbow. The shitstorm's over, and this is the beginning of the good stuff."
Rainbow is out 11 August via RCA Records. Lead single "Praying" is available now.
Get the Best Fit take on the week in music direct to your inbox every Friday