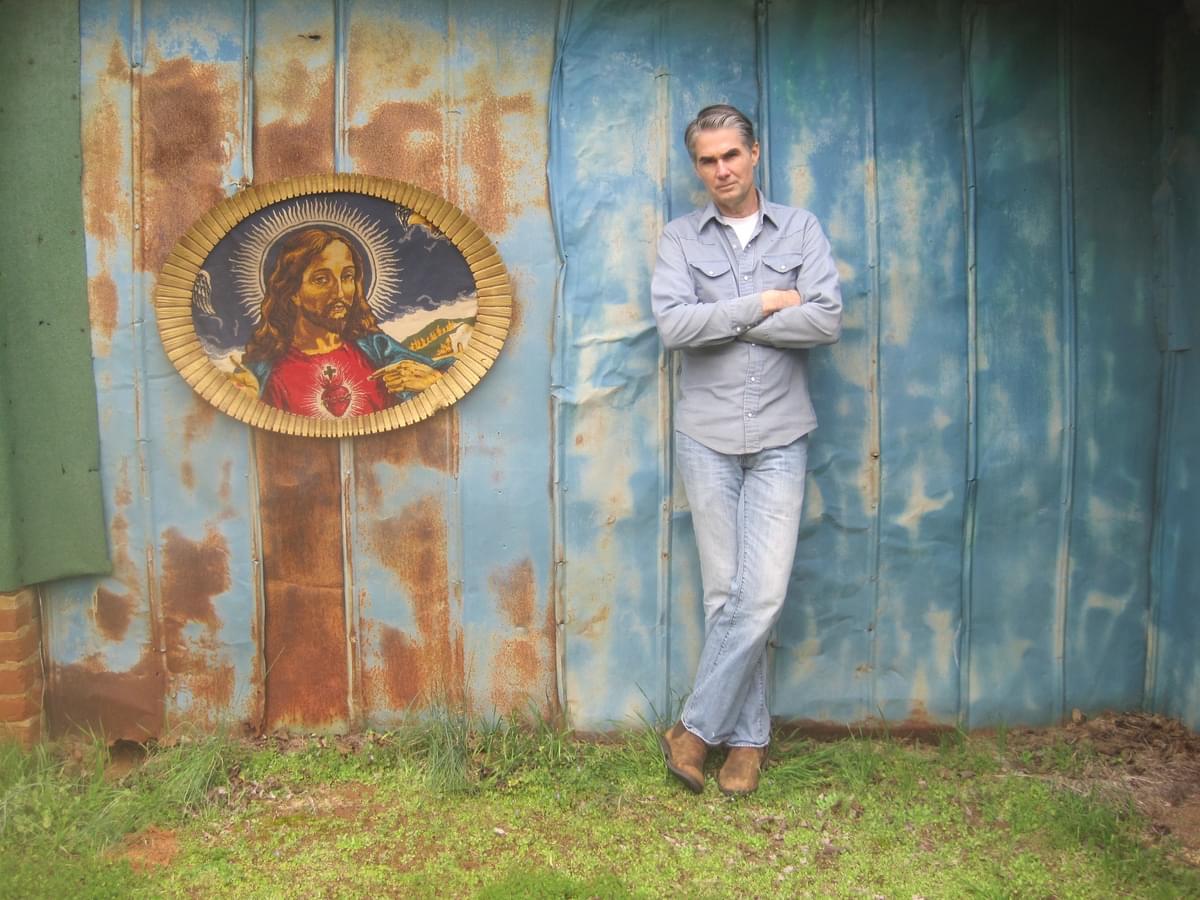 Polymath outsider Jim White announces sixth longplayer "Waffles, Triangles and Jesus"
Jim White has announced a new record and will hit England next month for a ten-date tour.
White remains one of modern music's most fascinating artists. A former dishwasher, landscaper, model, lifeguard, cook, surfboard laminator, road builder and taxi driver, White emerged alongside the nascent '90s alt.country scene as someone making a sound entirely of his own. Across five albums - and his live shows - he's built a reputation as a consumate storyteller with a DIY aesthetic and an outsider mentality.
White's new record Waffles, Triangles and Jesus gets a release on Loose but comes via a PledgeMusic campaign that saw him offering folk art landscape paintings of the rapture, a scrapbook of southern ephemera collected from dumpsters, and a james Floyd 3 string Kalimba guitar, to anyone willing to pony up and support the record. The record's out on 10 November and White hits England seven days later for a tour culminates with a headline show at Dingwalls in London on the 26 November. Full dates over on Songkick.
White's teasing the record with new track "Far Beyond the Spoken World". We spoke to him about the record and that song.
BEST FIT: Can you talk us through the artistic process that led you from the last record to this one?
Jim White: I've been making proper records from roughly twenty years, and improper ones (homemade on my four-track) for another twenty so at this point my approach is resolutely intuitive. To explain my approach I usually use this bonsai tree analogy: Consider all art as taking the form of a tree. Most folks think to some degree in a cause-to-effect direction, and so when they build their "tree", they start by putting roots in the ground, then add the trunk, the major branches, the lesser branches, the twigs, then finally they attach the leaves. When they're done, they have something that looks very much like a proper tree.
I'm configured in the opposite way---I think effect-to-cause and so when creating anything, be it my visual art, the stories I write, or the recordings I make, I start by collecting a big pile of leaves and then throw them madly in the air until I catch a glimpse of some enigmatic, appealing form.
It's the memory of that form that guides me in the construction of the record. Once I have an idea of a form I want the piece of art I'm working on to take, then comes the chore of figuring out how to create a structure that can support such an unorthodox form. Because this involves some exotic structural engineering, for the first few epochs of my career as an artist, everything I made quickly fell down---too much complexity in the leaf structure, not enough support in the base. But over time I learned how to make crazy sonic bonsai trees, and at this point I don't even deliberate as to possibilites when I start a record. I find a form in the flying leaves, then dive in, making it come to be.
Is there a lot of your hometown (Athens, Gerorgia) in this record?
I don't keep track per se, but the core of the record is strongly Athens based. My friends in Hog Eyed Man are the core backing band, and were the impetus for the origins of this record. Intially I approached them to work on a collaborative project because I love their old timey, straight line mountain jig approach and marveled at the veiled complexity of their music. Everything sounds very simplistic and narrow, but it's quite the contrary.
The leader of the group, Jason Cade, is a mountain fiddle champion and a clawhammer wizard and his interest lies in songs 150 years old or more. He's a bit of a musical anthropologist and their focus lies for the most part poor white dance songs from rural southern contexts.
Originally when I began this project I had intended to make another collaboration record with Hog Eyed Man, as I did with the previous outing with local bluegrass heroes Packway Handle Band. We held a few rehearsals whereupon the band, all of whom are gainfully employed outside the music business, sadly reported that there was no way they could follow up with a tour for the record, as their home lives and jobs prohibited much of the troubadour style wandering you have to do as a self employed musician. So with that in mind, and knowing well the vagaries of the oxymoron known as the music business, I asked if they would be willing to serve as house band for an official Jim White record, to which they enthusiastically agreed.
"The night of the US election, when it became clear that Dark Lord of Orange was going to win, my 17-year-old daughter made a video of herself, furious, in tears, singing REM's It's The End of the World As We Know It, but with the words shifted to lament all the the rights that marginalized folks would lose as a result of what was transpiring."
How much of what's been happening in your country these last few years has found its way onto the record?
Not much. I'm not that kind of artist. I tend to take a long time to process whats going on in the here and now, so I'll probably be writing about this epoch in 20 years or so. I so deeply admire artists who can synthesize current events into songs. The night of the US election, when it became clear that Dark Lord of Orange was going to win, my 17-year-old daughter made a video of herself, furious, in tears, singing REM's "It's The End of the World As We Know It", but with the words shifted to lament all the the rights that marginalized folks would lose as a result of what was transpiring. It was a powerful, spontaneous response to something happening EXACTLY THEN, and I was so proud of my kid, not only for her stance, but her ability to synthesize such a huge amount of information into a coherent form.
Do you think the role of the songwriter and performer has changed considerably since you started out?
Thankfully that role is as diverse as the human experience. So for some the answer is yes, while for others it is no. In my case, I'm much more politically active on social media, but seldom attempt to call attention to contemporary conflict in my songs.
I once saw an interview with an incredibly accomplished black woman from the US south. Her name escapes me. He mother was a maid to some rich white people, her grandparents slaves. She had educated herself and risen to a level in our culture where she advised presidents, sat on important boards and panels and had a deep influence on the progress of the civil rights of blacks in America. The interviewer pointed out an astonishing anomaly in her personal history: that she had never marched with Martin Luther King during the civil rights strife in the 60's. He was puzzled about this and asked why she eschewed such an important duty at such a pivotal time in our countries history. Her reply? She said, "I didn't march because it wasn't part of my story." Wow. That's conviction in one's compass.
An artist's job - hell everyone's job - is to faithfully decipher the mysteries of how their compass operates, then follow it with a true and faithful heart. At times that may involve moving in an unorthodox direction.
How does this album fit in with your output to date?
I tend to think I just keep making the same album over and over. More and more though I'm stretching in the direction of collaboration, trusting others to know the way to what is essential in the music we're creating. Part of that comes from living in the same town, working with the same musicians over a stretch of a decade. With musical wizards Marlon Patton and Rob McMaken this record would not have happened. I've known them both for a long time now and we've developed an intuitive approach to finding the higher ground with each endeavor. Lyrically this album is all over the place. There's story songs, and romantic imprecations and gimmick songs and more, so echoes all my other work. I have a restless, "more is more" mind, and so every record is a mosaic of so many influences. They're all mosaics, from Wrong Eyed Jesus to this new one. The only difference record to record is the colors contained therein. To that end, the color palate is much brighter than some previous outings.
"An artist's job - hell everyone's job - is to faithfully decipher the mysteries of how their compass operates, then follow it with a true and faithful heart."
Can you talk me through the themes and ideas on the album teaser track "Far Beyond the Spoken World"?
All my life I've battled the considerable undertow of fear of abandonment. It was never crippling, but was certainly ever present. This song was written at a time when I was first becoming aware of the dimensions of that issue. I've spent much of my adult life alone (I have kids, but no partner), in great part due to some serious psychological baggage I acquired as a child. As I enter the later years of my life I'm working to better understand those complexities and not let them overly dictate the circumstances of my life. The riff came together when I was playing banjo one day and suddenly I stumbled upon the core pattern in the song. Once again, this is the effect-to-cause approach. Nothing structural about it. As I repeated the lilting riff over and over suddenly the words to Far Beyond came flying into my mind. This is a song I haven't thought of or sang in some 30 years. Interesting how the subconscious has its way! So it's a collision of intuitive elements.
Who else was involved with the song and how did it come together?
It's interesting about that. I listened to a lot of African music those years I was driving a taxi up in New York City: Ali Farka Toure, King Sunny Ade, Fela Kuti, Rokia Traore and more, and somehow that syncopated communal African ethos merged deep in my psyche with the bluegrass/hillbilly notions I was exposed to as a child. So the song is a hybrid of ancient forms with a modern day lyric. As for the execution, Jason Cade and Rob McMaken are two of the most musically articulate souls I know, and yet when I played them the riff and sang the vocal they just stared blankly at me. Jason finally said, "I'm sorry. I can't really figure out what you're doing there. Where is the "one" (meaning the first beat) in that pattern?" Rob and Jason discussed the framework of the song a bit and it took some real wrangling before these wildly accomplished musicians could find a way to settle into the song. Right then I knew it was a special composition.
Then in the studio, when Marlon Patton also was puzzled by the angle of attack---Marlon being as good as any drummer I've ever worked with---I understood that this song required careful attention so that whatever I had accidentally stumbled upon would not be lost in the process of documenting it---that's so often the case when dealing with "outside the box" compositions. I took it upon myself to do most of the percussion tracking, as I knew where the unorthodox accents lay. This was well after Marlon did his drum passes and the song sounded strangely bare prior to the addition of the clave and hand chimes. But once those were in place, everything made sense.
Thankfully we persevered and with each iteration the song blossomed further. The final touch came during the mix when John Keane (grammy nominated engineer and legendary producer here in Athens) added some amazing harmonies to places in the song where we agreed things were not properly transcendent. John comes from a rock and roll/folk background and when I saw how excited he was about this decidedly non-rock and roll/folk song, I was filled with joy. John completed the journey of the song, and I'm so grateful to him for the mix he did on it. He understands my approach, and so when I show up with 16 tracks of wind chimes, he doesn't flinch, he just dives in and makes sense of them.
How does it fit alongside the other songs on Waffles, Triangles and Jesus?
That's not really my job to comment on. I might suggest that in the mosaic that this record is in my brain, this color spectrum of this song is mostly bright yellows and blues.
Waffles, Triangles & Jesus is out on 10 November via Loose, available on 2LP, CD & digitally
Get the Best Fit take on the week in music direct to your inbox every Friday