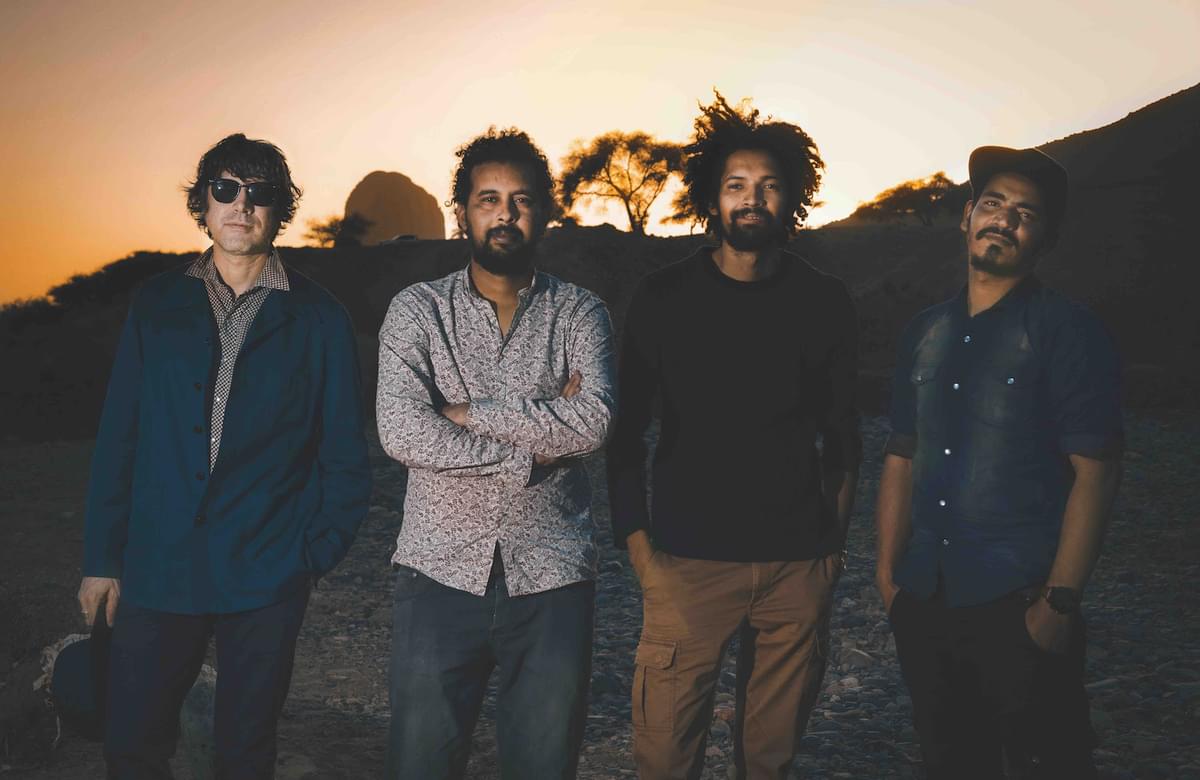 Imarhan unite with Gruff Rhys on new song "Adar Newlan"
Tuareg five-piece Imarhan have recruited Gruff Rhys to feature on their new Aboogi album single "Adar Newlan".
"Adar Newlan" is the third track to be lifted from Imarhan's Aboogi album, following last year's "Tamiditin" and "Achinkad" singles, and sees them collaborate with Gruff Rhys, after meeting him at an Africa Express event in London.
Rhys said of the collaboration, "My time at Aboogi with Imarhan was unforgettable, we hid from the Sun and drank hot strong tea in the orange tent within the studio's outdoor compound and exchanged musical ideas. New friends singing, as songs and comments in multiple languages, Tamasheq, Welsh, French, English, Arabic drifted on the air from the studio door into the yard. Songs seemed to flow and grow quickly and effortlessly in these conditions. Right where the city meets the mountains, and where you can glimpse both worlds, capped by the ceiling of their gigantic sky - without barely moving your head. A simple four meter walk to the studio then to document these ideas live and in the moment - the perfect way to record. To get to visit Tamanrasset in the first place, to receive the warmest welcome possible and to travel into the desert and witness all it's beautiful glory by day and it's infinite stars at night was life changing enough in itself but that's an entirely different story!"
"Young people should be left alone when they are struggling just to survive," Imarhan said. "They work in the mountains, and risk their lives because they have no choice. Rather than arresting and imprisoning them, the government must give them other choices. Young people struggle and are forced to adopt System D, to be outlawed just to stay alive."
Imarhan added, "We met Gruff at an Africa Express event in London, organised by Damon Albarn. We liked his poetry, his world, his originality, his resistance. We like his subtle compositions and sound. We felt great vibes altogether, very natural."
Aboogi will follow Imarhan's 2018 album Temet, and will include collaborations with Sudanese singer Sulafa Elyas and Tinariwen's Abdallah Ag Alhousseyni.
"Adar Newlan" featuring Gruff Rhys is out now. Imarhan's
Aboogi
album will follow on 28 January via City Slang, and is
available to pre-order now
.
Get the Best Fit take on the week in music direct to your inbox every Friday