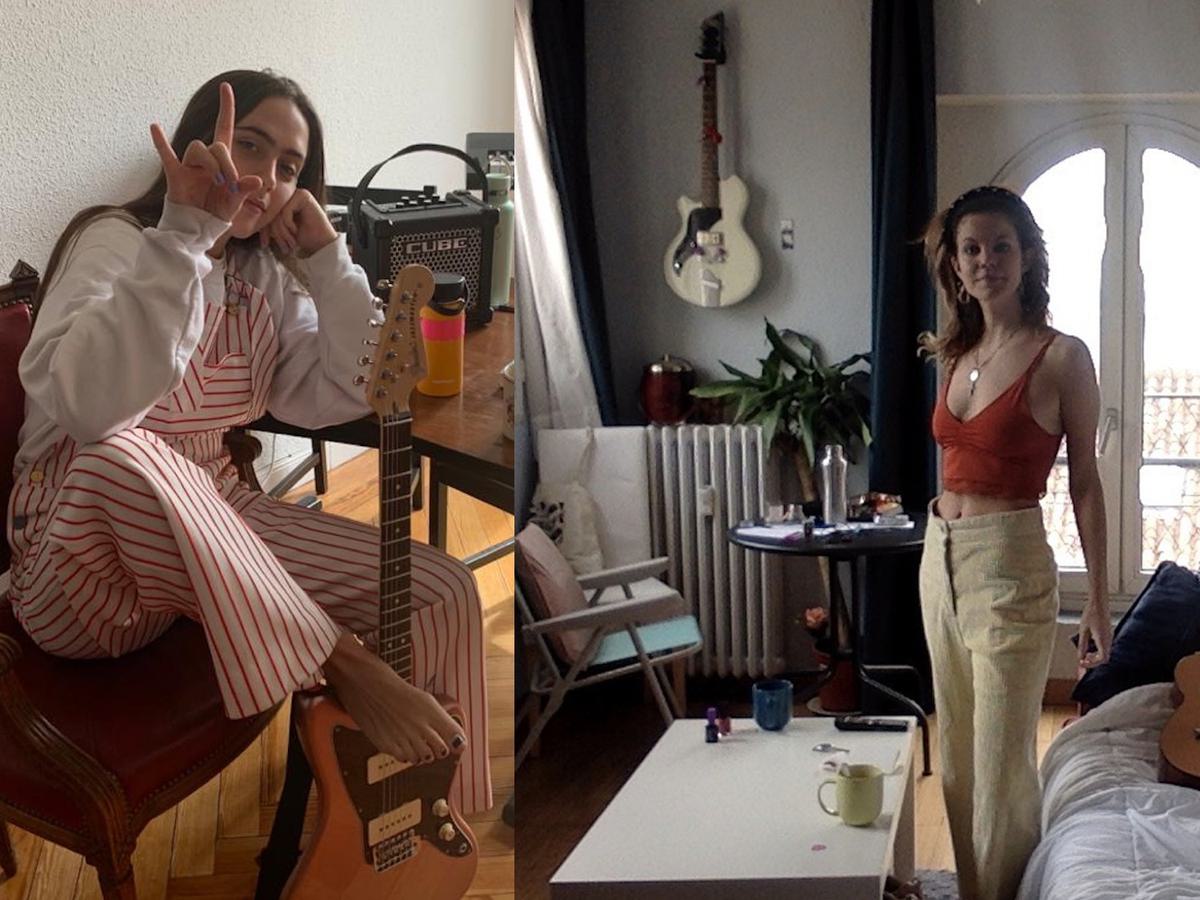 Hinds share tutorial on how to play "Come Back And Love Me", say they have "another one ready"
Hinds, who are currently quarantined in Spain because of coronavirus, have uploaded a tutorial on how to play their latest single "Come Back And Love Me", and they tell Best Fit that they have "another one ready".
Musicians have been getting inventive with ways to connect with their fans following the coronavirus outbreak. Tours have been cancelled to reduce the spread of the virus, and even meeting to rehearse is a struggle.
Hinds, who are currently on lockdown in Madrid, uploaded an 11-minute tutorial (recorded separately from their homes) on how to play their latest single "Come Back And Love Me", which features on their forthcoming LP The Prettiest Curse.
View this post on Instagram

during these quarantined days music don't die

A post shared by HINDS (@hindsband) on Mar 16, 2020 at 9:12am PDT
Guitarists and vocalists Carlotta Cosials and Ana Perrote spoke to Best Fit about their current quarantine situation in Spain, how it's affecting them as musicians, and some advice on how to stay sane while on lockdown.
It's five days into Cosials and Perrote's quarantine in Madrid. Cosials tells Best Fit, "Well, individually we are doing fine, my mum [tested] positive [for coronavirus] yesterday, the thing is she is a teacher of drama and one of her students was one of the first cases [of coronavirus] in Spain because they [the student] came from Italy. So she actually got the test and she received the results yesterday, and they told her she is positive, but she is feeling alright at this moment."
Perrote adds, "My family is good, no one is infected, but my parents are both doctors and they are both still going to work, so I'm ready at any moment for them to catch something unfortunately, but hopefully they don't."
Discussing their decision to do tutorials, Cosials says, "I have another one ready today or tomorrow or whenever we want to post it." Perrote expands, "As soon as we realised that this was gonna go for two weeks or more we started thinking like 'ok, instead of touring what can we do to still keep active', and that's from like a selfish, marketing point of view, but at the same time there's a really important part which is entertaining people, because there are people that get anxious, and this situation is like a challenge. Obviously if you can get yourself into playing music or doing something creative then it can actually help your mental health and staying calm, so yeah, people are getting super creative which is the good side of it, 'cause we all need to think outside of the box and we need to challenge, and we're thinking about what we can do apart from the tours."
Via FaceTime, Cosials and Perrote show Best Fit what the streets outside their homes look like, and Madrid is certainly a ghost town. Cosials explains that there are around seven exceptions for leaving your house in the current quarantine phase, including going to work (if you are required to), going to the supermarket or pharmacy, to the doctors, and more. Perrote adds, "And, there's another one that is walking your dog. People are obviously making jokes and memes of dogs with pictures saying like '100 euros for half an hour' like it's the only reason to go out and have a walk in the park and stuff. We can go out to the grocery [stores] but we're not supposed to go to a park, but people that have dogs can actually go out."
While discussing how quiet Madrid is because of the virus, Cosials says, "For me this is the craziest thing." Perrote quickly adds, "For me this is the best part!"
Explaining how the virus outbreak affects them as musicians, Perrote says, "Obviously it effects every tour as nowadays every band has to tour their music, like it's just the way it is to get money or attention or to just have fun. Obviously it's now the opposite of what we should be doing so it's a little bit frustrating and the uncertainty of not knowing what's gonna happen and releasing an album right when this is exploding, so it is scary and at the same time, what annoys me the most is like, well, we could be doing an acoustic [performance], like we were thinking [of doing] a livestream recording of whenever we release the album, even that means the four of us have to meet, which we can do because it's work but then we're like the anti-isolation people. It's annoying that we can't even do an acoustic [set] together as the whole thing of Hinds is like unity and everyone together, and this is the total opposite."
On any advice they have for people in quarantine at the minute, Cosials says, "For the people that are stressed, I think the concept of time has changed a little bit because now the days are a little bit longer, just because you're used to moving from one place to another, and I think one of the best things to do is to have a new routine. I think human beings feel a little bit more safe and stable if you're doing something that you can repeat. I would look at the day, at the time, and look for things you can do in your house. I think routine can keep you sane, mentally talking."
Perrote tells Best Fit that people should be thinking about the bigger picture, and adds, "what is 15 days or a month, or two months in a lifetime? It's Nothing."