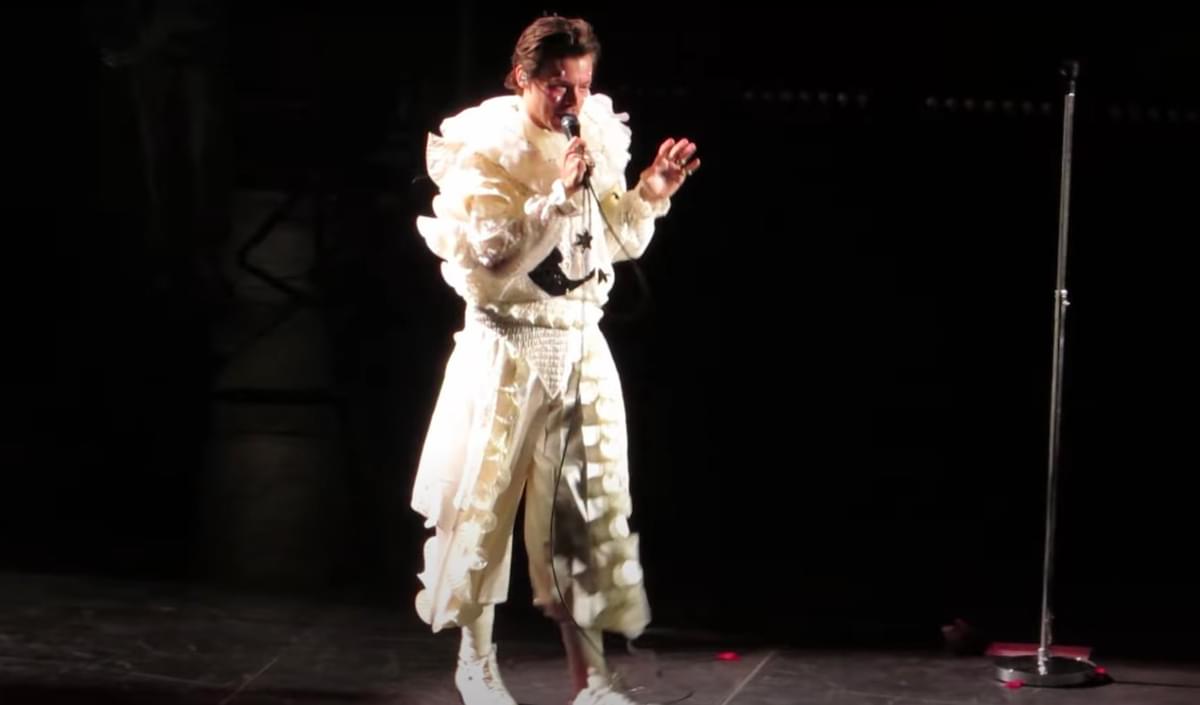 Harry Styles reveals films are where he feels "most out of my comfort zone"
Harry Styles has discussed his recent, and upcoming roles in various films, revealing that "movies are definitely where I feel most out of my comfort zone."
This afternoon (15 November) Harry Styles launched his new beauty brand Pleasing with a variety of nail varnishes and skincare products. To coincide with the launch, Styles spoke about the brand, as well as his recent and upcoming roles in films to Dazed.
Prior to last month's Marvel film Eternals, Styles hadn't appeared in a feature-length film since 2017's Dunkirk, but he also has two more films on the way - Don't Worry Darling and My Policeman.
Speaking about acting, Styles said, "I like to challenge myself and do something different and movies are definitely where I feel most out of my comfort zone. I'm coming from music where I don't think anyone really knows how it works, but I am somewhat in my comfort zone! But in movies, when I show up, I'm the new guy. I haven't been (an actor) for a long time and that's really cool, I feel like I've learned so much and life is about learning."
"I think music and acting really aid each other in a lot of ways," he continued. "In my experience, a lot of the time when I've gone to do a film I've felt like, 'Oh, I'm probably not gonna do any music for a while because I'll be so focused on that.' And then I actually find that, by the time I get home at the end of the day, I just write so much. Any time you are looking at the world through someone else's lens and exploring different emotions, it feels like a benefit in so many ways."
On his recent role in Eternals, Styles added, "I'm only in right at the very end. But who didn't grow up wanting to be a superhero, you know? It was a great experience and I'm so grateful to have gotten to work with Chloé [Zhao, director]."
While discussing his new beauty brand Pleasing, Styles revealed that it was an idea he'd "had for a while", and explained more about the brand, "It's starting with nail polish, because that was kind of the birth of what it was for. Me seeing a colour on a flower or a wallpaper or something and thinking, 'Oh, I wanna put that on my nails.' It was a fun little project, but during the pandemic, and when we eventually named it Pleasing, it felt like it was so much more than nail polish. I've always found that the moments in my life which have brought me the most joy are the small ones, whether it be, you know, the end of the night under the stars or a bite of food, or sitting with your friends thinking, 'Oh, I'm never gonna forget this.' It's always those moments that I find have the longest-lasting effect on me, in terms of sparking something wonderful in me. I really think that the essence of Pleasing is finding those little moments of joy and showing them to people."
He added, "I also think that what this can become is so much more than just products you can buy. I think it's about giving, and giving back. I am blessed to have fans who are so supportive of me, who believe in freedom and who have created this safe space for each other. Pleasing is really for them. That feeling of community is kind of what we would like Pleasing to (reflect)."
Get the Best Fit take on the week in music direct to your inbox every Friday