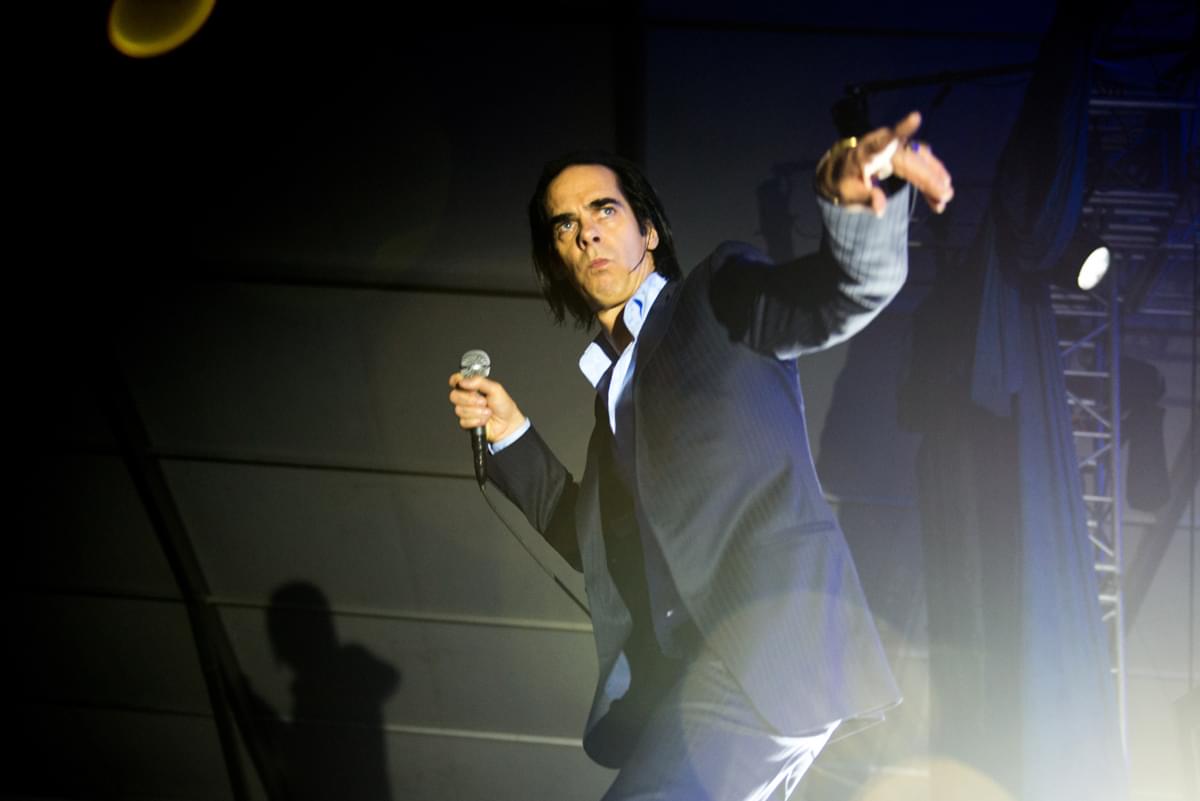 Grief, religion, creativity and other amazing truths we learned at Conversations with Nick Cave
Nick Cave turned London's Barbican into a place of sharing and laughter last night as his Conversations tour hit town.
The event series - which kicked off last year in Australia - was taken from The Red Hand Files - a blog responding to emails from fans. "It's an opportunity to plug into the very soul of my audience," Cave explained. "I didn't realise how fucked up you were until then…The reason to do these things is because it keeps me sane and alive."
The night included a set of Cave classics and covers including T-Rex's "Cosmic Dancer", Leonard Cohen's "Avalanche" and Grinderman track "Palaces of Montezuma."
With questions ranging from the sublime to the ridiculous, here's what we took away from the night.
He hates perfume
"The world smells so badly these days," Cave laughed after being asked what his favourite smell was. "I have a pathological disgust for perfume - I just find it very difficult to be around it. I'm more of a visual person."
His desert island songs include a Cave classic
Choosing T-Rex's "Cosmic Dancer" and "I'm Gonna Kill That Woman" by John Lee Hooker, Cave was asked to add one his own tracks to a the trio he'd take to a desert island. He chose "Brompton Oratory" from 1997 record The Boatman's Call. "I'm pleased with the way I wrote this song," he explained. "It felt like it came from a place of gift."
He still believes in heroes
Bob Dylan and Leonard Cohen were namechecked: "They went beyond. They always stuck to their vision. For me, this is heroic."
Empathy and compassion matter
Not surprisingly, the subject of grief was a dominant presence over the evening's conversations: "The difference between losing someone and having your heart broken by someone is that to you can always say 'there's plenty more fish in the sea.' and 'time will come and heal you,' because those two things are true. When someone dies, it's just different.
"When my son died, Leonard Cohen emailed me: 'I'm with you, brother'," Cave told the audience. "It was one of the most meaningful messages I received at the time."
"He was compassionate. A lot of people don't know how to be around at those times; a lot of people don't know how to deal with grief. There's a big difference between being compassionate and empathetic. Empathy is when you feel what the other person is feeling, and in these moments you don't want to reverberate fear and sadness wherever you go.
"Someone compassionate will know how to just be around you, make you a cup of tea."
Routine drives his productivity
"I don't actually believe in writer's block," Cave revealed. "I think it's a terrible word. What I do is I get up in the morning, kiss my wife, put on my suit, sit at the desk and work until 5pm. It's not what I do, it's who I am. I don't judge the day, I don't judge if something comes out or not - I just do my hours. "
Cave also talked about the creative struggle happening only behind the writing desk: "The rest is pure pleasure. It's impossible to be sad on stage. The connection that you feel and all the energy between you and the other people takes you to a place beyond these emotions. This is just an absolute privilege. It makes me sick when I actually hear bands saying bad things about it."
Jesus still inspires him
"[It's] his flawed beauty," revealed Cave. "I'm not a Christian, but the idea of transcending through suffering is something that runs through my songs. The idea of reaching beyond yourself."
Atheism is bad for the business of songwriting
"I often feel the presence of my son," Cave revealed. "I don't know if he's here or not and it doesn't matter. It's the same with God. If he exists or not, that's not really the point, but to feel him.. that's the true connection."
"I'm not an atheist - the existence of God is not my business, but the belief of it is fundamental for my songwriting and for the way I live my life.
"We build the things that we think we are and then we believe that we become something. But then something comes along and breaks everything. You fight to stand up and you suffer to put the pieces together. You do manage to do it, but when the pieces are back, they come back in completely different ways and you're not the same person. You're different from who you were. It's scary, it's a frightening process, but there's an incredible beauty if you come through the other side. There's huge beauty on the other side of trauma and suffering."
Set List
God Is in the House
West Country Girl
Cosmic Dancer (T-Rex cover)
Love Letter
Jubilee Street
Avalanche (Leonard Cohen cover)
The Mercy Seat
The Sorrowful Wife
Stagger Lee
Papa Won't Leave You, Henry
Palaces of Montezuma (Grinderman song)
Into My Arms
Skeleton Tree
Get the Best Fit take on the week in music direct to your inbox every Friday