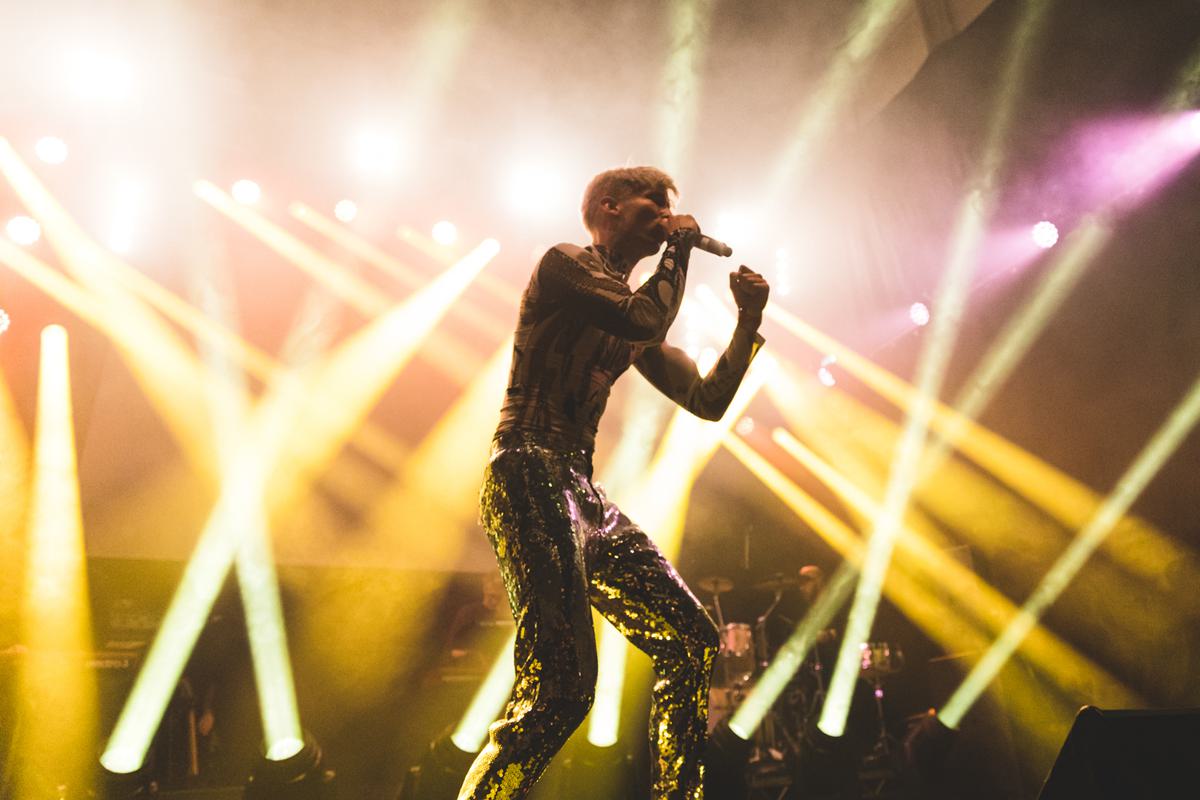 Finding closure on the final night of Iceland Airwaves 2019
As a sizeable portion of attendees go see headliners Of Monsters and Men, city centre queues die down and bands on Iceland Airwaves' festival's final night line-up get a chance to shine.
Another year goes by, and another Airwaves comes to an end. The showcase festival has long since outgrown its initial remit and become a cultural staple, but in recent years it has struggled to find its footing in uncertain times. Despite these hardships, this year's festival went smoothly, and the final night proved to be an adequate send-off.
At Hard Rock café, I gently take the first steps into the final night. Ateria is a young trio consisting of two sisters and their fourteen-year-old cousin; together they won Músíktilraunir, Iceland's Battle of the Bands, last year. Armed with a cellio, electric guitar and bass, keys and a drum kit, the three youngsters employ their classical musical training to perform goth folk tunes that could've easily be a fantastical score to a fairytale horror film. Even with so many instruments, the rhythmic drums and steady vocals stand out at all times as the defining sound of the band. They then move on to a slower, and more sombre song about climate breakdown. "It's something that has been talked about a lot, and yet not enough in our opinion," one of the sisters offers. The solemn introverts then play "Ein" ("Alone"), a song about how good it is to be alone and how hard it can be to be around someone. "This is for everyone looking forward to sitting down after the festival, with their cat in their lap and a cup of tea or something in hand." Finally, they end with dramatic bass-heavy song "Saga fyrrverandi verðandi fiðrildi", or "History of the former budding butterfly." Calm, refreshing, rhythmic, it almost sounds like a stanza, ending with the instruments fading away until just the harmonising vocals are left telling the dramatic story of brains leaking out of one's ears like porridge.
Papercutz play soulful and atmospheric electro pop accompanied by glitchy synths. Confident merger of electronic and organic instruments. Over at Iðnó, multi-instrumentalist Ólöf Arnalds and acclaimed bassist Skúli Sverrisson perform quirky songs about subjects like selling one's soul to the devil to buy a flat by the sea, only to get it back from him because "things are getting better". While seated for the duration of the set, Ólöf still manages to be expressive through her intense facial contortions. Then they sings a song about not being in a good mental place, but having a friend that reminds them of the importance of being creative.
Iceland's most successful and endearing RnB artist Auður ponders youthful thoughts of postponing serious decisions until he's a geezer. He quickly wins over the youthful audience, calls everyone "kids", and pushes for a wall of death before taking his top off to cascading frenzy of fanciful screams. Plays controversial song "Freðin" which is about weed-fuelled romance and faulty decision making. This splitting image of Adonis then proceeds to flex and hip-thrust through his romantically-infused set, singing there's "nobody like you", which speaks to the heart of every single pining soul in the audience. Ends on a confessional ballad about mental healthy, contemplating suicide but instead seeking the help he needs.
Coolkids JóiPé X Króli go through a selection of their biggest hits, and the youthful crowd sings along, clearly enjoying themselves as much as the duo. They repeatedly try to get the audience to participate in cringeworthy bouts of call out and response, despite not needing to rile the crowd up any more.
While billed as rappers, they've long since outgrown that label and embraced their status as pop icons. They dramatically flail to rock anthem about the malaise of breakup, and then ask for… A mosh pit? Which lasts for only ten seconds, but the crowd keeps dancing and jumping through the set, cheering the band on with reckless abandon. End with their first release "B.O.B.A.", which sadly is not about the fabled bounty hunter from a galaxy far, far away, but a girl they fancy.
Whitney start slow and sweet, encouraging the crowd to swoon and slow dance to their indie pop tunes. Smooth and jazzy with trumpet blaring and organ wheezing, gentle and sweet, the band plays tunes to a largely unfamiliar crowd that takes everything thrown at it with delight. They offer an enticing end to the festival In a way they could be the soft end to the festival, finger kissing and waving at the crowd affectionately, but out itenerary demands more of us.
Over at Gaukurinn, Pottery throw everything and the kitchen sink at the crowd with their frantic post-punk show. Loud, fast, and visceral, the frantic fivesome has already won the crowd over by the time I get in. Hip and banging, the band carries on relentlessly despite technical difficulties, leaving even the bar staff unable to resist dancing to their infectious beat.
And then, Grísalappalísa, the artists' band, platy their final Airwaves show ever. The band has played every year since 2013, putting on epic show after epic show. In a way, their disbanding signals an end of an era for the Reykjavik nightlife as well as for the festival proper.
Irreverent, loud, gender-bending and dynamic, the seven-piece band rocks the stage with their layered and furious indie rock. Post-crash angst, displaced masculinity, and purposelessness for a disenfranchised generation are all topics of their songwriting, and they've kept a loyal following since their inception, a following that diligently shows up to this performance.
The whole show is an existential crisis performed live on stage. In addition to songs off of new banger album Týnda rásin, the band also bids farewell to songs from seminal album Ali, which is known for being sinulstebeously angsty and entitled, and unapologetic and vulnerable. Unsurprisingly, a mosh pit erupts in the middle of one of the newer (and shreddier) songs. Singer Gunnar then repeatedly stagedives, and is carried back and forth by the enthusiastic crowd. "Lóan er komin" gets the crowd moshing and screaming again, and "ABC" off of Rökrétt framhald keeps everyone spellbound to the infectious best.
At the end, Grísalappalísa leaves to the sound of thunderous applause. The crowd begs for an encore, but sometimes the end is just the end.
At Gaukurinn, Hatari repeat much of last night's banging set, sans dancers and live projections on the crowded stage, making up for it with their proximity to the enthusiastic and enraptured fans. The show feels more like a traditional concert than the performance seen on the previous night at the art museum, but the attendees seem more than okay with that, eager to squeeze the last few drops of enjoyment out of the festival. The final set then ends with their Eurovision song contest entry "Hatrið mun sigra".
And with that, the festival concluded. If the stars align correctly we'll be returning next year to an interesting mix of eclectic mix of unique and mainstreaming acts. And if not? Well, then it's been one hell of a ride.
Iceland Airwaves runs next year from 4-7 November. Early bird tickets
are on sale now