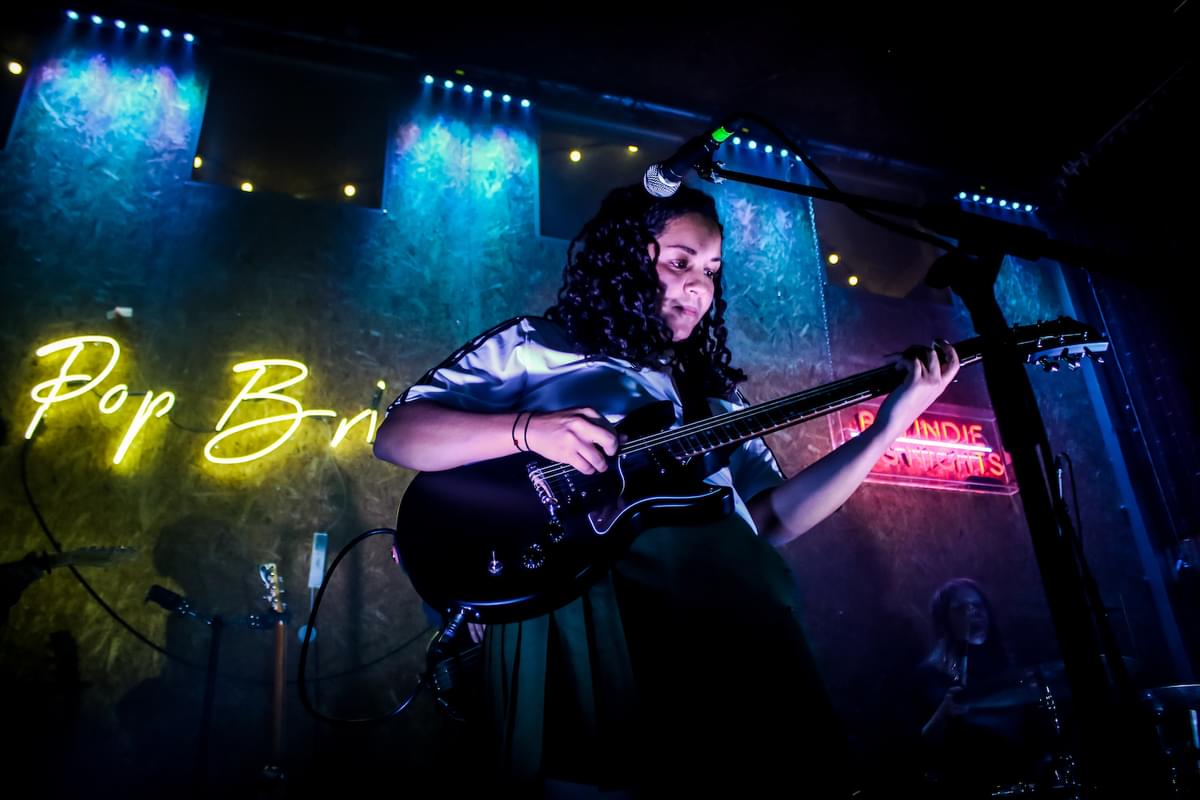 Eliza Shaddad announces new Scala gig during Pop Brixton Big Indie Autumn Sessions show
Eliza Shaddad headlined the Big Indie Big Nights Autumn Sessions show last night (6 November) to celebrate the launch of her latest single "Girls", and she pleased fans with details of a huge new London show at Scala.
Shaddad took to the stage after harmony-driven support acts Prima Queen and BRIDGES, and opened her mesmerising set by revisiting early track "Waters", before plunging into "My Body" from her 2018 debut album Future.
Her grungy guitar tones and emotive vocal delivery had the crowd hanging onto every word, swaying gently and joyfully responding when Shaddad played some unreleased material from her upcoming EP.
The singer/songwriter revisited "Wars" from her 2016 Run EP, and added some extra haze to the stage in preparation of performing new song "Same As You". Shaddad told the packed-out room, "It's like playing in Mordor!" as she waved away the plumes of smoke from around her.
She went on to give a passionate and tender solo performance of new track "In the Morning", unleashing her mesmerising vocals as a projector showcased a nostalgic visual component on the opposite wall.
Before launching into Future tracks "This is My Cue", "Daydreaming", and "Just Goes to Show", Shaddad switched her guitar, announcing to the crowd that the new custom-made guitar was delivered to her just hours before the show. She stated, "I can't wait to christen this," before revisiting her debut album.
After the penultimate song ended, Shaddad announced her next London show at Scala, which will take place on 19 March 2020. She thanked Big Indie Records and Pop Brixton for hosting the cosy gig, resulting in someone from the crowd shouting, "Thank you for your talent!"
Shaddad ended her spellbinding set with a celebratory performance of latest single "Girls", channelling the last of her adrenaline into her powerful vocals on the anthemic chorus. As the final track faded out, a sea of clapping hands and jubilant cheers erupted from the crowd, praising Shaddad for her intimate performance.
Eliza Shaddad's "Girls" single is out now via Big Indie Records. She plays London's Scala on 19 March 2020.
Find out more
.
Get the Best Fit take on the week in music direct to your inbox every Friday