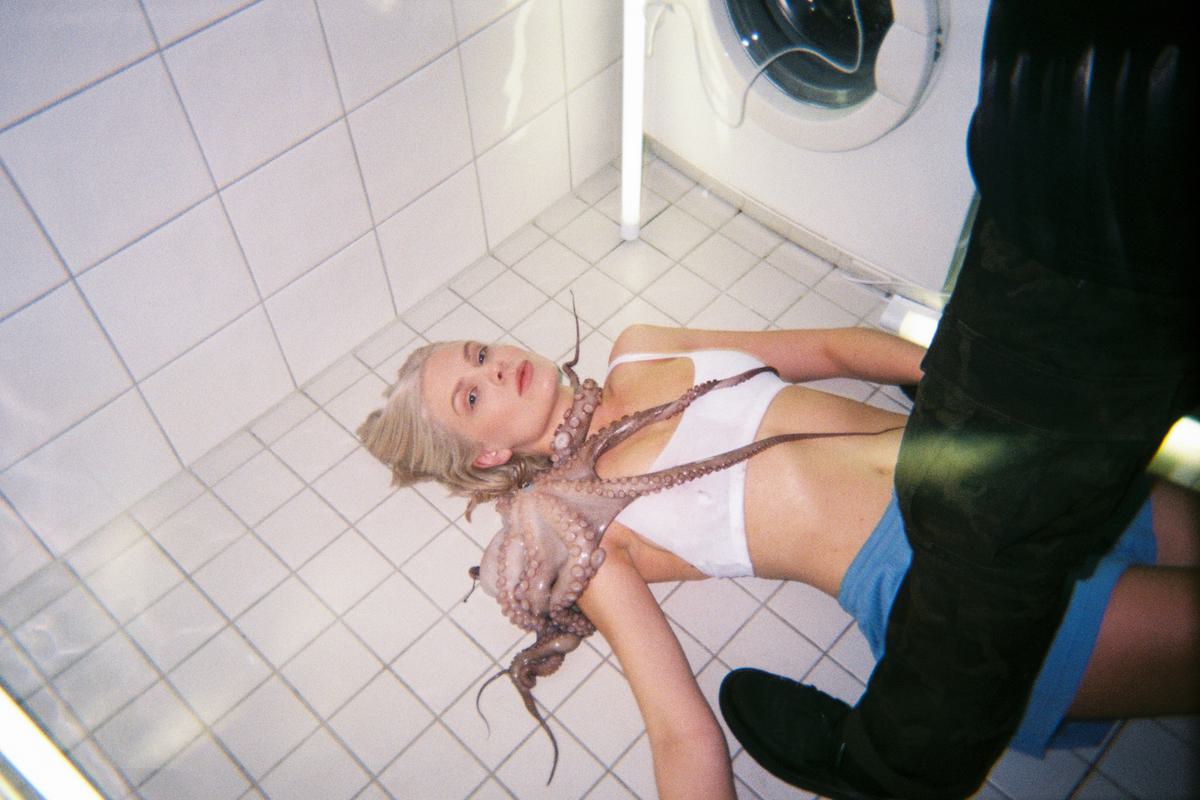 Chaos, But With Girl Power: Welcome to the weird and shadowy world of Ponette
Oslo-based quartet Ponette draw together disparate influences to create a bewitching pop elixir that packs a heavyweight punch in every beat.
Fusing strands of electronica with shards of hip-hop, hardcore fragments, and serene pop layers is a bold gambit but one that clearly pays off, with numbers such as "Relief", "Made Of Blood", and "Freak" leaving you in a quivering, gibbering pile of jelly by each's end. Ponette are refreshingly dark without being melodramatic, and addictive without gimmicks - Ponette have only released one EP to date (plus a collection of remixes), but latest track "Gun" (and a live show to rival the arena-packers of the world) make us incredibly excited to see what the future holds.
We had a chat with the Norwegian band to find out a bit more about their world - check out nu-metal-tinged single "Gun" below, and read our Q&A afterwards.
BESTFIT: Hey - can you tell us a bit about yourselves?
Ponette: Ponette started out as a more indie and shoegazr-y band (than it is today) a few years back, although the idea of combining it with pop music was with us pretty much from the beginning.
The four of us - Helene Svaland, Johannes Amble, Ivo Gutu, Johan Fredrik Bolli - started playing together shortly after moving to Oslo. At some point we felt we were onto something, and we recorded four songs for our debut EP without any of us having much experience in music production. It was released late 2016, and half a year later we recorded and released "Freak" which was a collaboration with a friend of ours who's a very talented producer and sound designer. Somehow the pieces sort of fell into place at this point, in terms of our vision of sound, genre, energy etc., so naturally we continued this workflow, with "Gun" being our latest single which is also the very first release on our own label.
What do you try and do with your music?
Ponette: We are trying to create our own type of pop music with a sound and an image completely unique to ourselves. We are obviously inspired by types of music that promotes certain emotions, attitudes, vibes, and levels of energy that rarely is found in an average pop song, and our ambition is to bring these elements into something more accessible.
How would you describe the music you make?
Ponette: Essentially it's electro pop with rock guitars. We also aim for it to be a little fucked up at times, with lots of weird and quirky stuff going on. We all have different backgrounds and influences, ranging from hardcore/metal, shoegaze, electronic music, and hip-hop, and we try to bring out the best of it through our music.
Can you tell us how "Gun" came together?
Helene Svaland: "Gun" is actually a very special song for me. I wrote it while experiencing anxiety and panic attacks for the first time and I was definitely coloured by that. Every part of the song is written on totally different days and in different moods, as you probably can hear when you listen to it. I recorded the vocals in a pillow fort in my kitchen. The music video is recorded on my bathroom floor and in my basement. I wanted every part of the process to be as personal as possible, so it would give people an intimate and honest image.
For the production of the song we saw this crazy documentary about the 'gabber' techno music scene in Netherlands during the '90s and we wanted to create something bold inspired by this. Parts of the song are really rough and intense (inspired by both techno and hardcore rock), with the choruses being more open and fragile. This way every part matches the different states of mind I was in while writing the lyrics and the melody.
What's it about?
Helene: I think the lyrics can be interpreted in a lot of different ways. For me personally it's about experiencing and dealing with these big, confusing feelings and how it temporarily changed me. It's about finding my place and deciding how to live my life. Chaotic, but with girl power.
What's next for Ponette? Do you have many plans for the year ahead?
Ponette: We're currently working on our next release! Apart from that we're determined to work extremely hard, play lots of gigs, and eventually take over the world.