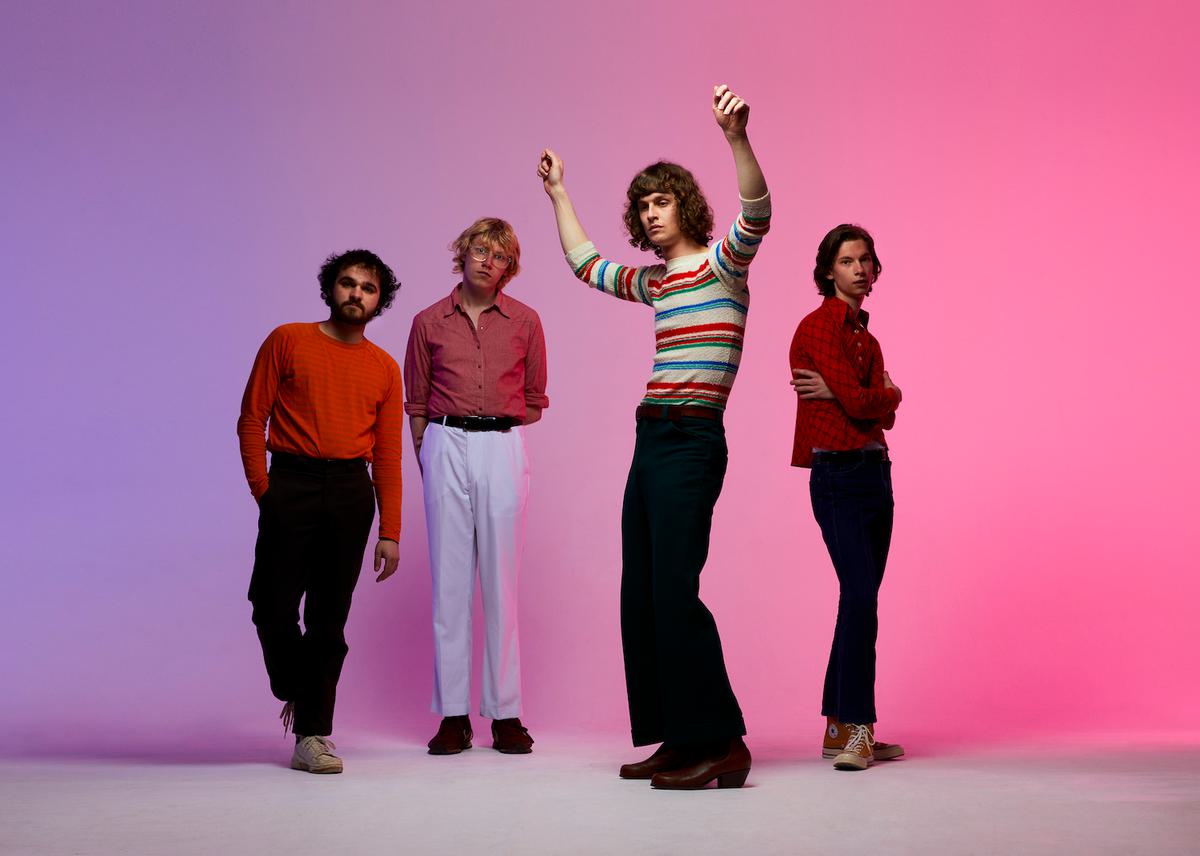 Buzzard Buzzard Buzzard announce debut album with new single "You"
Buzzard Buzzard Buzzard are back with news of their debut album Backhand Deals, and have released new cut "You" to accompany the announcement.
"You" is the third outing from the Cardiff-based band's debut album, after earlier releases "Crescent Man vs Demolition Dan" and "New Age Millennial Magic", and is teamed with a Will Clark-directed video.
Vocalist and guitarist Tom Rees says of "You", "Individual responsibility has always been around, but I feel over the past three elections we're so jacked up on it we don't remember what community living was like. We're all just huffing this Darwinist glue of "I am a lion and lion's look after themselves", which is objectively incorrect. It seems weird that the burden of individual responsibility is touted by elitist slugs who have never had to work for anything in their lives and have had everything given to them as and when they asked for it… imagine being told to pick yourselves up by your bootstraps by Jacob Rees-Mogg."
He adds, "The benefit of the burden allows privileged thugs to inspire in the rest of us a special kind of hatred for people less fortunate than us. Not even less fortunate than us, but less fortunate than anyone at any point in time which is why it's such a perfect tool - it applies to everyone at every time across every spectrum of belief. When arguments break down to the level of personal responsibility, the higher concepts that warrant that arguments are set aside, which is the primary source of it's discoursal power."
Discussing the group's debut album, Rees said, "Backhand Deals is a practise in subverting the ideology of rock music as something that needs to be 'brought back from the dead'. Rock should be about enjoying yourself honestly, whether that's washing the dishes, sweeping the yard, or complaining about whoever got elected. Rock is a sweeping power, and is attributed to anyone who performs art honestly, from Lizzo feeling good as hell to AC/DC riding down a highway to hell. The honesty is the same, and the honesty prevails."
He continues, "The record allowed us to discuss the thoughts we have about our lives, the lives of people from Cardiff, the lives of people from Wales, and the lives of people from everywhere whilst openly admitting that we know nothing and we're just part-time-opinion-havers. The longer we're a band, I realise that all we ever want to do is effect change in people's lives and to do that disingenuously would make me feel slimy. So let's do it honestly in any way possible. Rock isn't dead, it doesn't need 'resurrecting' or 'regurgitating'; it needs acknowledging for what it is, and it's everywhere. If we should ever be considered a band that is 'bringing rock music back' I think I would shed a tear - rock should be moving forwards, not backwards."
Tracklist:
New Age Millennial Magic
Good Day
Crescent Man vs Demolition Dan
Faking A Living
Yourself
Break Right In
On The Kill Again
You
Feel The Change!
Demolition Song
A Passionate Life
"You" is out now. Buzzard Buzzard Buzzard's debut album
Backhand Deals
will be released 25 February 2022 via Communion, and is
available to pre-order now
.