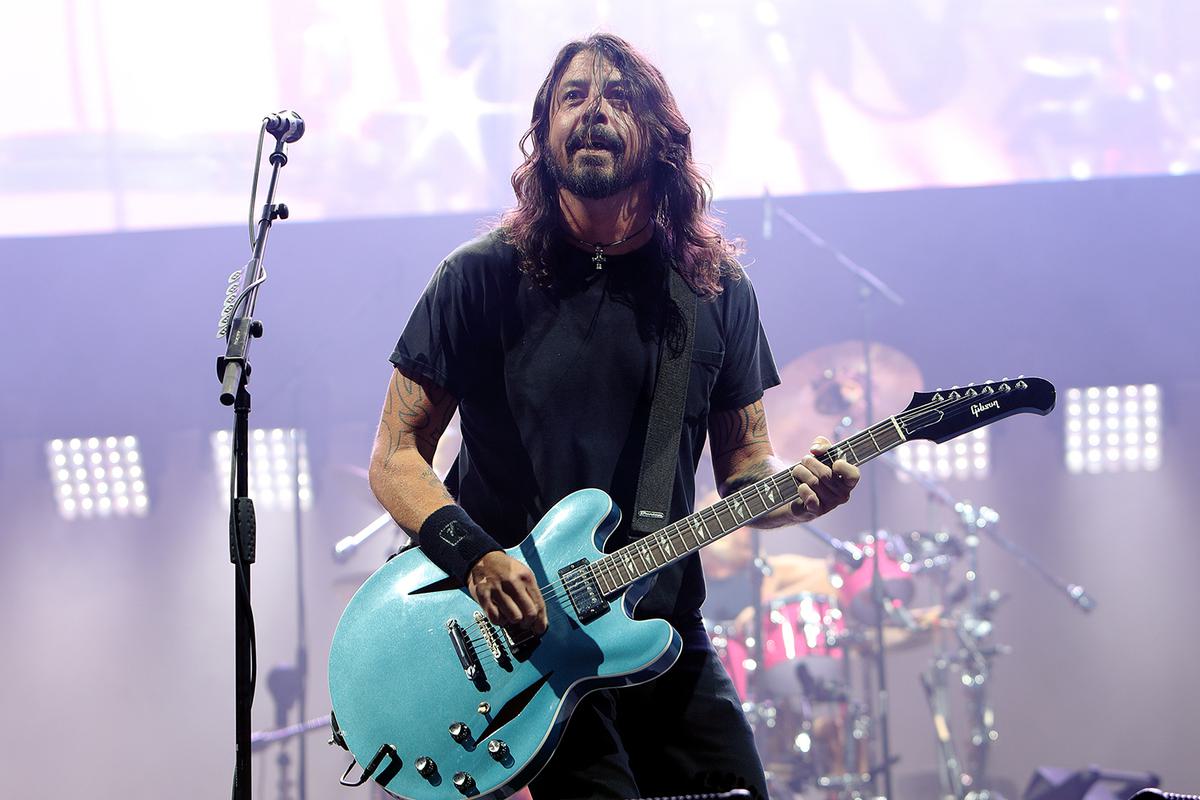 Dave Grohl joins Guns N' Roses and The Pretenders on stage at Glastonbury Festival 2023
The Pretenders took to The Park stage at Glastonbury Festival for a surprise set, last night (24 June). The band previously performed at Worthy Farm in 1994 and 2017. Yesterday marked one of their first performances since they announced their forthcoming album Relentless.
"My favourite thing about Glastonbury over the years is seeing my guitar heroes," said Chrissie Hynde before introducing The Smiths legend Johnny Marr to perform "Back On The Chain Gang" and "Don't Get Me Wrong". Marr briefly joined the band in August 1987, just after The Smiths broke up. In late 1987, he toured with the band and appeared on the single "Windows of the World" before leaving a year later, in 1988.
Following the 'surprise' Foo Fighters set on Friday, as The Churnups, Dave Grohl then arrived to play the drums. "Apparently there's a drummer backstage. He's a big guy and he insists on playing. I don't want any trouble," Hynde joked with the crowd before Grohl appeared.
Towards the end of the set, Hynde walked off into the side of the side, drawing attention to the fact that Paul McCartney was there. Moments later, he came on stage, gave a quick thumbs up, and then went off again.

One of the great things about Glastonbury is seeing musicians who are old friends getting together to do some jamming!

Here's Christie Hynde and The Pretenders with Johnny Marr and Dave Grohl (drums)

Really special few minutes! #glastonbury2023 #davegrohl#johnnymarr pic.twitter.com/XM2SrnwBDe

— Jonathan Boyers (@jmboyers) June 24, 2023
Chrissie Hynde brings Paul McCartney on stage at the end of The Pretenders set! ❤️

"My favourite thing about Glastonbury over the years is seeing my guitar heroes"#ChrissieHynde #PaulMcCartney #Glastonbury23 #Glastonbury pic.twitter.com/FQdzr9fS8p

— Far Out #Glastonbury23 updates (@FarOutMag) June 24, 2023
Later in the evening, Guns N' Roses took to the pyramid stage for a set that spanned over two hours, and included hits such as, "Welcome to the Jungle", "Absurd", and "Sweet Child O' Mine", as well as covers of "Live and Let Die" – to which Axl Rose announce that it was the 50th anniversary of the song, so they were helping Wings celebrate it – "Knockin' On Heaven's Door", and a snippet of Jimi Hendrix's "Voodoo Child".
Rose invited Grohl onstage to help them close out the show with a performance of "Paradise City", which featured the Foo Fighters frontman on guitar and backing vocals.
Dave Grohl + Guns N' Roses on the Pyramid Stage for 'Paradise City'. #Glastonbury #GunsNRoses #davegrohl
pic.twitter.com/ZENQePDujd

— Alejandro Beviglia (@beviglia) June 25, 2023
Dave Grohl surprise Glastonbury performance No.3 - he joined Guns N' Roses to play 'Paradise City' as they closed their headline set on the Pyramid Stage pic.twitter.com/nf97YZfmTJ

— Rock Sound (@rocksound) June 24, 2023
Setlist:

It's So Easy
Bad Obsession
Chinese Democracy
Slither (Velvet Revolver cover)
Welcome to the Jungle
Mr. Brownstone
Pretty Tied Up
Double Talkin' Jive
Estranged
Live and Let Die (Wings cover)
Reckless Life
T.V. Eye (The Stooges cover with Duff McKagan on vocals)
Down on the Farm (UK Subs cover)
Rocket Queen
Absurd
Civil War (Jimi Hendrix's "Voodoo Child" cover
You Could Be Mine
Slash Guitar Solo
Sweet Child o' Mine
November Rain
Patience
Hard Skool
Knockin' on Heaven's Door (Bob Dylan cover with Alice Cooper's "Only Women Bleed" intro)
Nightrain
Paradise City (with Dave Grohl)