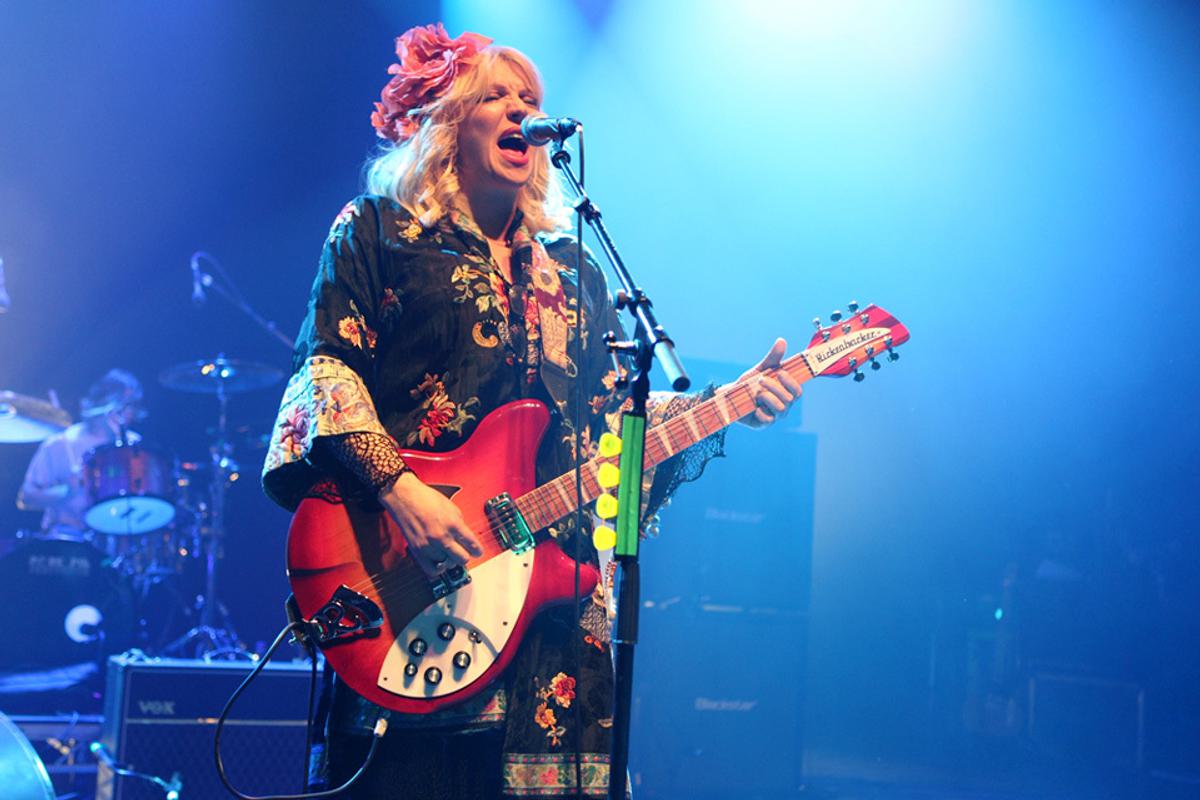 Courtney Love reveals unpublished lyrics to "Smells Like Teen Spirit"
Rob Harvilla's podcast 60 Songs That Explain the '90s returns after a three-month break. He is joined by Courtney Love to dissect Nirvana's "Smells Like Teen Spirit".
Harvilla's podcast has already surpassed 30 songs past the show's title, but he has announced that this episode marks the final 30 shows, which will eventually see him double the initial amount of songs he had planned to discuss.
Courtney Love says she became a fan of the podcast after being made aware of the "Doll Parts". Once she had listened to a few more episodes, she asked to be involved in this one. Love takes her time sharing anecdotes of Kurt Cobain's songwriting habits, before delving into Nirvana's biggest hit.
Recalling a time that Cobain wrote "Dumb" in 20 minutes whilst the pair were in Amsterdam; Love notes that he changed the chords she was playing along to, whilst writing the intro. She calls this "a flex", even though it made her, "so mad, so jealous". Love also goes on to describe the time that she bought a Leonard Cohen lyric book, at a HMV in Amsterdam, and brought the book to Cobain back in their hotel room, saying: "you need to up your game, buddy!", later noting that Cohen and Nick Cave were the kind of songwriters that she used to study for herself.

Explaining how herself and Cobain used to battle over each other's voices seeping into the other's writing process, Love says: "The hero died, the fool survived, and yeah, I'm here!".

e91 of 60 SONGS THAT EXPLAIN THE '90S is on nirvana's "SMELLS LIKE TEEN SPIRIT" and costars COURTNEY LOVE, holy moly https://t.co/TzOV0SDiQl

— rob harvilla (@harvilla) May 17, 2023
"Some of these were in these journals, and some of them are unpublished," she explains, before going on to recite some lyrics: "Come out and play / make up the rules / I know I hope / to buy the truth / who will be the king and queen / of all the outcasted teens", before the chorus kicks in: "We're so lazy / and so stupid / blame our parents / and the cupids / a deposit, for a bottle / stick it inside / no role model".
Another version of the lyrics reads: "We merge ahead this special day / this day giving amnesty to sacrilege" / "A denial / and from strangers / a revival / and from favours / here we are now / we're so famous / here we are now / entertain us".
Rob Harvilla notes that only five or so lines from these lyric sheets actually made it into the original song. "You miss that because you bought into it, but I like this world breaking, world shattering – what would it have been like – alternate time continuum," Love says.
"Is that a different song to you?," Harvilla asks, to which Love agrees, stating it's because majority of the lyrics are different, but also whilst laughing, she explains it's because Cobain writes about Las Vegas even though he's never been there. "The only consistencies that it retains are: 'load up on guns and bring your friends', and 'little group has always been and always will until the end', that's it."
She goes on to say that she wishes he would've kept the lyric: "Who will be the king and queen / of all the outcasted teens", because it "would've helped my life a little bit better, taking on the shit that me and my daughter have", potentially referencing the backlash she faced after Kurt Cobain's death.
Rob Harvilla will release the podcast companion book, SONGS THAT EXPLAIN THE '90S, on 7 November via Twelve Books. It is available to pre-order now.