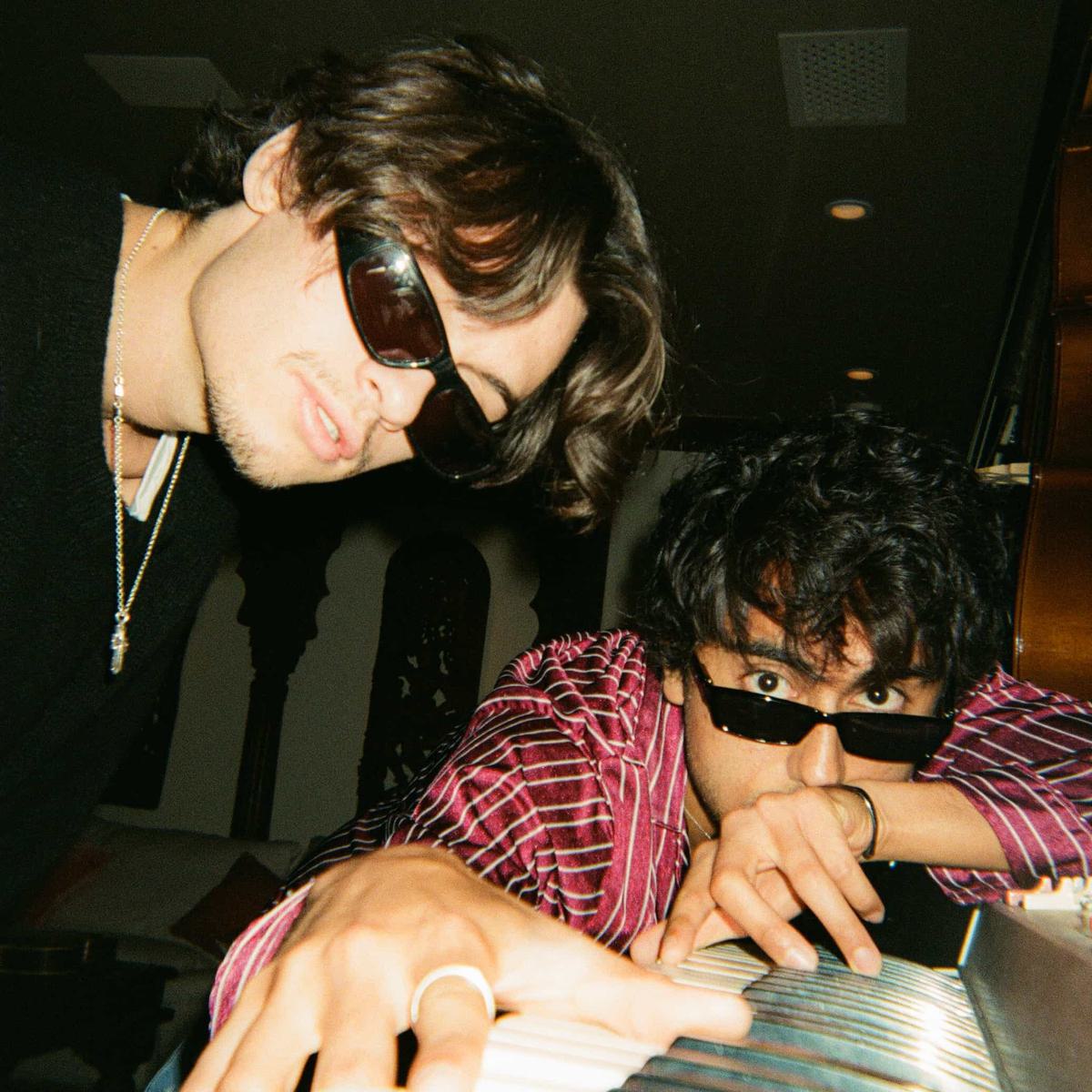 LA duo Motel 7 blaze through Fahrenheit-busting pop bop "Messing With Fire"
Wiring freewheeling West-Coast pop with an alternative hum, Dylan Jagger Lee (son of Mötley Crüe drummer Tommy Lee), and Anton Khabbaz make up the Motel 7 banner.
A roaming vitality animated Motel 7's previous cut "Are We There Yet", informing the basis of their slacker-sheened five-track debut, Reminder Not To Think Too Much. Now, latest single "Messing With Fire" sees the Californian duo within their decidedly low-key element; bleeding between a stream of incandescent guitar hooks and sultry vocals, electronic doused melodies submerged in smoggy production.
Lyrically tackling the impulsive actions made amidst a state of emotional turbulence, the pair pierce through a carefree outward appearance with the disruptive undercurrent of personal trauma, with songwriting that feels planted in the early noughties while skewing a contemporary DIY slant.
Bonding as former music school students, Motel 7 is united by a creative alignment that initially emerged through a series of sessions spent jamming together. With Lee honing his voice, burning the midnight oils in pursuit of a distinct style, the two-piece has further nurtured their respective talents, introducing their melancholic alt-pop to an ever-growing audience.
Despite being spurred by a string of self-proclaimed grunge influences, the outfit inhabits an overwhelmingly upbeat sensibility. "This was one of the first songs we wrote for this EP. I remember it setting the tone for lots of the other tracks in terms of bass and drum energy," the band share of the single's origins. "I was listening to a ton of Thurston Moore at the time. That song off the album The Best Day called "Grace Lake" was the coolest song I've ever heard at the time. I got a lot of influence for the electric guitar from that record. Once we got the instrumentation and production locked in, we went ahead and recorded our verses."
A compartmentalised feel to the band's sound emerges in this instance, owing to the remote basis of the recording process. "For all this new Motel 7 stuff our verses are different melodies. That kind of all started as a result of the pandemic and us having to record our parts in our own homes compared to being in the same room together. It's definitely a cool feel, like it keeps the production interesting - something new to the ear in each section of the song."
"Messing With Fire" also arrives complete with a lo-fi-skewing video, which found a director in Paris Brosnan, son of actor Pierce Brosnan; an experience that saw devil-may-care hijinks ensue. "One day we met at the coffee shop and just bought a sketchbook to brainstorm ideas, set design, and overall concept for this video," the band explain. "We wanted a wide camera angle from the POV of the ceiling. We hit Best Buy and bought a projector and then bought like 500 feet of white photo paper at a camera store and pretty much wrapped it around Dylan's garage to make it look like a studio hahah."
"Anton made the background visuals that were projected literally on his laptop that same day about an hour before filming. We then used some props that we had laying around like an amp, guitar, notebook, discs, a 'Rock Band' microphone (lol), etc. and yes we even lit up a spray paint can and almost burned down the house! This shoot was just so much fucking fun, we had our buddy Paris film alongside our friend Benji, and together we made a compilation of clips on like four different cameras, one of them was a VHS cam that we used a lot for the main shots in the video."