Hearing the sweeping melodies of Fear of Men's 'Ritual Confession' for the first time makes the hairs on your neck tingle with joy and your heart skip with delight. The second time, you're inescapably swept along with its hazy dreams. This is timeless indiepop in its purest form, simple, breath taking and with a fuzz box injection of wry intellect.
They are a melting pot of splits and opposites: consisting of two boys and two girls, based in two cities- London and Brighton, born from visual art but creating the aural and playing delicate harmonies, but with an alt-distortion suckerpunch. Even their name juxtaposes their feminist author influence. However, rather than simply being a mismatched hipster Abba, Fear of Men maintain purposeful control of their image, sound and direction.
Haven already released the super limited edition cassette, 'Hannah Schygulla Demos', through Sex Is Disgusting, Jess, Dan, Lin and Andrew are finally set to come out from behind their obtuse faceless imagery for good. The Line of Best Fit caught up with vocalist Jess before the beauty of 'Ritual Confession' humbles us all.
The music blogs and the people who live the computer have been swooning over you, what's all the attention been like?
It's just really exciting because it started off as just a bedroom project and I'm just about to start recording some new demo's at home now, so nothing's really changed in that sense but it's been nice to see that people are coming to our shows and that people are enjoying it. It's something we believe in and we're not doing it just so people write nice things about us. But it does make everything feel like it is working out and it's more than just for ourselves. It's really cool.
There's a strong DIY feel to what you're doing with the bedroom demos and mixtape releases, so how are you carrying that mentality through into more professional studio recordings like 'Ritual Confession'?
To be honest it's been a real learning curve doing the single because everything else we'd recorded had just been at home. On 'Phantom Limb' we had a bit of help from Matt from Three Trapped Tigers, and it was brilliant for him to help us get a bit more away from sounding too Lo-Fi because Lo-Fi's not something that we're trying to do, it's not an aesthetic choice. We like a lot of control over what we're doing and like to feel like we know exactly what's going on, whereas when we were in the studio we felt a little bit lost and out of control. So I think the main way we would affect our future recordings would be to make sure we're working with someone who we really feel we can trust and we are really actualising how we want it to sound. It's really empowering to be able to do it yourself and not have too much outside influence. The people on the DIY scene who've helped us to get our records out have been really brilliant and so supportive and inclusive. We didn't know too many of them beforehand, so we were just sending off a couple of emails and got a really nice response which was brilliant.
This DIY attitude comes through your music too, harking to the C86 scene, particularly Sarah records, but more so from the early 90's underground American sound created by Belly and Sonic Youth. Where is your main influence coming from?
Well I would definitely agree with the 90's, but to be honest none of us have really heard any C86 bands, it was before our time. I know a lot of bands are going back to that but it doesn't really interest me that much. It's definitely more from the Breeders and Nirvana, but also mixing it with bands like Grouper, I think she's doing some ridiculously interesting things, and Mount Eerie. I'm a bit worried that people keep reading C86 in things, but I think it's probably because of the level of reverb on our first demos, from being so badly recorded on a pound shop microphone. We're not about evoking that era, we just want to write interesting pop songs and the things we grew up with were 90's rather than 80's. It's really flattering that people compare us to that because there's some pretty cool stuff but it's not really what makes us tick.
Fear Of Men – Spirit House (Cassette Mix)
Aside from music there seems to be a deal of art and literature evoked through Fear of Men, like forming through the work of Anais Nin (US based French-Cuban erotica and feminist author).
I've just finished a fine art and history of art degree and I was making the music for that on my own to begin with, then Dan saw an exhibition of my work and we started writing together and it turned into a full band. At first I was making things about Anais Nin, I love reading her diaries and she was such a massive liar. It's really interesting that she was such a liar to herself. I read a load of biographies of her as well, so being able to match up the different versions of the truth I find really interesting.
She was rather liberal with the truth in regards of what to hide and what to tell.
Absolutely, she values the lies and her weird fictional life more than her actual life. She did some despicable things and got married to two men at the same time. She was really liberated but in a crazy way where she was living for other's opinions of her and how she'd be perceived in the future. She's just really interesting and provides lots of material I can dive into. I also went through a period of writing about weird medical things and now I'm just relaxing a bit more. I'm at an in-between period having just finished university and hoping the band takes off, so now the songs are reflecting that.
There's a juxtaposition with Anais lifestyle and the name Fear of Men, because she didn't have that fear, so how did the name come about?
When I was writing these medical songs, which 'Phantom Limb' is one of, we were looking at weird illnesses when we came across Andorophobia which is a psychological disorder of having a fear of men. But I just like it because we're two boys and two girls so it complicated it a bit. I think it can also have different readings about what men fear, which is death, so a lot of the songs involve mortality and death. Anais Nin was terrified of dying and how she would be perceived; also it didn't sound very much what other bands were sounding like.
You mentioned how you like to have control over how you sound but you've also been very specific and controlled over your imagery with lots Polaroid and blurred shots of bushes and shrubbery, rather than traditional band shots. Why did you choose that imagery?
They are stills from films I was making while I was recording the first demos and I liked the idea of us just being faceless. But we've had so much attention now I realised that we just needed a band photo so we finally went and got some done. To me it felt as though it was all part of the same thing, like our music started as a soundtrack to my films, so the images were from that and the Egyptian imagery which is going to be used for 'Ritual Confession' is also from my last project at university. It's just more things that we have more control over I guess.
So what films would you cite as influencing the music or your artwork?
I love Fassbinder. I find it really interesting how he wrote the scripts for most of his work, he directed everything and he acted in them, I guess I admire that level of control again. He had a brilliant way of telling these subversive stories while working in Germany in the 70s during the post war years when they were still trying to work out who they were. I really like the aesthetic of his work, like the opening credits of his film 'Fear Eats The Soul' which was a really big influence on all my work. But it changes a lot, there are lots of different thing that are interesting.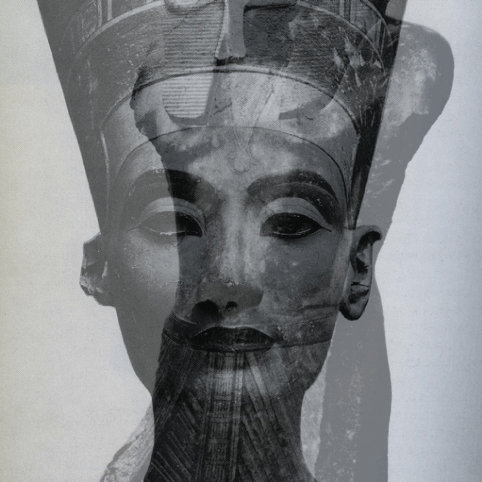 'Ritual Confession' 7″ artwork
So what comes first now? The art or the music ?
I'm really lucky that I've been able to spend three years doing both, but now we've got someone else in to do the video for 'Ritual Confession' which we haven't seen an edit of yet so I hope I love that as much as I think I'm going to. So now I'm really trying to concentrate on music and improve and hone what we're doing.
What do want to achieve – especially with 'Ritual Confession' coming out at the end of the month – and more so, what's planned for the aftermath?
Well we're hoping that people are liking the single and we have some recording planned already and we're demoing new songs again. We haven't got anything set in stone yet, but I'd like to do another tape for Sex is Disgusting because that was a brilliant way to get something out really quickly. There's something like a two week turnaround between finishing the songs, designing the art work and being able to get it out to people so that's really exciting. We'd like to do another single and we've had a few interesting offers of split singles that we're going to think about, and then I guess we just want to do an album. I believe we could do a really good record and it would be exciting to work on something that sustained.
Can you give us any exclusives on who these split singles could be with?
I can't I'm afraid, because we're still throwing ideas about and working out who would be cool. Can you recommend anyone who would be interesting?
We'll I think it would be fantastic if you put something out with EMA.
Oh, yeah, that would be cool. We got asked to support her in a couple of weeks but I don't think we are going to be able to it, but I think I'm going to go to her show anyway. She's Brilliant.
Fear of Men – Ritual Confession
Who else do you admire at the moment?
Grouper and Mount Eerie are my favourites and I really like Mazes, I think they can write a cracking pop song, it's been really fun playing a couple of shows with them. There are so many good bands around London at the moment and you can go out and see someone amazing any night of the week.
How does the separation between London and Brighton work out for you?
It does make things difficult and it's not ideal. But I suppose it does give us the opportunity to play in both places and still feel quite at home. I'm moving down to Brighton in a week so that's going to be nice and Dan lives there at the moment, but Lin's just moved to London. It will be nice to have a change around. Ideally though we'd all live in one big house, like The Monkees. It would be great to spend all that time together and get really amazing at playing, because it's kind of difficult to practice right now, but we've all got different things going on so it works.
In September you're playing at The Lexington in London with Sleep Party People and I Ching, funnily enough for The Line of Best Fit's night. Are you looking forward to it and do you know much about the other groups?
I know Sleep Party People are from Denmark, and our bassist's from Denmark so there's going to be some Scandinavian bonding going on. Unfortunately I don't know too much about I Ching but I'll check them out beforehand.
Personally I find your music somewhat sensual and dreamy is that what you're ultimately trying to evoke?
Yeah definitely. People can take from it what they want. I understand I'm not going to translate exactly what's in my head, but sensual and dreamy are good words to go with the general ambience. Essentially we just want to make interesting pop music. We don't want to be on the pile of bands who just make music that's disposable, we're aiming for something a bit more immersive than that.
Fear of Men release 'Ritual Confession' on August 22 on Italian Beach Babes. They play a free show at The Lexington in London on September 11, 2011 with Sleep Party People and I Ching.