Lying somewhere between the intricate styles of Mark McGuire and the fluid RnB breaks of Shlohmo sits this prolific producer-on-the-rise, Soroosh Khavari aka Soosh. If you've been paying attention, you already know we've been gushing over his ability to create lush, churning beats, incorporating downtempo breaks with a textural buzzing darkness for months.
Today we unveil the video for 'Uncertain', in which wisps of delicate vocals guide you through a world of muted basslines bleeding into watercolor soundscapes. Soosh does more than just create lovely sounds– these digital reverberations paint a peculiar dichotomy, melding familiarity with desire and blurred realities with heightened senses.
Soosh's video for 'Uncertain' gently pieces together emotions through a nostalgic conviction of the senses. The way the sand felt beneath your feet, how she smelled when you brushed the strand of hair off her face. Smart editing tricks and nature at it's best lend a hand to allowing those feelings to come to life. Be sure to check out our exclusive chat with Soosh and his new video below.
Who is Soosh the producer, and where did he come from?
I'm Soroosh Khavari, a man from Iran. Born in post Islamic revolution Iran, my family escaped, as they were Baha'is to avoid the genocide and persecution that was going on. I was a wee 6-month year old kid, and eventually grew up in the more relaxed lands of Scotland.
You're lived in quite a few places, cities like Glasgow and Vancouver. Has your environment affected the type of music you make?
Well I only started making music when I moved to BC, Canada in 2010. That was really the start for me, having time away and just enjoying a new pace of life. Places definitely influence me, and it kind of relates to how much free time I have as well. If I'm feeling free, then good music usually comes :) It all helps, and a new place can make you feel more open and take in the smaller details I often take for granted.
Your debut album for Error Broadcast, Colour Is Breathe was mostly written and recorded when you were living in Italy. What about Italy inspired you to create such music?
Well my girlfriend is from Italy, so I went to be with her, which was great. I think my situation definitely influenced me and comes through on the album in a way. It was an important time in my life, and I'm really happy that I had the chance to be out there so long.
Did you have a particular audience in mind when writing and recording Colour Is Breathe?
I think, most importantly, I like what I'm doing. I don't tend to think about other people while making music. If it feels right to me, the vibe, I can listen through without cringing and feel some sort of connection then all is good with me. I want to be honest with what I'm doing, and I have to feel it first! Audience wise, I hope it won't just be for the electronic crowd. I think there's something in there for others too.

Are you planning to tour or play any live shows to promote this record?
I'm playing a live gig at a festival Italy in May, and there are a few things being planned after that. Just nailing the live set as we speak. Definitely a tour for later this year!
If so, what's your live setup like? Do you incorporate any live instruments or vocals?
My live set is some live improv synth-playing on my op-1. And triggering all sorts of loops and effects with apc 40, and drum machine. Vocals wise would be good to get my sister playing live with me sometime but not happy using my own voice live yet!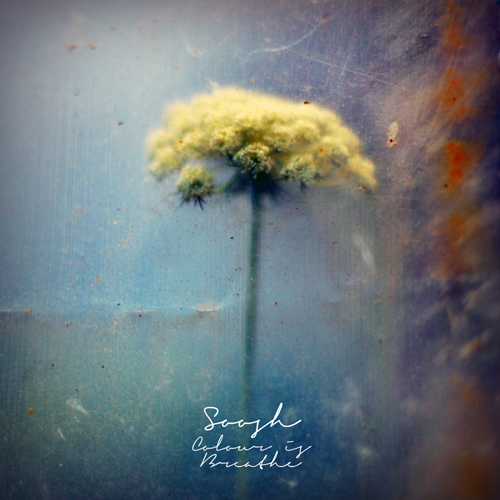 If you had to pick a food or a dish to describe your sound, what would you pick and why?
My mum's Ghomre sabzi, a lamb and bean stew thing. Hearty, wholesome and real flavours!! SO many layers of it haha…
Is a song better if it's about something that happened to you personally?
It depends; some of my favourite tunes are not based on anything, but a vibe. I think the vibe is the most important thing and feel of a track. Maybe you can hear it's deeper than that but I like to keep things a little vague. Leave it up to the listener!
What are some of your favourite songs and why?
Portishead – 'Roads' Just one of the first tracks I ever heard that really grabbed me.
Fourtet- 'Rounds/Pause' Those two early albums really got me into a new kind of electronic music. It was love straight away. Lukid's first album way back got me into the whole 'beats' side of things. Listening back it quite simple now but I could connect with it so much at the time.
Elsie Mae- 'Do You Wanna Rescue Me' – Amazing slice of real soul and gospel music. And possibly my favourite album is a rocksteady compilation called Jamaican Memories. Just listen and you will understand!!!
What do you hope listeners take away from your music, if anything?
Be good if they can get lost in a world for a sec, take their worries away. Hopefully feel a connection to the music and not just be sounds! Enjoy that is all I ask!
What's next for Soosh?
A remixes album of Colour is Breathe is coming. Big remixes from the likes of Dels, Synkro, Slugabed, Evenings, Dam Mantle and many others. Some new kids which are amazing as well. Working on lots of new tunes just now, all different vibes and I feel my sound is starting to change a lot in a good way. Excited to share it eventually!!!
Any closing words/shout outs?
Thanks for having me :) Big thanks to my wee sister for adding some magic to the album. To my girlfriend for supporting my music, to Sven/Flip at Error Broadcast for being cool and making it all happen. To my granny for letting me stay at her place while finding a flat in Brighton. Thanks! And to all you lovely people for taking the time to listen, share and buy my music. The best is yet to come so hang around! And of course my family! Excited for the year ahead and share the new vibes! Peace! Soroosh xxx
Soosh's Colour Is Breathe LP is out via now Error Broadcast.