A bare Bandcamp page, a twitter account that says little about her music but more about her humorous play with words (30th July: 'in som ni a (five gol den rings)) and confusion over her name; EDDI FRONT or EDDI LINES? Yes, the intentionally capitalised EDDI FRONT has thus far been fairly sparse on the information wagon.
We first featured Ms FRONT almost a month ago with the utterly compelling 'Gigantic'. The song, with its haunting piano and tortuous lyrics has been a mainstay in the minds of the Best Fit editorial ever since. Analogous to the ghost of a former love; FRONT's breathy vocals evoke that of an icy winter, the unrepentant ghost shields itself within her foggy vocals; "this divorce is gigantic" she croons.
We tracked EDDI down to pose her first interview proper and soon discovered that she's a total "mammas girl", has made music since childhood, was briefly (and regrettably) in art school but now spends her time in fear of darkness and getting mugged whilst holed up in NYC.
Hello, firstly let's clear up the name confusion once and for all. EDDI FRONT or EDDI LINES?
EDDI FRONT, please.
Only a few people know about EDDI FRONT thus far, can you give us a little bit of background about who you are and where you're from?
I was born in Las Vegas. I'm an only child, and my mother and I moved around quite a lot while I was growing up, but always in and out of New York. I think we moved to New York something like six times! It was always just the two of us traveling moving, for many different reasons. I'm a total mammas girl.
When did you first decide to start making music, and what inspired this move?
I was always making music. I used to tape myself singing and making up songs when I was very little, and then at thirteen, I learned how to play the guitar. I always liked drawing and painting (nudes and faces, mostly) so I went to college for painting in Savannah Georgia. I stayed there for a year, decided I hated art school, and moved back to New York and began waitressing and playing shows.
Let's talk about 'Gigantic'. Can you explain a little bit about the meaning behind the song, and the creative process in creating it?
It's a break up song. Well, it was a particularly difficult break up, and in that time I wrote a lot of songs about it. I wrote 'Gigantic' in my room one day, demo-ed it on Garage Band, dried my little tears, and brought it to the studio. After some experimenting we found that piano sounded best. Daniel Chen plays piano on that song.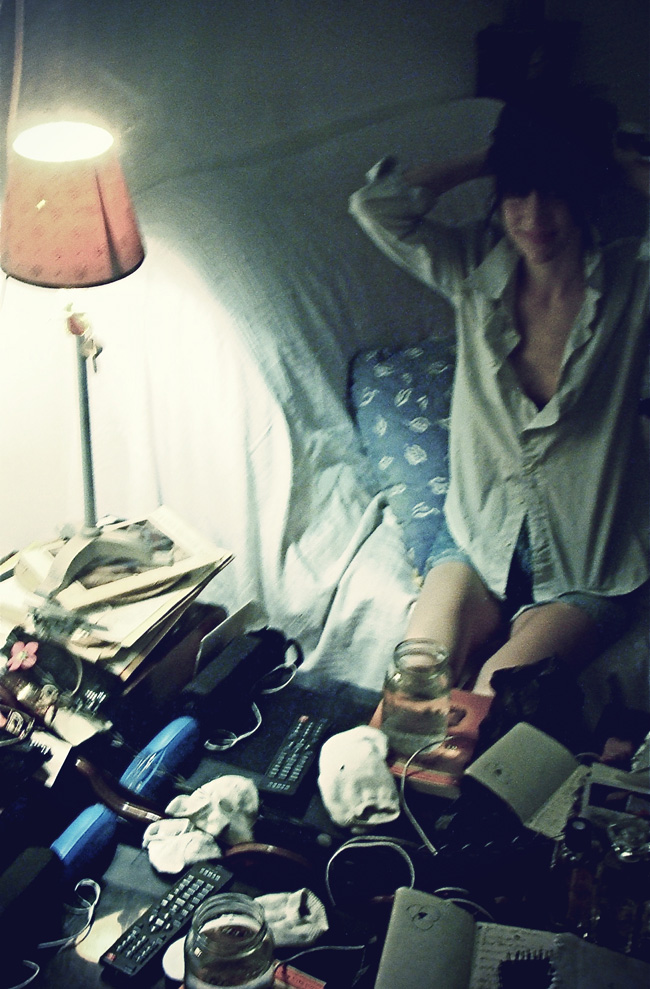 It's hard to tell as of yet, but you seem to have a very genuine 'old-age' film-noir vibe about you. Do you draw any influence from this classic image in regards to your music and personal style?
I really try to not reference the past in my music in its style. I think it might sound "old" because I prefer to use real instruments, but I try to make music that just sounds like itself and not something that's already been recorded.
Following neatly, what specific artists have inspired you?
There are so many. Guided By Voices, Lucinda Williams, Pavement, Billie Holiday, Nirvana, Nina Simone, Scott Walker, Smog / Bill Callahan, Nick Cave…
Is there one song, from any age or genre that you wish you'd written?
'Don't Smoke In Bed' by Nina Simone.
As a new artist, what excites you most about making and releasing music, and what are you most scared of?
Well, making and releasing music is a total pleasure and an outlet. It's a high that I can't even explain. I'm not scared of anything that has to do with making music, but I do think I'm a little scared of touring because I hear it's hard on a person mentally and physically.
Do you worry about being compared to other confessional females? Lana Del Rey is cleaning up on the emo front right about now.
I'm not scared of being compared to Lana Del Rey, no. I mean – it's happened, and it will probably happen again, but I guess I don't really care. Plus I spend most of my time being scared of the dark, and getting mugged, so there isn't room for much else.
We can expect new EDDI FRONT material…..
SO. SOON.