Dealing with themes of death, loss and mortality suggests that Nowadays - out 4 May - reflects a difficult period in the lives of Australian Carl Coleman and Dane Caspar Hesselager, but on lead single "Take Shelter" that heavy subject matter is transformed in grand style.
Mixing rolling piano chords, uplifting and all-encompassing brass and gorgeous dirge-like harmonies, "Take Shelter" is a spectacular return for Palace Winter. Underpinned by a sturdy backbeat it retains the duo's familiar drive, but dressed up in new (black) threads.
We caught up with Coleman and Hesselager to discuss the single and the return of Palace Winter.
It's been almost eighteen months since Waiting For The World To Turn but it feels like you've not been away too long...did you take any kind of break?
Carl: "It feels like we've had a long break from the road, we're pretty eager to get back into it. We did it in segments a little bit, but for the most part as soon as we got back we kinda got straight into writing and recording."
Caspar: "At that point when we stopped playing, pretty much most of the songs or sketches were done. Well, six or seven of them anyway."
Has it been easier the second time around? Do you know when to back off and when to press on with each other now?
Carl: "[laughing] We talk about it often because you don't remember the hard, challenging sort of walls that you come across. I think we probably had our methods down a little more after the first album, or we just knew our roles a little more...so we could go to our corners a little more and do what we're individually good at - but meet in the middle as well. It was much like the first album though, in Casper's studio…just different songs!"
Caspar: "The process was pretty much the same, although the outcome feels different. But we didn't really shake things up."
More comfy around each other, then?
Carl: "Probably, yeah. But you also don't want to get too comfy, and I think we were aware of that. Like, let's not do what the obvious thing here is that'd we'd do. So there's a degree of confidence but you don't want it to be easy. Not that it ever is haha"
Caspar: "I think it's safe to say we're good and efficient together in the writing process, so there's no reason to throw everything away just for the sake of it. We're building and expanding on what our strengths are."
Was there a conscious effort not to just give people the same album again?
Carl: "Oh yeah, we talked about that..."
Caspar: "I would get so bored if we got locked into the same kind of tempos, the same kind of sound elements. That's the stuff you have to shake off and dive into the deep end, and sometimes you'll end up going too far...but that's the cool thing about working in the modern world. You can always go back to what you had at the start. You throw stuff at the wall and some of it will stick, some won't. But you gotta throw the stuff."
"Take Shelter" has that Palace Winter drive, but the guitars are replaced with a drive which comes from the piano and the horns...can you tell us more about that?
Carl: "That piano riff was a Casper phone demo that he had lying around, the beat too. Her sent it to me as run-of-the-mill demo, but instantly got psyched about it. It sounded almost like an urban or a hip hop beat - which is somewhere we haven't been - and that melody came to me quickly, the vocal with the droning element to it. I didn't want to rethink it, it felt like a keeper. I don't wanna get too personal on it but all those death themes, metaphors about grief...they made sense to me. It felt dramatic especially along with Casper's big synth theme. It felt right, I thought 'this fits'."
Caspar: "It was really fun to make and we hoped that this would turn out to be - if not the first - at least one of the singles. We've often gone for a big sound, like everything's got to fill the canvas and this was a different way of filling the canvas...and a different canvas altogether. Once in a while you have a song which leads the way for the whole album, and I feel this is a song like that. We could do ten fast, jangly acoustic songs in a day...but we wanted something grander."
Did you need to make the music lighter in comparison to the heavy themes which dominate the album?
Carl: "Yeah, kind of! But I think those heavy themes about life and death don't necessarily have to be dark. Death pops up in a lot of the songs on the record but I wanted to talk about how it's just a part of life, and it's something we all deal with. And you're right, there is often a lightness to our songs so it was really interesting to load it with bigger themes we have to deal with in everyday life. Just personally, though, I can't write really happy shit! So it's best to put a bit of contrast in there."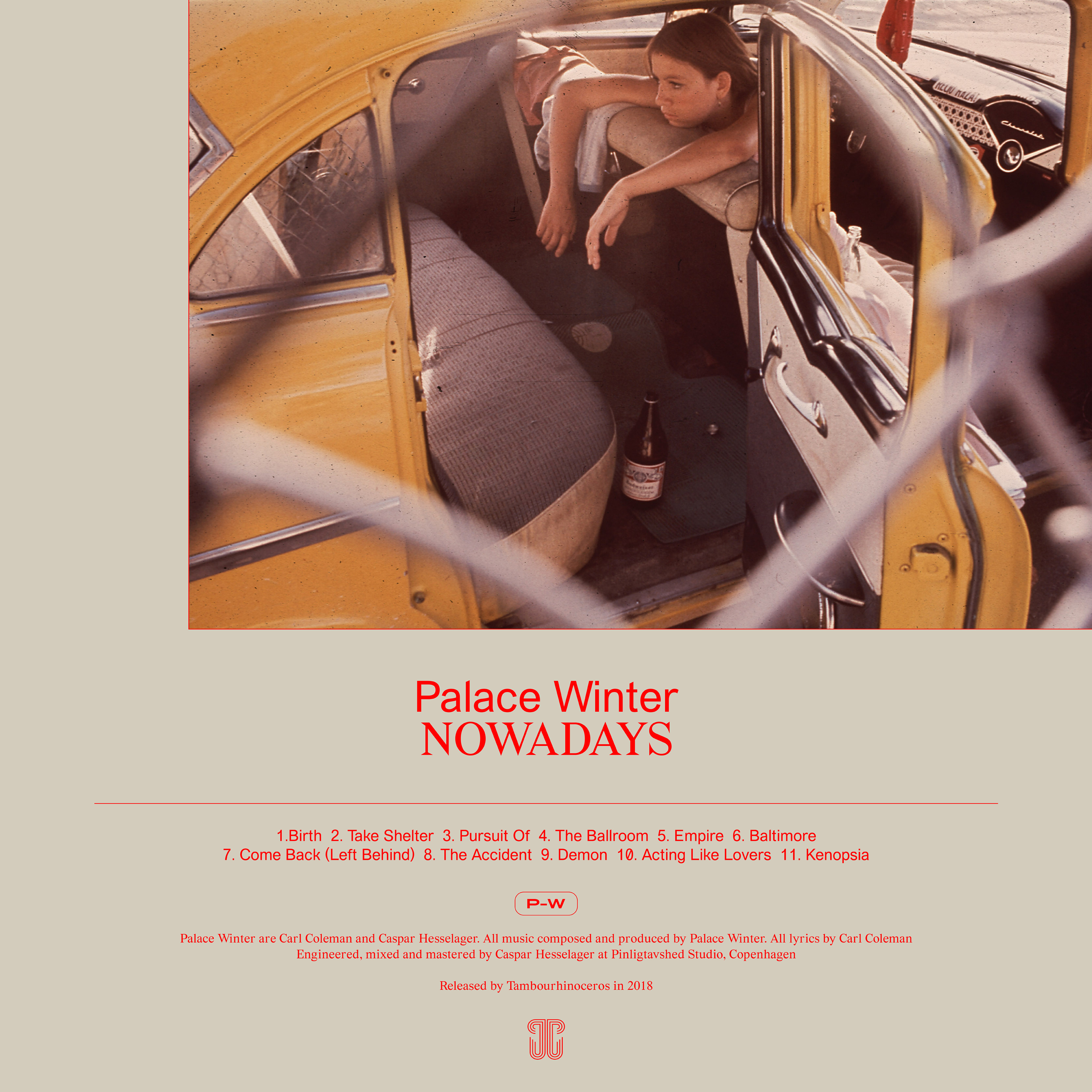 There's an interesting start and end to Nowadays; the intro is called "Birth" and the last track is "Kenopsia", which is the feeling you get when you're in a place normally filled with people-
Carl: "Did you Google it? Aww sick, dude! I saw it in the dictionary and I loved it. You know that feeling when you walk into a school at night and you can almost touch time...and I thought that was a good reflection of birth, death and everything in between...sorry I didn't even let you finish the question."
Well, it's just that there seems to be an obvious line between the first and last track, between birth, death and that journey, but also just in "Kenopsia" on its own.
Carl: "I'm glad you felt that, because that was the aim. And I dunno if it's my favourite ["Kenopsia"], but it's close to it."
You've made the album yourselves again but has being out on the road with a band, some of whom have contributed to the album as well, made a difference to how Palace Winter sound today?
Caspar: "It's been inspiring to hear the old songs played in a new way, but at the same time going in and making new stuff….I feel like I have a way of making stuff sound how I want, and Carl has a way of playing which is very definite. I'm not saying we'd never bring anyone into the mix - and we have thought about doing it - but I think for some reason it makes sense just being the two of us. In that sense we're not a band...we're a duo. We're pretty self-sufficient in a lot of ways. But we couldn't do it without some of these guys."
Carl: "They've become family."
Nowadays is out 4 May via Tambourhinoceros. Palace Winter play Reading, Manchester and London dates in March.