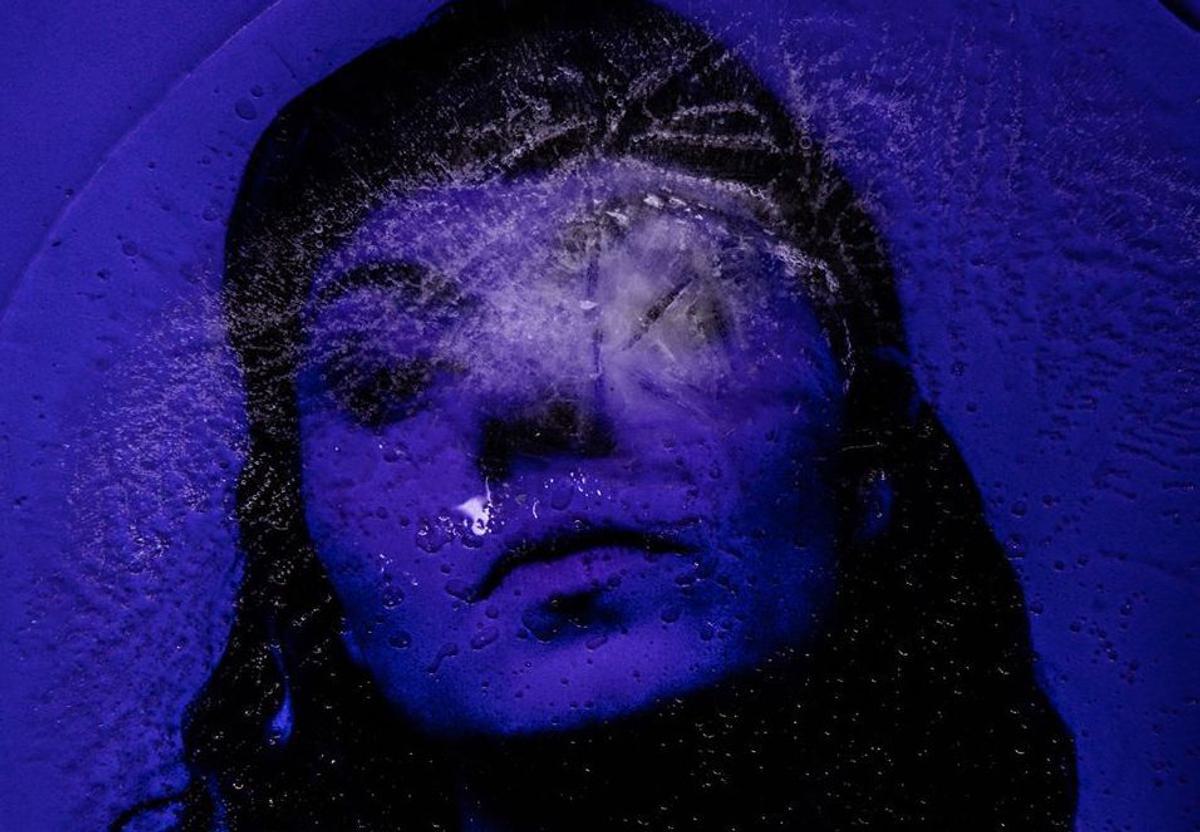 MSEA's haunting "Flesh Tone" confronts a violent past
Maria-Carmela Raso has been one of the more prolific transplants to the Icelandic music scene, collaborating with many artists, curating multi-disciplinary shows, and adding her unique voice into the mix.
As solo project MSEA, her music has a rich aural texture, with whispered vocals melding and harmonising with ethereal keys, synths, percussion and strings. The dreamlike soundscape evokes an unsettling form of beauty, with each song full of tension and release, melancholy and joy.
Raso grew up in Ontario, Canada, and tells The Line of Best Fit that she started singing from a young age. "I studied classical voice briefly in my teens, was a choir nerd in high school and did a bit of musical theatre to pass the time," she reminisces. She fell deep into Canadian indie music in her teen years, after which there was no turning back and she delved into music headfirst. She completed a BA in Music in Toronto and began writing and performing solo music thereafter.
Raso cites influences from the likes of Andy Stott, Oneothrix Point Never, Broadcast, Crystal Castles and Fever Ray. She says she feels a strong affinity with the likes of FKA Twigs, Holly Herndon, Eartheater, and Aisha Devi, all of whom are "women working with electronics and incorporating visual art into their performances." But even in a culturally diverse metropolis like Toronto she didn't feel like her music belonged. "The Toronto music scene is huge; you can find almost every niche and a space to play, but it felt isolated to me – there was very little genre-bending – no fluidity between styles of music or the art forms."
When she moved to Iceland, however, she was faced with a different reality. "Perhaps because the scene here is so small there is no room for dumping people into genres," she says. "I know, love and am a part of the DIY/underground scene here in Reykjavík, absolutely, but even still there is potential to be boxed in by scenes or people you know. I don't know if I will ever feel completely a part of a scene."
Raso refers to MSEA as a pop project as it frequently uses pop structure or melodies and a steady 4/4 time signature, but she says it is frequently perceived by others as too experimental or too mainstream. "When working with someone who is making extremely experimental stuff, my music is as pop as pop can be. But when working with someone more in the mainstream world they say: 'You can't call this pop! This is way too out of the ordinary!' So I don't know. I don't really want to be put in a box. Maybe that's not very wise from a marketing perspective, but I like the idea that I can create in whatever 'style' I want and still sound like me."
While MSEA was created in Canada, the project really came into its own in Iceland, with Raso releasing EP Hiding Under Things last year, and following it up with her upcoming LP I turned into a familiar shape. While the album shares her signature aural textures with her earlier work, it explores an incendiary topic that a lesser artist would struggle with.
"It is an album written about domestic violence and the different stages of abuse, like denial, acknowledgement, acceptance and so on," Raso explains. "Flesh Tone" is the first single off of the upcoming album, and it deals specifically with abuse of power. The song starts off stripped down with minimal instruments and only Maria's heavily-autotuned voice before more sounds and motifs are revealed, one layer at a time. It serves as a clear metaphor for an abusive situation getting out of hand and becoming too much all at once.
The lyrics were the leading force in the creation of the song, but Raso says that she was at first not happy with the production. "I felt the pentatonic melody was a little too cute – I didn't want to get rid of it but didn't know how to get out of it. I think it really took shape when I brought the song to the band and the drums replaced the electronic beat – the guitar added some beautiful discomfort. There were points where it felt a little too Rock 'n' Roll for me, which is maybe why I decided to sing with autotune. And honestly, autotune felt kind of perfect for a song where we're talking about being expected to give what is wanted."
The accompanying video highlights this tension, consisting of extreme closeups of flesh and body parts. The cuts go from being slow and deliberate to faster, more visceral ones as the beat picks up. The evocative video superimposes a diamond being formed from pressure over more flesh, a quivering fist, nails, blood and tears.
Raso says she approached Dean Kemball and Kinnat Lydon to make a music video after seeing their work with Sólveig Matthildur. "I sent them the album to choose which song they would like to make a video for and they decided on making a two-part series – one for the song 'Flesh Tone' and another for 'Winter Bodies'."
She says they were inspired by the promotional photos taken for the album cover, which made them think of marble and how it is formed. "From what I understand, marble happens when sedimentary rock is subjected to immense pressure and heat and changes form. Through this Dean began to see a correlation between this rock cycle and an abusive relationship. With this in mind, Kinnat and Dean began to form a timeline of events using this cycle as a sort of inspiration. They even added a colour gradient to show where there is progress and where there might be a flashback."
The second single, "Winter Bodies", will be released along with the accompanying video and album on 16 October. "I love what they've done," Raso says enthusiastically. "It was so incredible to have someone build an entire storyline out of my music. They came up with a very clear concept and timeline and yet the video is very abstract and metaphorical. I doubt anyone would watch the video and say: 'Ah yes, this is about how rock cycle and abusive relationships are correlated'."
Raso has been a very productive curator, starting a cross-disciplinary exhibition series called Regenerate in Toronto and continuing it in Iceland, as well as hosting monthly concert series Can't think just feel in 2018-19. "I started curating because I felt that the scenes were too separate. I wanted to share a space with poets, painters and dancers." But like with all other creatives, her work came to a screeching halt this year.
"I wanted 2020 to be a touring year with the release of the album early in the year. I was planning to have a pretty collaborative performance that could be taken on the road. Set design, projections, perhaps an additional performer or two. But with the pandemic, time feels exaggerated. It doesn't move or it dissipates. It has been up and down, but I have the feeling that a lot of us needed this time to slow down and just be a person."
Raso says this gave way to a lot of questions about her place in society. "Who are we without the distractions of consumer culture, work, events, social gatherings? I've also started questioning my value as a person in this world. I was feeling like I provided no essential service to society – there is so much music, so many great artists... Why continue? I think the answer is that I don't have a choice. Art is a means of survival for me. It always has been. And even if only two people in the whole world resonate with something I've created, then maybe that's enough."
She says she's learned that from now on she doesn't want her music or career to become all consuming. "There are so many parts of me that need focus that I never allotted time to. I was worn out, miserable and self-deprecating. I need to do handstands, write my dreams down, learn about more than music, plant a garden, do yoga, allow myself to watch tv, et cetera."
At present, Raso's life is going through a lot of changes, having just started a master's degree at the Iceland Academy of Arts. "Right now my focus is on expanding my vocabulary for creativity. I want to strengthen my relationship with technology, with music, and with sound. I am about to start an MA in composition with the intent to learn as much as I can, to start working more collaboratively and on other projects than just MSEA. I've done sound design for installations and art projects and I find a lot of joy in that. These other projects give me a chance to push myself and learn more. MSEA will continue to exist and shift as I exist and shift."
MSEA is slated to perform at Airwaves 2021. I turned into a familiar shape is out 16 October via Myrkfælni.