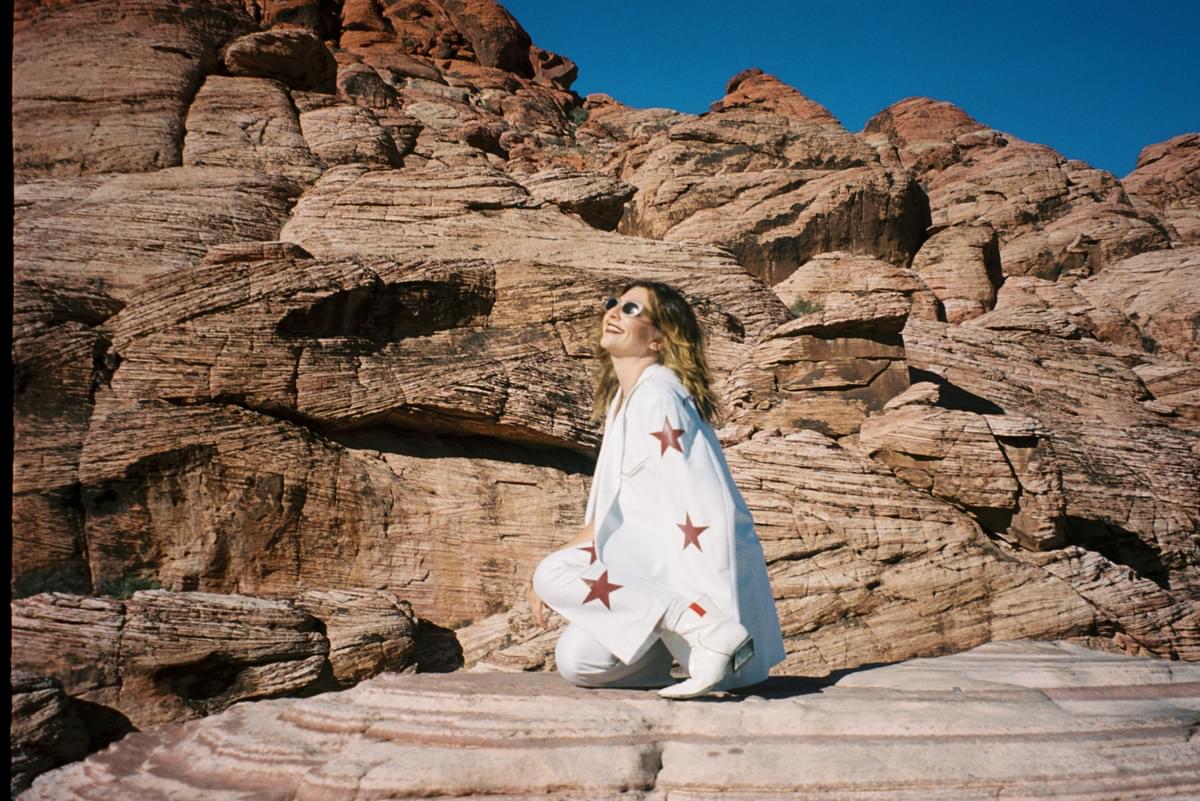 Lou Roy comes out swinging with punchy lead single "Uppercut"
Written amidst the sickly summer heat of Los Angeles, Lou Roy's triumphant new single "Uppercut" was co-produced by illuminati hotties' Sarah Tudzin and arrives alongside the announcement of her debut album Pure Chaos.
The lead single from her upcoming ten-track debut, "Uppercut" condenses the rising star's infectious, larger than life personality into three minutes of audio sunshine. Even when the clouds are rolling in, doubt is on the horizon and the haters are coming for her, Roy is grinning as she tells tales of takeaways with her besties and sex parties in the desert. The bad bits in life are worth it as this supercut of unadulterated joy proves.
In her own words, Roy describes "Uppercut" as "a song that celebrates the particular joys in my life while touching on the inescapable horse shit of the world at large." Looking back at the summer of 2020, the world at large was seemingly experiencing more than its usual share of inescapable horse shit.
Roy remembers during the writing process "the Haim record Women in Music Part III had been on repeat and I was back in touch with rock in general." This indie-pop anthem is somewhat of an outlier on the album as it spans so many genres and touchpoints as Roy unpacks the meaning of life within sparse balladry, acapella-inspired skits and sweet harmony laced love letters.
Initially, on the fence about whether she was even going to finish the track, Roy explains " I thought the words were a bit cheesy, too simple or something [and that] ended up being what I like about it." Its seemingly carefree nature is the perfect introduction to the world she creates with Pure Chaos.
"Chaos is a force, and by its nature, we have no way of controlling or even connecting with it, we can only witness and be passengers to it. We can only control our reactions to it," she tells us, ""Uppercut" is me on a good day reacting with optimism."
In a lively episode of MUNA's Gayotic podcast, Roy discussed how the album takes influence from the innate chaos of Las Vegas. "Las Vegas is the funniest, sweetest thing we could have done as humans," she laughs, "I acknowledge that it's fucked up but it started with us being in the middle of the desert and asking, 'What do we like? Games, nudity, lights and money' and making a playground out of that. It's hedonism at its finest and while it may have failed spectacularly, the initial endeavour was fucking awesome."
Acknowledging there are highs and lows when making an album, Roy describes her experience with the record's co-producer Sarah Tudzin as "a dream come true." "She's got lighting quick engineering skills, an open heart, impeccable taste, and she's always down for a laugh," Roy gushes, "I'm forever grateful to Sarah for being down to make an eclectic and bizarre record with me."
Teasing what's to come from the rest of Pure Chaos, she reveals "each song had its own largely different approach, which led to an informal and fractured process. It took a while to finish because we wanted every element of the production to fulfil its storytelling duty, so the editing process was a laborious one."
Get the Best Fit take on the week in music direct to your inbox every Friday