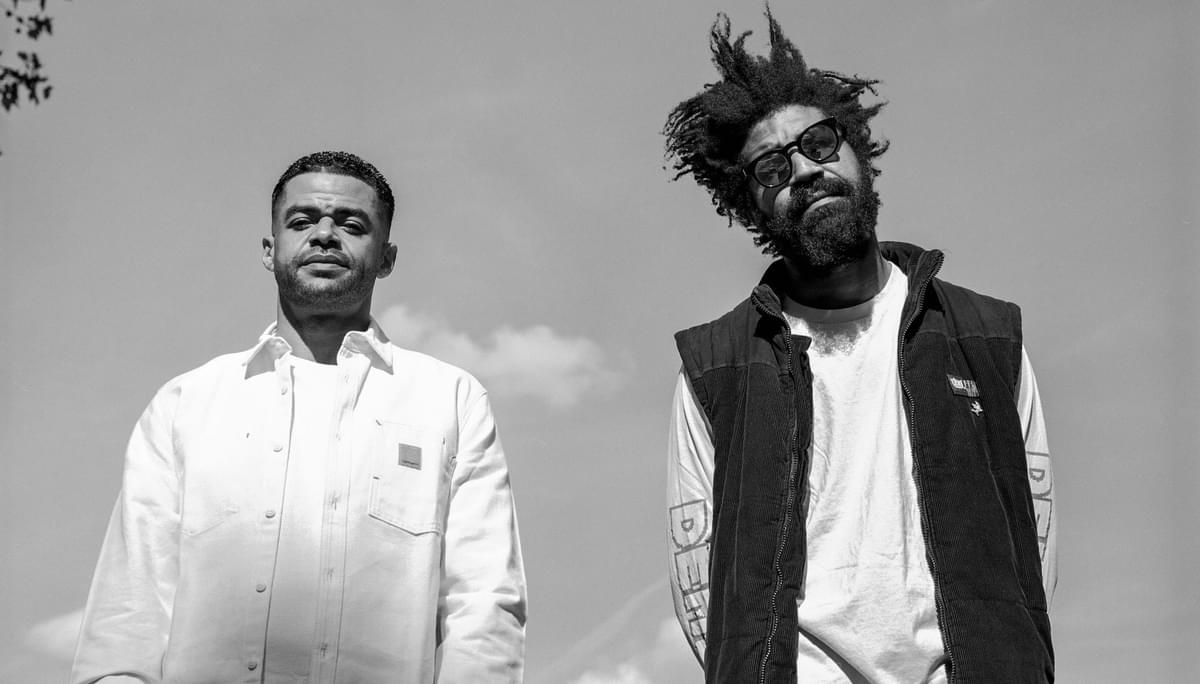 CoN&KwAkE fuse tradition and modernity on "C.N.S (City Never Stops)"
In their debut single, "C.N.S (City Never Stops)", CoN&KwAkE move from the sidelines to cement themselves as evolutionary craftsmen of jazz.
Time and time again, producers, MDs, instrumentalists, and beat-makers have served to discover the voice and sound of others. Their titles are some of the most fluid in music – some functioning like a creative advisor and others building from the ground up – but, in a shift of the status quo, more than ever are ranking up to emerge as artists in their own right.
CoN&KwAkE are the latest to be welcomed to the fold – a multi-layered duo tracing elements of hip-hop and jazz through their rich history. "It has all these strands: education, love, friendship," shares Con (aka Confucius MC); having been a part of the scene for two decades. As a rapper and primary school educator, he's crossed paths with the likes of a young James Solomon and Lowski, while also supporting Mos Def on tour. "Nurturing something for a very long time and believing in that nurture, in incredible music, and aspiring to make something that really moves people. It comes from an understanding of what you need to put in the room to make that happen."
Their four walls have seen variations over the years, originally using his long-time friend and now collaborator Kwake Bass' basement for jam sessions. Born and raised in South London, Kwake started playing the drums at five years old before switching his focus to beat-making as an early teen. Before long, he honed his respective talents and became the touring musician of choice for MF Doom, Joey Bada$$, and Lianne La Havas, and is now the MD of Sampha and Kae Tempest.
Aligned in every development that's led them to this point, Kwake reflects how "it's important for me to uphold the lessons I learned from Uncle Doom," while drawing from nostalgic memories of intimacy and comradery in the search for something greater. CoN&KwAkE's debut release is exactly that. A milestone in an impressive journey, they find a label home in Native Rebel Recordings, led by musician and composer Shabaka Hutchings, to release their first full-length record as a duo.
"It's a massive opportunity to have the art form of hip-hop heard in this space, with Shabaka's approach to it," comments Con. "There's a genuine respect for the craft which isn't always present in certain high-brow spaces."
Shabaka, too, reflects, "I've been following the musical journey of Con and Kwake for around 15 years, so it was my pleasure to invite them into the studio to create this album. They've consistently managed to navigate the hip hop realm with artistic integrity and creativity that places them at the forefront to the British contribution to this art form."
In three days of recording, "C.N.S (City Never Stops)" was born. Keeping their native capital at the forefront, the track details the nuances penitent to London while enveloping the listeners like the thick smog that surrounds it; saxophones breakthrough like the sound of a distant train line, while gentle piano licks offer the comfort of city lights.
"City Never Stops refers to that feeling of not being able to switch off beneath the constant glow of the city's power and the inevitable fatigue that follows when trying to keep up with it," the pair comments. "In an age where self-love and all its various self-help routes seem to dominate the social spectrum, at the top of most checklists for well-being is that we require the adequate amount of sleep/rest to function. But finding ways to sleep/shutdown/rest in environments designed to thrive on 24-hour consumption can become problematic."
"This is particularly the case in a city under as much surveillance as London, the most surveilled city in the western world. Not only have we become so preoccupied with capturing every moment of our lives on our own cameras, but simultaneously we are constantly shot from angles that we are unaware of archiving our fast lives daily. 'CNS' is a ballad of the city that not only never stops, but constantly watches, offering very little time for the type of self-reflection required to flourish."
While re-shaping their ambitions, CoN&KwAkE hold an intimate, experimental quality at the centre of their forthcoming record. "When rappers rhyme in a cypher, it's not a battle, but there's always a sense of healthy competition which makes everyone try and elevate what they're bringing to the table. I feel like when I've been in jam sessions with jazz musicians it's the same energy, everyone's playing together, but then someone just goes on a tangent and it's like they're asking, "who's got the skills to follow me?" and this is where the special moments tend to be born."
Get the Best Fit take on the week in music direct to your inbox every Friday