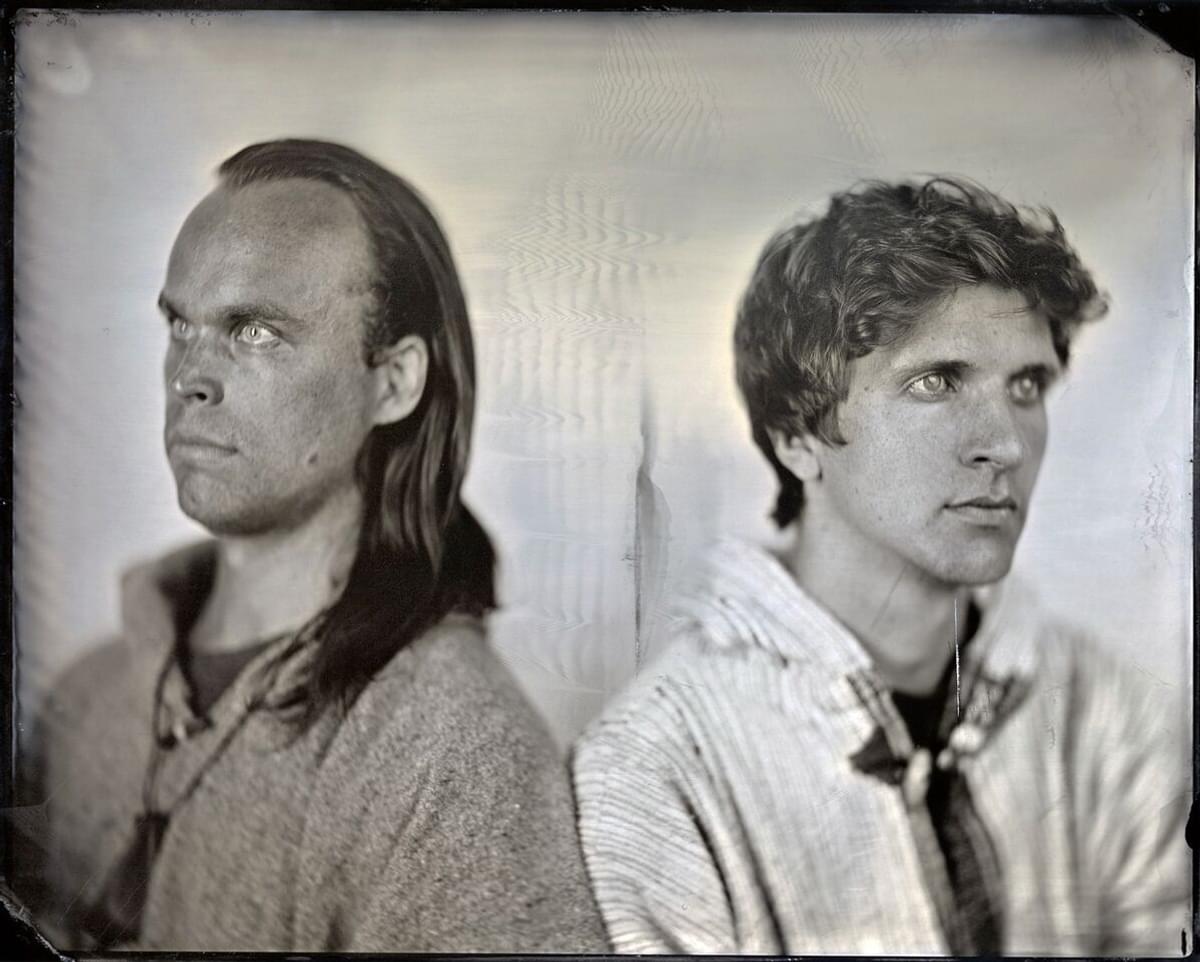 Track By Track: Peter Broderick on Allred & Broderick's 'Find The Ways'
07 April 2017, 09:00
Today sees the release of Find The Ways, the sparse and beautiful new album from Allred & Broderick.
David Allred and Peter Broderick have created something rather special out of just their voices, a violin and an upright bass. It's a record aimed at discovering simplicity in confusing teams, and helping us - as the title suggests - to find our way through it.
Below, you can listen to the album while reading Broderick's guide to the creation of the piece.
"Soon after starting this project David and I talked about having a couple songs in which we sing together the entire time, proper duet style. The next time we met up David had written this little number. Although, he only had one verse, and I felt the song was a bit too short, so I asked him how he felt about me writing a second first. He loved the idea, and so the first verse is David's and the second verse is mine."
"This is the newest song of the whole collection, which I wrote this summer while staying in Heather's [fellow musician and sister Heather Woods Broderick] apartment. It is about diving within yourself to consult your inner being for guidance, especially at times when a major decision and change is about to take place. I had a profound experience with this sort of meditation a week or so prior to getting married, and I felt I had to turn that experience into song, so much so that it really felt like the song wrote itself and I was just the vessel for it to come through."
"This is the first string duet I ever wrote, at the tender age of 17! I recently rediscovered the sheet music, and although it was originally written for violin and cello, David put in a lot of time learning to play it on the bass, and I'm so happy with how it turned out! As you can hear from the laughing after the song stops, David and I approach this one with a sense of humor . . . especially given the stark contrast between a song like 'The Wise One' and then this jolly number coming right after it. I remember at the time I wrote it I was aiming to pay homage to the classical minuets I grew up learning on the violin, but then I added the more dark and strange middle part thinking, 'I want to make this kind of weird.'"
"This is probably my personal favorite of the whole collection. David wrote this song about a friend he grew up with, who mysteriously vanished about four years ago, and no one has seen him or heard from him ever since. Apparently David had a number of bizarre interactions with the guy in the few weeks leading up to his disappearance, and then one day he was just gone. For years David kind of forgot about it or put it out of his mind, but recently the guy has been popping back into his mind again, and David has been struck with the feeling that perhaps this guy will make a reappearance."
"David wrote this piece specifically for him and I back when we first met. His intention with it was to make it sound like a string quartet piece, but with only two string players . . . so for most of the piece we are each playing two strings at once. Quite a challenge!"
"This song sums up for me the pure intention and eccentric sense of wonder that David possesses. There is something so heart-warming and endearing to me about his ability to say things so plainly. Though I would have never thought to write these ideas out like he has, I agree with every word of this song and find it a great pleasure to sing it with David."
"This song was kind of the catalyst for this whole project. David and I developed this version a few years ago soon after we met, and have played it live several times, and each time it was performed someone would always comment that we should make more material with just the violin and bass. The thing that feels so great about this instrument combination is that although it's so stripped down, there is still a rich spectrum of frequencies, from the subby lows of the bass to the sparkly highs of the violin."
"Whereas 'Hesitation' starts off with David droning and myself singing and playing melody over the top, on this one I play a drone and David does his thing over the top. Originally written on guitar, David reworked this for strings and voice."
"In my recent adventures with my newfound love for plants, I have spent a good portion of time just sitting with different plants, trying to get to know them on an intimate, one-to-one level, and often times I will start singing or chanting while I'm doing this. This melody came out one day while I was sharing the company of a beautiful plant called Angelica. It stuck with me, and I later learned it on the violin and asked David to write an accompanying bass part that he could play while I simply repeated the melody several times."
"This song is not a dramatic statement that I am done with music. But it's an acknowledgment of the complex and contradictory inner world that I think many artists experience. I think of it more that I let myself become a character for this song. One night at the beginning of this year, I woke up with a start in the middle of the night, feeling like I needed to alter the course of my life. I got out of bed and took a walk to the beach in the darkness, and on this walk decided to give up my life as a 'professional' musician and focus on other things. Of course, a few days later, the practicalities started to kick in and I started asking myself things like, 'Well how are you going to make a living?', and 'What about all the great friends you've made through music?' But in the meantime, while driving in the car one day, this whole song just came out of me, in a similar way to 'The Wise One' in that it felt as if the song was writing itself without any effort. Anyhow, all this is to say that I actually find it quite hilarious that I made this decision to stop doing music, and then wrote a song about it which now brings me great joy to perform!"
Find The Ways is out today via Erased Tapes.
Get the Best Fit take on the week in music direct to your inbox every Friday