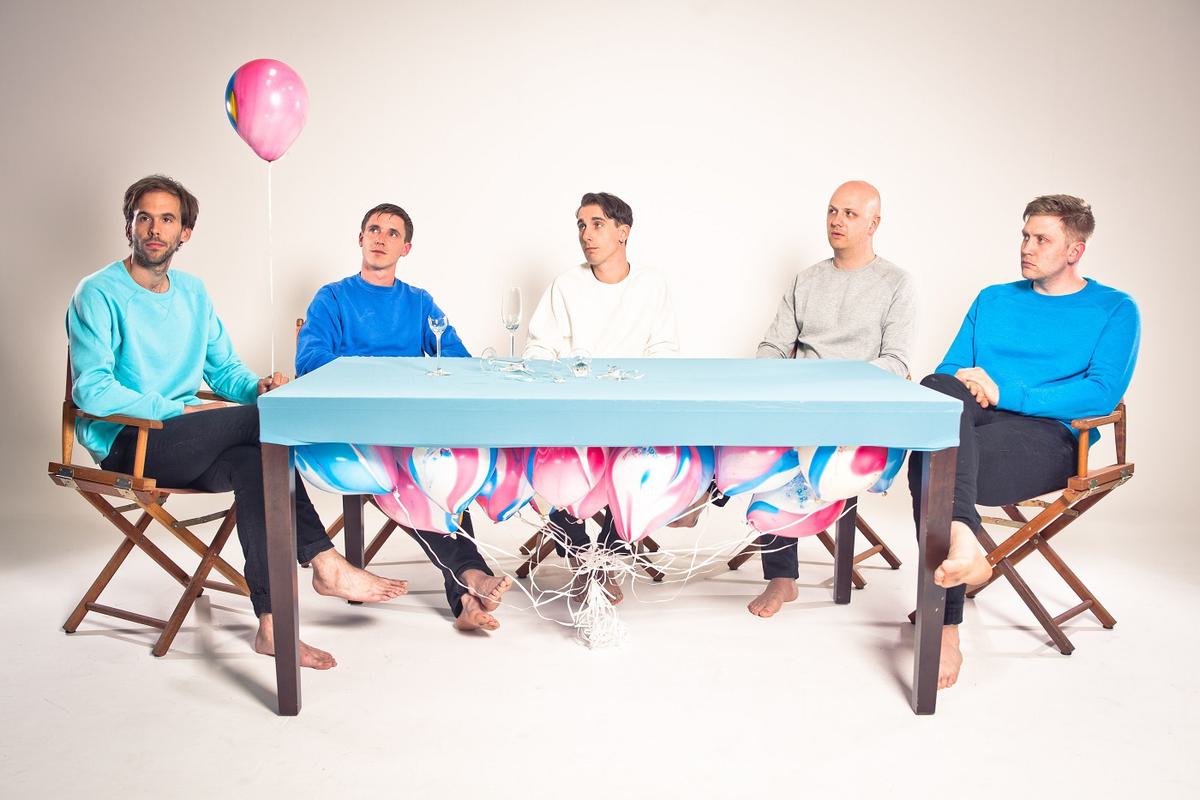 Track by Track: Outfit on Slowness
09 June 2015, 16:00
Outfit release their second full-length album Slowness on 15 June via Memphis Industries, and they've provided us with an exclusive stream of the LP and an in-depth Track by Track guide ahead of that.
Following a period of separation from each other and loved ones - across cities, national borders and oceans - the band crafted a luscious array of tunes about the struggle of distance, be that in love, friendship or anything else. The result is a complex album rife with emotion and intensity, shaped by Outfit's signature pop twang. There's a lot to explore here, in every sense.
You can read the detailed self-analysis of Slowness below, and stream the album in full at the bottom of the page.
The Album
For ages we'd talked about doing something with higher highs and lower lows, and having toured a live soundtrack piece the previous year where we'd been playing much more like a "band", it felt like this was our chance to open up the way we made music, be more collaborative with each other and to take more risks with arrangements and structures.
We also had no choice really but to make something quite raw and emotional. I'd been living on the other side of the world from my partner for two years, Tom had moved back to London and David was constantly travelling around the world in-between tours with work. It felt like we were being torn apart from each other and the people we loved, it was a pretty intense time really.
Distance and memory became really important themes for the album, the people you're close with but miles away from and the way you can't escape the narratives of your memories however false they may be and how they end up shaping the future. It's an album about love really, the inescapable reality of it and about making it work when the odds are against you.
New Air
This was one of the first things we worked on as a band in the same room together. We'd decided pretty early on to limit our palette to a simple line up of piano, bass, drums, guitar, synth - a five person set up. Embracing that was what made the sound of the album I think, and this was the song where we found it. We spent a long time just listening to that loop at the beginning of the song and just trying to get lost in it, going by intuition, leaving space for your mind to wander. The first half of the song is really meant to be like a gentle gust of cool air, blowing away the cobwebs, a new start and then slowly the band creeping in, finding their feet. I had a lot of very late night phone calls with my partner because of the time difference between Liverpool and New York, and the lyrics that I sing are sort of meant to be like an imagined conversation at night where we're getting excited about being in the same place one day.
Slowness
This is sort of the definitive track for the album I suppose, title track and all. I wrote it in Brooklyn and I was trying to get to the heart of what it felt like when my partner and I were apart. It's sort of like a feeling of inertia where you don't know which way is up. Things between the two of you move slowly, whilst the world around you remains in perpetual hyper motion. There's this anxiety that comes with feel like you're stuck in slow mo. I was also thinking about how important images are when you're dealing with the absence of someone you love, our lives already revolve around ever changing images, morphing and distorting each other, but when you've lost someone that becomes all you have, either through your memories of an idealised past or the stuttering Skype connection at 1am. It's pictures which are your point of contact really.
Smart Thing
Probably the most straightforward track on the album and one of the last songs we did. Again it was one i wrote alone in New York, and lyrically it's about speaking up, and saying what you need. The best thing for two people, or a band or even the country you live in might not be the most comfortable thing for you personally, but it could be the difference between something working or not. It's difficult to comprehend what goes on in another person's head or in the ever more abstract world of politics/the news but honesty and selflessness count for a lot. This was a song where it felt wrong to mess with it too much, it was a simple and less emotional idea, so it felt right to play it quite straight.
Boy
This was another early one we worked on as a group and was so exciting to put together. We'd set a few more rules for ourselves at the beginning of the recording process, one of which was "no four to the floor beats", so it was challenging finding a rhythmic vocabulary. Our first album had a lot of more dance influenced beats and we were still interested in that but it felt like electronic music had moved further and further away from symmetry and repetition. I think we wanted to find a way of making our interest in electronic music more embedded rather than having it as a surface texture. I think this song does that, the influence is subtler but its there. Lyrically it's the anxiety of not being able to see into the future which is at the heart of this song, feeling kinda angry with someone but simultaneously try to soothe them for the benefit of both of you.
Happy Birthday
My favourite track on the album, this one feels like we're really stretching out and finding the edges of our sound. As a band you want to be able to pull people in when you've got something to say but for the big sections of catharsis to feel inclusive too, like the listener is with you all the way, and I love the journey this song takes. They're some of my favourite lyrics on the album, i wrote it a few days after arriving in New York one time. We'd been apart for quite a long stretch before that visit, maybe 4 months or so and I had this horrible feeling that something had changed, she'd moved on, her life didn't have space for me anymore, she didn't need me. It was bittersweet because she was much happier than previous times where it felt like my arrival had parted the clouds, so in this song i'm trying to convince her that she should still bother with me and not kick me to the curb. It was a weird feeling because i was happy for her that life was getting easier without me, but gutted at the thought of losing her. I think that's why the music had to be kind of complex, because it wasn't a straightforward situation.
Wind Or Vertigo
We're pretty lucky as a band to have a really talented bass guitarist. He's one of the most clearly naturally talented musicians I know so I thought it would be cool and also quite funny to have a bass guitar solo on the album. I wrote it for him and he made it his instantly. We played it at a really small show we did in London last year and you could hear a pin drop in the audience it was a really special moment.
Genderless
I'm really proud of this song because i don't think it really sounds like much else i've heard. The initial idea was to make a song which gradually reveals itself to you until it can't take it anymore and the bottom falls out and it just breaks down. Ultimate tension and release, the end is easily the most intense bit of music we've ever made, it still gives me goosebumps after listening to it probably 10,000 times. We wanted this album to be emotional but not just moping about. This song is about feeling disconnected from your body and your sexuality and just feeling very fluid almost to the point where your self disappears completely.
Framed
This one is as close to character piece as we go on this album, though it's still very much rooted in experience. It's about a dream where you see the person you love living another life, an alternate reality without you in it. You're walking down the street and you look through a window and see them surrounded by other things, other people and suddenly they're different and you're different. It's about something uncanny completely flipping your perspective.
On The Water, On The Way
This was one of the later tracks we recorded, and it went through a few different iterations before it found it's feet. The lyrics on this one are less personal, they have more to do with the culture of apathy which i feel like i've grown up in. Not caring, not being interested, it's what made me leave university and I think it's quite a British thing. It's partly people being disenfranchised with politics and feeling powerless in our society, but it also stems from the British tendency to be self deprecating and to just make out like you're this bumbling fool who can't do anything right and doesn't know anything. Spending time in America made me realise that if you're like that over here people just assume that you are an idiot. There's something to that, although i don't think that being your own hype machine is necessarily the answer. It's the self deprecating thing coupled with keeping up appearances and keeping a stiff upper lip and all that, it kind of leaves you without any real power.
Cold Light Home
This is one of the songs where Tom and I worked on the lyrics together and we were trying to evoke this feeling of home as a resting place, somewhere you need, the inevitability of it even if you'd rather be somewhere else, or with someone else - "a stillness to stand on". There are some absolutely wild guitar sounds on this track. Nick has developed such a personal language on the instrument over the past few years and we were only just flirting with it on "Performance", at the end of this song his guitar sounds like alien communication which for someone with such an interest in the cosmic feels pretty fitting.
Swam Out
This was always going to be the last song on the album, it couldn't really go anywhere else. It's all about making a change in your life for someone and being vulnerable, it's really me laying my cards out on the table and confessing how hard it's been. It begins with total introspection, then we go through a period of turbulence and by the end, redemption. Playing it live feels really good, almost out of body, like you're floating away over the crowd. Felt nice to bookend the album with these two quite sprawling exploratory songs which take their time - much like us really.
Slowness is out 15 June on Memphis Industries. You can stream the record in full below, and then check out the band's upcoming tour dates after.
June
13 - Rise Music, Bristol (stripped back instore)
16 - Rough Trade, Nottingham (stripped back instore)
17 - Rough Trade East, London (full band instore)
18 - The Kazimier, Liverpool
19 - Best Kept Secret, Netherlands
July
17 - Latitude Festival, Beccles
September
8 - Louisiana, Bristol
9 - The Hope, Brighton
10 - Hare & Hounds, Birmingham
11 - Bodega, Nottingham
14 - Pop up du label, Paris (France)
15 - Paradiso, Amsterdam (The Netherlands)
17 - Berghain Kantine, Berlin (Germany)
18 - Kleiner Donner, Hamburg
19 - Incubate Festival, Utrecht
20 - Witloof Bar, Brussels
21 - Electrowerkz, London