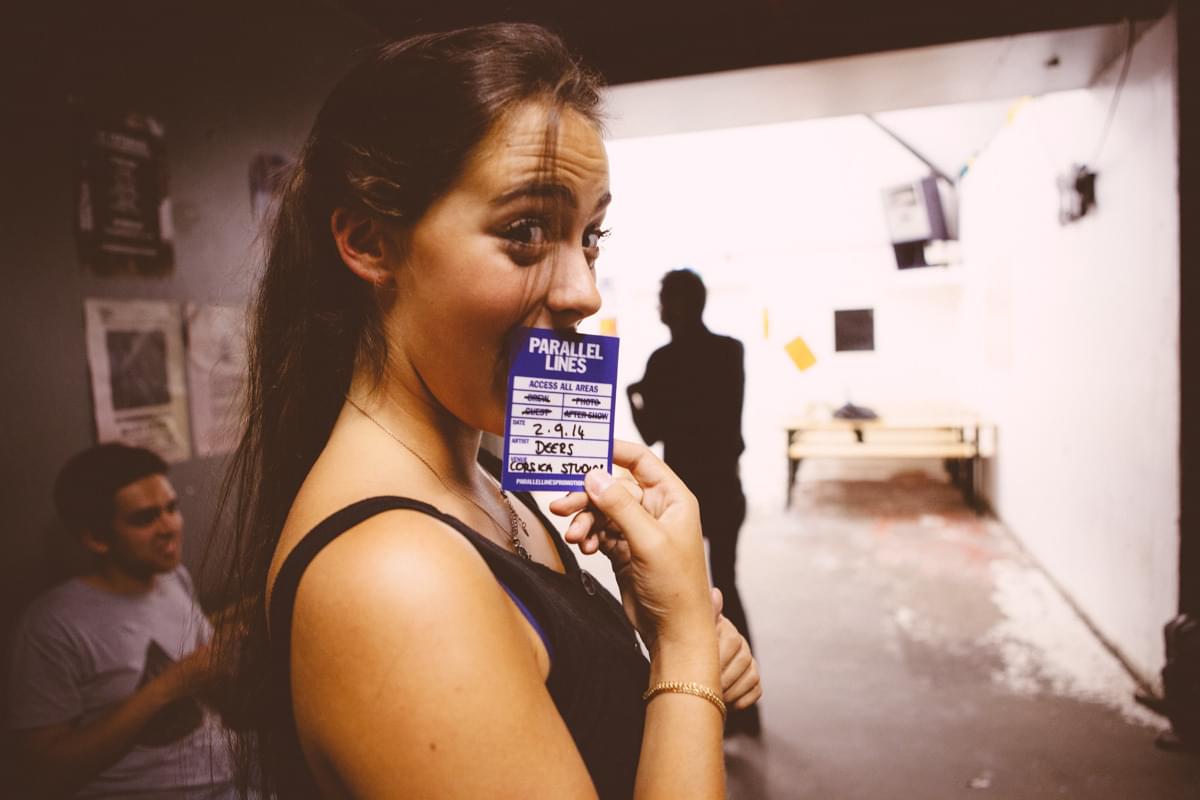 Ana from Hinds talks us through the band's debut album
08 January 2016, 08:30
Hinds' co-vocalist and guitarist Ana Perrote takes us on an intimate walkthrough of every track on the band's long-awaited record Leave Me Alone, out today.
"Garden" is the first track of the album and we always knew it was going to be, since Carlotta played the intro. We took so long to write it ! We had the main chords for ages, if you go to YouTune and see the summer documentary we shot last year, you can see me playing them and saying, "maybe the melody is not that bad", and now it's probably our favourite song of the album.
It was also the first song we recorded at the studio. When we first heard it, right after recording the instruments, we all started screaming. We couldn't believe it was really happening.
This song is about love. All of them are, actually, so get ready for this! And this one is about making the tough/bad guy get out of his comfort zone.
[It] was born a long long time ago and was one of the first songs the four of us wrote together. We even played it in the first ever gig as a "teaser of a song". It was about 50 seconds long!
It was Ade [Martin, Hinds' bassist] that first came with four chords that we used for this song, so before having the lyrics and while it was a teaser, this song was called Ade!
This one is based on apocalyptical images like "fat calmed kiddos touching all your pillows" or "plains keep falling and trees stop growing." It's one of those kinds of love when everything is super intense and everything around is falling apart but you still can't think about anything else than the person you want to be with.
This song was one of toughest ones to mix. We had to go back to the studio because we couldn't get the sound right, and at the end we deleted my guitar off the track, which didn't fit, and now we love it.
"Warts"
"Warts" is the only song we wrote 100% in the studio. I can't believe it's now one of our favourites, we usually take three months per song to finish it!
We had a day off in the studio because the owner had to go to play a show (LOL) so we sat for hours and hours until we go the chords and melody.
We talk about a friend and his girl in here. There are people that you like and people that you don't. We really don't like that girl. It's one of those relationships that you see are gonna end up badly.
The recording was pretty fast and it became the reference of mixing for the rest of the album. When we came back to the studio a few months later to remix the songs again, "Warts" is the only song that stayed exactly as it came the first time.
This is one of our favourites to play live. it's the first song where Carlotta used her brand new fuzz pedal and I remember feeling so garage and punk. We loved it since day one. Actually we loved so much that solo that when we tried to find vocals for the chorus, everything sounded worse than just leaving the solo, so that's why there is no proper chorus, just fuzz.
I also remember that we first had the chords, and couldn't find a melody for the verse. We were in our rehearsal room, I went to pee and the melody popped in my head literally while peeing. I ran back to the room, sang it and asked the girls: "Does this melody already exist!!?"
It's also the only song that I'm the only one singing. We were supposed to share vocals, as always. We sometimes play songs in a way, and then record them differently (mostly when one of us in playing solo guitar, cause it's hard to sing in a different tune that the one we are playing with our hands). We were too used to hear me singing it, and when we went to the studio, Carlotta sang her part, but didn't like it. She preferred me to sing it as we do live, and focusing on her solo, so that's what we did!
This is a different recording from the one we put out in September 2014 - our fourth song ever released! That first recording was in Berlin, during an afternoon, with a random german engineer that was paid for that because of a contest we won in our first four piece gig. We had no idea about playing, recording or mixing, so we never felt very happy with how that song sounded. We love to play it live too and we thought this song deserved a second chance, so we recorded it again and left it the way we like it, fast and furious!
"Solar Gap"
I still can't believe we did an instrumental song for the album, but yeah, we did it, ha! I remember that we were at Carlotta's place, just jamming with acoustic guitars. The riff felt so good and complete, that we thought we didn't need words for this song. It was a fast decision to be honest: "Should we live this song like this and have an instrumental? Yeah, let's do it!"
We are very happy with the sound of that guitar, and we think its the perfect song to change from the A side to B side.
Forever yours, right? This is our winning song. We wanted to feel powerful and strong for one time in the album. No more injured soldiers. I think you'll get everything if you read the lyrics.
You know this song, we couldn't let her out of our debut album. If i'm writing this now it's probably because of this song :)
This track talks about a friend that suffered love. We didn't really like the recording of the vocals to be honest. Back in the studio, we often got drunk really fast to record the voices. It's like when we play live. It really helps us get all the embarrassment out and helps us feel what we first felt when we wrote the lyrics.
This time we got too drunk but we only had ten days in the studio so we had to choose one of the takes. A good thing we have is that in time we start forgetting that we hate some mistakes and we start liking them, so I guess it's not that bad!
"And I Will Send Your Flowers Back"
What a tune!!!!!!!!!!! This is one of the most important moments of our record. It's our ballad. Our first ballad. It's one of the weirdest recordings I guess. Just one guitar, voices, and a baritone bass.
We wanted this song to be recorded more or less as we wrote it. It was just Carlotta and I at her place, after the Australian tour we did in February last year. We felt heartbroken and we used it to do the melodies and lyrics. I think it's a risky song, but it is also the most raw and sincere.
"I'll Be Your Man"
A similar feeling happened here. Carlotta and I almost wrote everything at her place during a cold night in Madrid. Her riff and Ade's bass came out while we were in the studio though. We wanted to keep the campfire/Velvet Underground feeling so we recorded it sitting in the floor, with only one mic and no amps.
Amber [Grimbergen, Hinds' drummer] had these pieces of wood for the rhythm and a tambourine. I played a Spanish/nylon guitar and Carlotta and Ade played these shitty Fender guitars that have their own amp inside, so that's why they sound like a game-instrument!
We talk about when women take care of man in the way that man are supposed to take care of women.
"Walking Home"
This is Ade's favourite! It probably has the weirdest structure of the album. We were rehearsing it yesterday in Madrid, and it felt great to do it, it really cheer us up. We wanted to have a song where love didn't have "BUTs", s that's what the lyrics are made of. This also seemed like a good thing to end the album with!
Get the Best Fit take on the week in music direct to your inbox every Friday