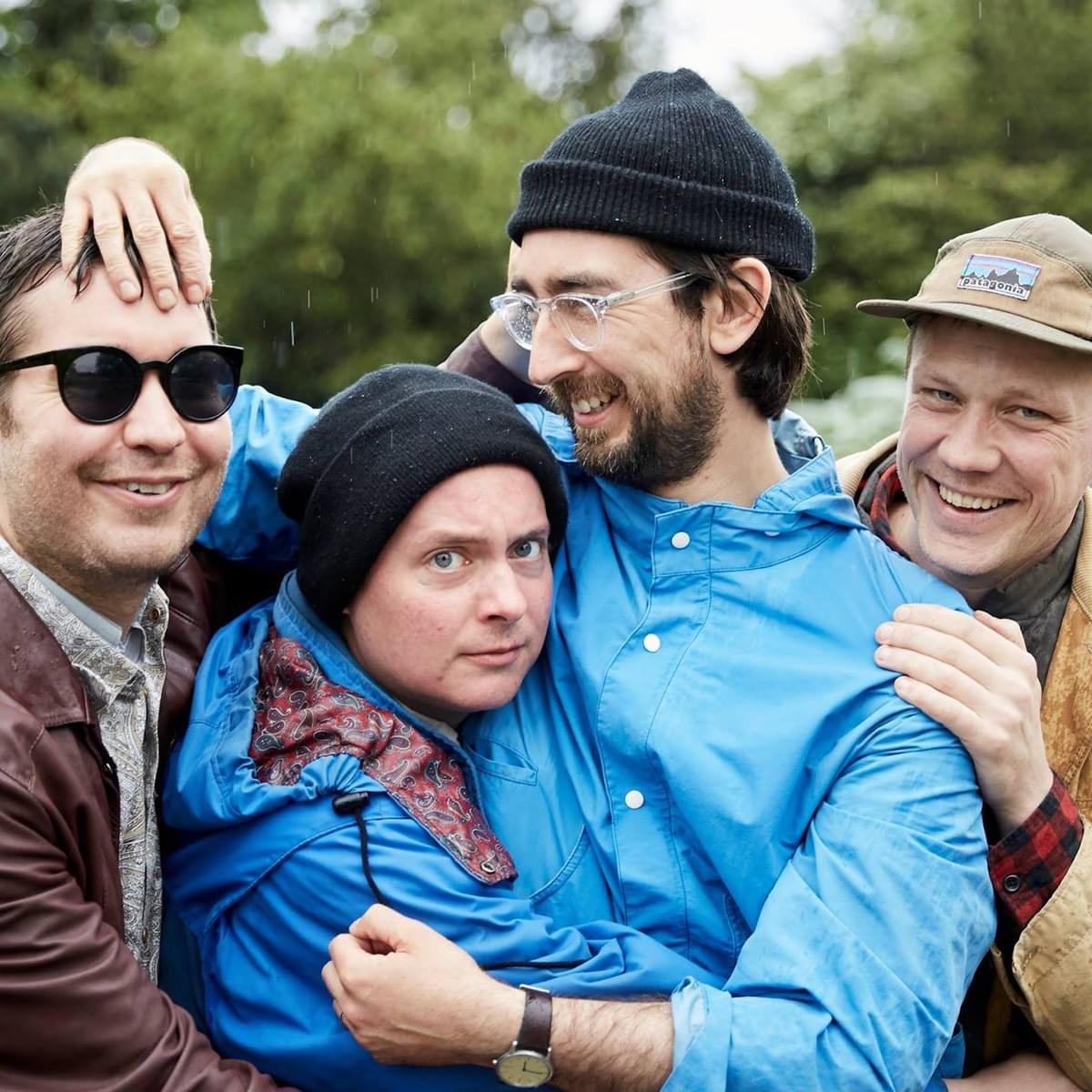 The Surfing Magazines on their Dad's Record Collection
16 August 2017, 12:00
Dave Tattersall writes a beautiful tribute to vinyl through his childhood exploration of his Dad's (very impressive) record collection.
When I was a little boy I loved my father's record collection. It was perhaps a metre wide but it seemed to me to be depthless. It was my magic well.
It didn't seem possible to me that there could have been anything more exciting in the world. I had discovered buried treasure, in the living room, behind the television set. It made the room into an interesting room.
I was drawn to the record collection by one record in particular, The Long Riders Soundtrack by Ry Cooder. I liked it because it had pictures of cowboys on the front. I was six and I liked cowboys because they had guns. I wasn't allowed to play with toy guns, but I could turn almost anything into a gun in my imagination. I used the end of the hoover as a toy gun. After a day of shooting at my sister in the garden, I wanted to listen to the cowboy music. I would request this record endlessly. I was not allowed to touch the records myself under any circumstances, but I could make requests.
I soon learnt that vinyl records were to be handled with the utmost care. My father taught me the procedure, how to balance them on my thumb with one finger to steady on the inner label. Under no circumstances were you to touch the surface of them with your finger. You wiped them clean with a yellow duster thing before and after every listen. You put them away carefully. Altogether, you treated them very tenderly. All of this was very good because it made me feel that the records were very precious, which made me feel that what was on them was very precious.
And they looked very good. And they sounded very good as well. They seemed very beautiful to me. Much nicer than other objects. The nicest objects in the house.
There was a record called Ragtime Guitar by Reverend Gary Davis and Reverend Gary Davis came to me in a dream and so I started to have guitar lessons just one day before my seventh birthday. I got sent to the usual guitar teacher type person in Loughborough, only he turned out not to be usual at all, he was a master blues guitarist who knew all about Reverend Gary Davis and who had even supported Howlin' Wolf at a London gig back in the mists of time. He was called Roger Wardle and I liked him very much. He was a wonderful guitarist who couldn't perform anymore because his stage fright was so bad. But he was much better than most guitar teachers. He taught me all about Reverend Gary Davis and how he used just the thumb and index finger on his right hand to pick the strings. Playing the guitar is marginally more about your right hand than your left hand, contrary to popular myth and crap guitarists, and Roger taught me all about that when I was very little and happy.
The most beautiful record my father had was called Adventure. It had an OK red front cover and a photo of four wiry, shy-seeming young men. But it was the record itself that was beautiful. I remember very well my father showing it to me. He presented it like a magic trick. And it came out of the sleeve and it was an unbelievable lipstick red. I thought it was more brilliant than if he had dug a diamond out of the ground. It was just a coloured vinyl but it was very good. And the music inside was a special new kind of magic. I thought the words on that record were particularly good. I had never heard songs with those kind of words before. The voice on that record was special to me. Still seems pretty great to me now to be honest.
There was Blonde on Blonde. Blonde on Blonde should only be available to people as a vinyl. It doesn't really make any sense any other way. You'll have to trust me on that because I'm a hundred percent right. The side of vinyl that goes "I Want You", "Stuck Inside Of Mobile With The Memphis Blues Again", "Leopard Skin Pill Box Hat", then "Just Like A Woman" is probably the best side of vinyl I could imagine. You've got to listen to that album on vinyl, and look at it too because all the pictures are very good and mysterious. And it has to be Mono too with the gatefold sleeve so you can fold it open and hold it up and see blurry Dylan in his coat.
Blonde on Blonde had my aunt's name written possessively on the sleeve. This is when I learned that my father had some criminal tendencies. He had clearly stolen it.
Down towards the right the record collection got scary and scary good. This was the blues section. This was where Skip James lived. Skip James' music is one of the wonders of the world. It is a beautiful and wonderful and ghostly thing, as fragile as can be but stronger than iron at the same time. Real intensity and magic and the feeling you only get when you listen to a proper genius. There's probably only ever been about twenty real geniuses and he was one of them.
There was Big Bill Broonzy too and this one intrigued me as someone had taped a piece of paper over the sleeve notes so that you couldn't read them. Once, I peeled the tape away to see what was underneath. I found that my dad had drunkenly written insults all over the sleeve notes. He was disgusted by what the journalist had written. They used to put some real rubbish on the backs of albums that they released back then. These were well-meaning but ultimately racist sleeve-notes about Big Bill. I like that my dad did that. Can you imagine how angry he must have been to have vandalised his own record?
There was Let It Bleed, with the cake on the front, the greatest album by the greatest rock and roll band of all, The Rolling Stones. There was Ann Peebles singing "I Can't Stand The Rain" and John Lee Hooker singing "Burning Hell" and The Who singing "Pictures of Lily" and Lou Reed singing "Wild Child". And then there was Culture Club and Rick Wakeman too, because my dad is human.
There was Rory Gallagher Live In Europe, the record that made me want to play electric guitar in a three piece band (with just drums and bass) when I grew up; or more simply I could say that it made me want to be Rory Gallagher. Because I did. He was on fire then. That sound, the bare bones sound of the guitar solo bursting out with no safety net of rhythm guitar or keyboards. It's the best sound! That three piece sound is pure rock magic! Good old Rory Gallagher. What an intense guitar madman!
And there was Manitas de Plata, with his guitar which Picasso painted on. Manitas de Plata is the other definite genius in my father's record collection. I don't think people today can cope with the levels of wild genius and intensity in his playing. People will look you in the eye and tell you that Paco de Lucia was better, which is a bit like saying Jools Holland is a better piano player than Thelonious Monk. Manitas de Plata blew my mind.
My dad told me a story once. A friend bet him that he couldn't go a week without a cigarette. They bet him a substantial amount of money at the time, which would have been something like two shillings and a ha'peny bit. He went the week without a cigarette, took his money, bought some tobacco and then went straight to Selectadisc in Nottingham. He bought an import of Six and Twelve String Guitar by Leo Kottke on John Fahey's Takoma label and went home to listen to it and have a bloody good smoke. He'd heard Kottke the night before on John Peel's radio show. Six and Twelve String Guitar is the very best record you could possibly buy in that situation. I have that very record now in my collection. He let me have it because he's very nice. It's a very special record.
Hats off to my dad, then.
Selectadisc isn't there today and Nottingham is a different place. It makes me sad now that all the record stores all over the country are closing and most people don't have record collections in their houses.
The Surfing Magazines, featuring members of The Wave Pictures and Slow Club, release their debut album via Moshi Moshi on September 1st.
Information here
. The band play this year's End of The Road Festival.
Get the Best Fit take on the week in music direct to your inbox every Friday