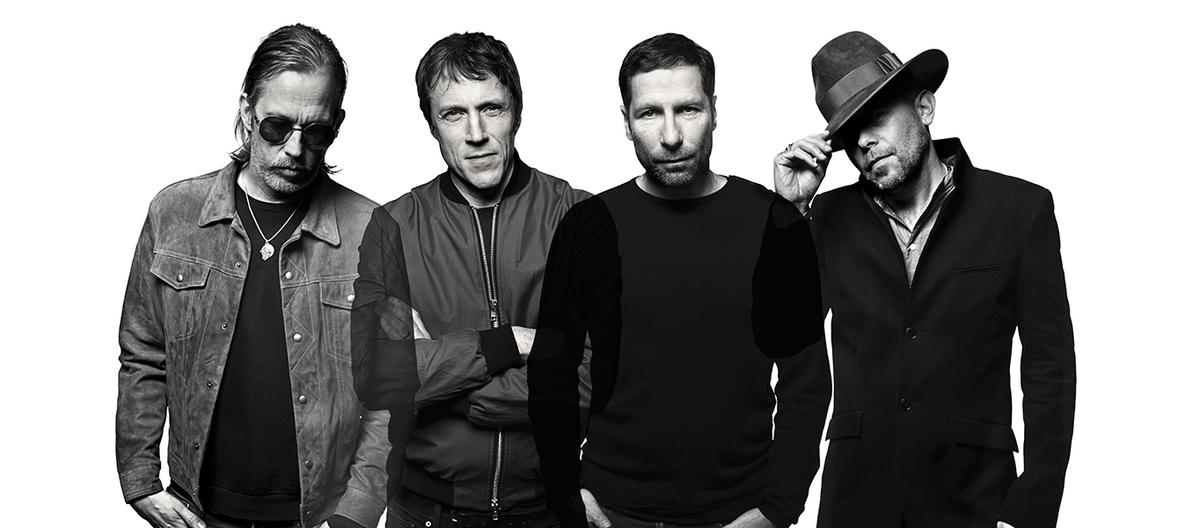 Ride's Steve Queralt on the instrumental power of Mogwai
13 December 2017, 17:50
I'm not completely sure how or when I discovered Mogwai but it could have been 2003 when I saw them play in Oxford. I've no idea why I went that night, I'm certain I hadn't heard much of their stuff so it must have been on whim, perhaps a friend dragged me along sensing it might be my sort of thing. If that was the case they were bang-on. My band Ride split up a few years before but I remained as passionate about music as ever albeit only as a consumer. That night I was reminded of how great it was to be on stage and decided that if I was ever going to create music again then it would be just like that.
I became a fan that night.
To my horror, I discovered I was a latecomer and that there was already four albums worth of gold to wade through. Off then to Oxford's branch of HMV which back in 2003 was an incredible store offering a huge depth of back catalogue. I opted for 2001's Rock Action hat day which remains one of my favourites. Then, in May the band released Happy Songs For Happy People and the track "Hunted By A Freak" which cemented my new love affair with them. Its soaring vocoder melody also haunted the viewers of Sex in the City as it played out over the end titles of one pivotal episode. I'm hoping this cameo brought them a horde of new fans.
My favourite album though has to be Hardcore Will Never Die, But You Will (2011). I'm a bit of a spod who insists on compiling a top 10 albums of the year list. I still bother those who follow me on social media with my carefully considered selections at the end of each year. I've checked and Hardcore was that year's best album voted by me.
I've always enjoyed and would go so far as to admit that I almost prefer listening to instrumental music. Lyrics rarely move me. That isn't to say I don't enjoy and respect great singers, it's just that I don't really care about words. Perhaps I don't listen closely enough to the carefully composed poetry but I'm much more likely to be swept up by the atmosphere and emotion of a piece of music than the heartfelt outpourings of a singer's lyric book. There are exceptions of course, Sufjan Stevens being one, but I'll take the made up languages of Elizabeth Fraser and Lisa Gerrard over Bob Dylan any day.
There is also another beauty to recording largely instrumental music. You're not necessarily restricted by a vacuous line from a song's chorus for the title. Mogwai's track listings are often as creative as the music itself. "Year 2000 Non-Compliant Cardia", "I Know You Are But What Am I?", "The Sun Smells Too Loud" are all delicious cases in point.
Seeing Mogwai play live is still something to behold as I found out when I saw them again in Japan earlier this year. I'm always left breathless as to the sheer power of their sound and it's not just the volume: they're really loud, yes, but there's true beauty in that blissful noise that never fails to sweep me up. I guess in some ways we (Ride) are alike in our approach to music and sound in terms of format, dynamics and structure, especially when you consider some of our earlier releases. Neither band are afraid to experiment with arrangements, quite content to produce 10 minutes of overdriven guitar rock tracks which refuse to be shoehorned into the tiny radio-slot-sized holes of mainstream media.
Of course, there would be no Mogwai without Ride since we unintentionally paved the way for post rock with our "Grasshopper" track from 1992. Actually, perhaps Sonic Youth should get the credit - since we stole it from them in the first place - but it's heartening to know that bands like Mogwai can thrive producing music like this still today. This is perhaps one of the reasons we felt confident that a new Ride album could be relevant to new audiences and that our music was not something that belonged solely back in the '90s. Mogwai have not only been pioneers themselves but have spread the word throughout the world encouraging more disciples to worship at the sonic cathedral.
So then, here we are about to join Mogwai for their huge homecoming show at Glasgow's enormodome. I'll be there as a fan as much as an artist. Once my work is done I shall take my place in the audience and watch on in admiration and awe. It'll be my 5th time! Then again I might abuse my backstage pass rights to sneak a peek at the back-line. I'll be homing in on Dominic Aitchison's pedal board. It's bigger than mine (which is upsetting) so I need a closer look at what's going on in there.
In the meantime, here are my top 5 Mogwai tracks of all time in no particular order. Actually, they're all number 1.
Ride support Mogwai at Glasgow's SSE Hydro on Saturday 16 December. Ride's Weather Diaries and Mogwai's Every Country's Sun are out now.