1. Looking back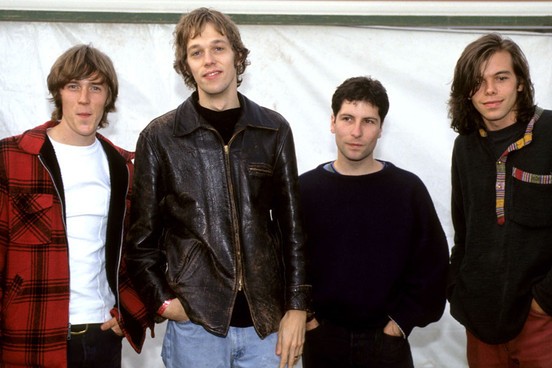 Ride in 1996
It's a lesser-known fact but I used to work on the production line in the car factory of the BMW MINI plant in Oxford. Working the 'crazy shift' of three twelve hour days, each including a night shift, it allowed me to cram in the work hours, so I could focus on music the rest of the time. When you observe the past, you can see patterns; everything is rhythm analysis, everything comes in phases.
Not all rhythms are repetitive: some can be more like phrases, and some rhythms progress gradually, moving in stages in order to develop a bigger picture, a conclusion, even. Between 1989-1996, Ride released five EPs, seven singles and four albums. We were nominated for, and won, many awards, appeared multiple times on tv and radio, and toured the world with hundreds of shows under our belt just to have it all followed by nothing. The silence has been deafening for twenty years.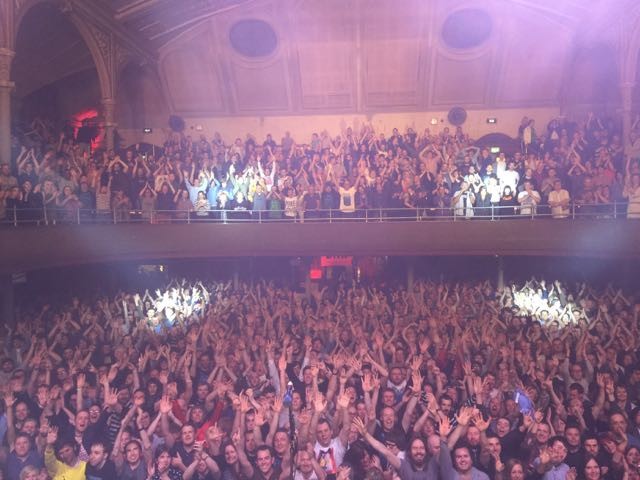 Manchester Crowd shot 2015
After reforming Ride in 2015 we came to play over seventy shows, yet our 1996 album Tarantula remained as our last piece of recorded work. The analogy of production line ethos in music has been around since Motown: the production line; production values; the small part players and the overall vision; what works and what doesn't? How do you maintain and define "quality"? It's all about the final product, but also the stages and processes to get there. As a band we never got much of a chance to ask these questions in the past - we mainly sought to capture our ideas as best we could, and the excitement of the band playing live. This album, our fifth, is different.
2. Getting It Out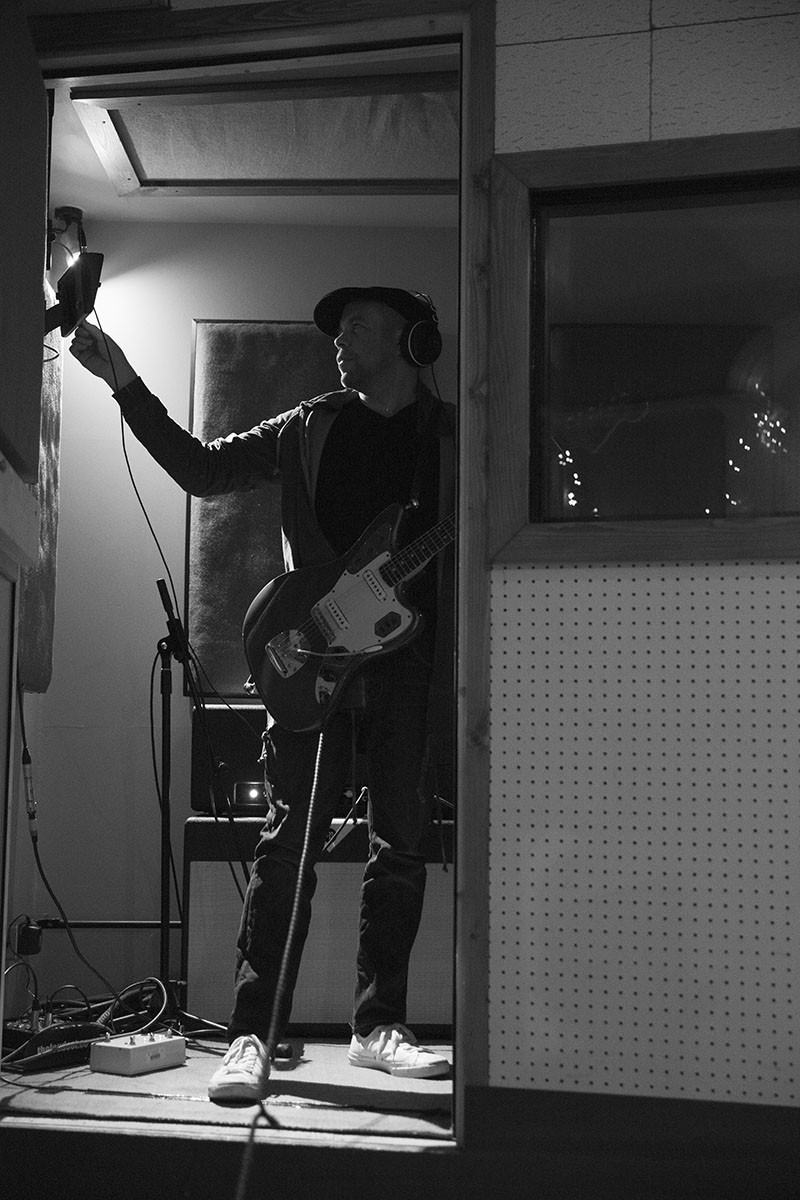 Mark Gardener, Vale Sessions in 2014. Photograph by Piper Ferguson
In 2014, when we as Ride agreed to only an initial three-week run of dates including Primavera Sound and Field Day, unbeknown to the rest of the world we actually reformed in the recording studio - the classic creative musical environment.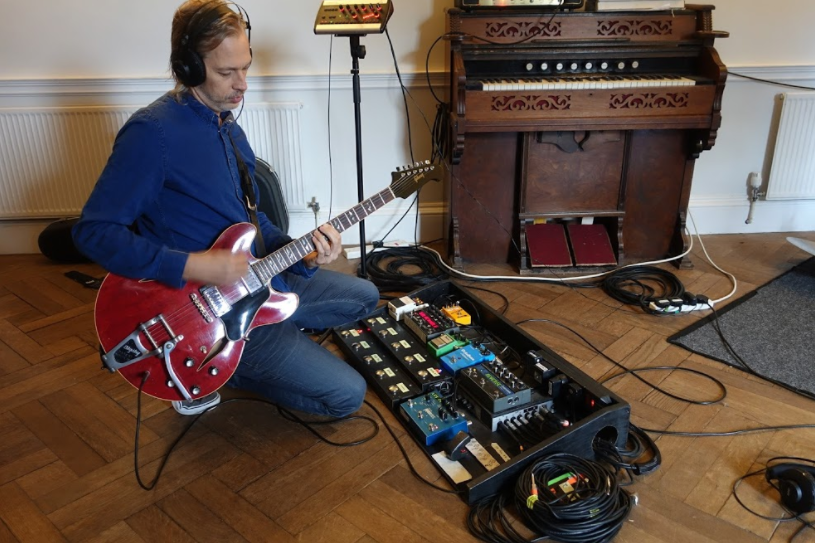 Andy Bell, Vale Session, 2016
After news of the reformation broke online and the official announcements were made, we took ourselves away to Vale studios, a quiet residential studio in Oxfordshire. Slightly stunned to all be in the same room together with our instruments again, we soon captured our new sounds and musical ideas after our reunion. This exact jam and musical moment turned into the track nine of the album and was named "Integration Tape", a product of a very surreal and long first day.
For the rest of the week, we were up and throwing out frames and shapes of all sorts. The tentative became more assured and the inevitability of the flow was awe-inspiring if a little daunting. We'd taken a hold of the new dawn, and new things were on their way.
3. Selection


Rehearsing pre-2015 tour
Over the coming months, we returned three times to the same studio, putting down more material each time and generally achieving a track a day. Out of the 22 demos and ideas recorded at Vale, only 5 of these sketches eventually became songs which made it onto the album. These were: "All I Want", "Home Is A Feeling", "Cali", "White Sands". In order to make it onto the album, a track had to be a very special one indeed.
The rest of the songs were demos recorded at home on laptops. These demos imagined wider paths the band might take as it is sometimes easier to push the envelope away from everyone else and to get taken by instruments you don't normally play. From this stage maybe 15 demos were created, but only five songs were selected for the album: "Lannoy Point", "Charm Assault", "Weather Diaries", "Rocket Silver Symphony", and "Lateral Alice". In some ways, these may well end up as the talking points of the album, as they began to open up the sound.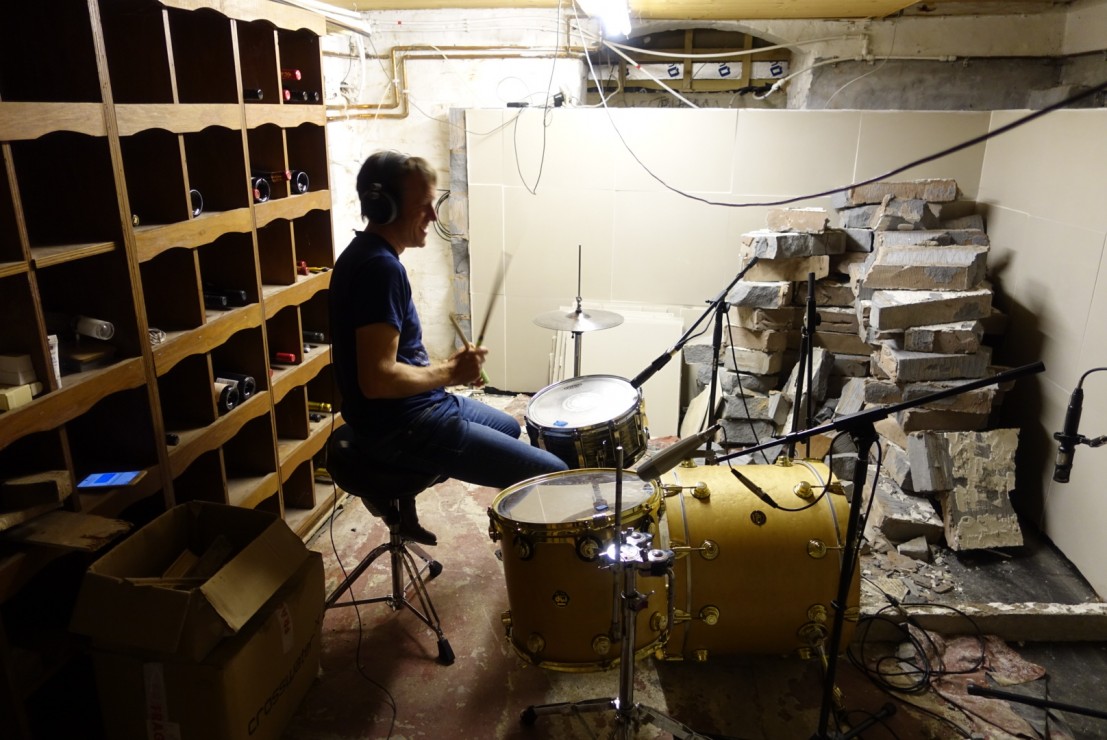 Loz Colbert in the cellar, Vale Sessions 2016.
Lastly, picking from recorded musical moments from our 2015 tour: there were five spontaneous jams captured on iPhones. These came from when we were bored in soundchecks, when our musical minds wandered and we naturally began to play something other than the same set-list. Of these five spontaneous jams captured at random points across the globe only one song, "Impermanence", (from a Hawaii soundcheck), made it onto the album.
4. Refining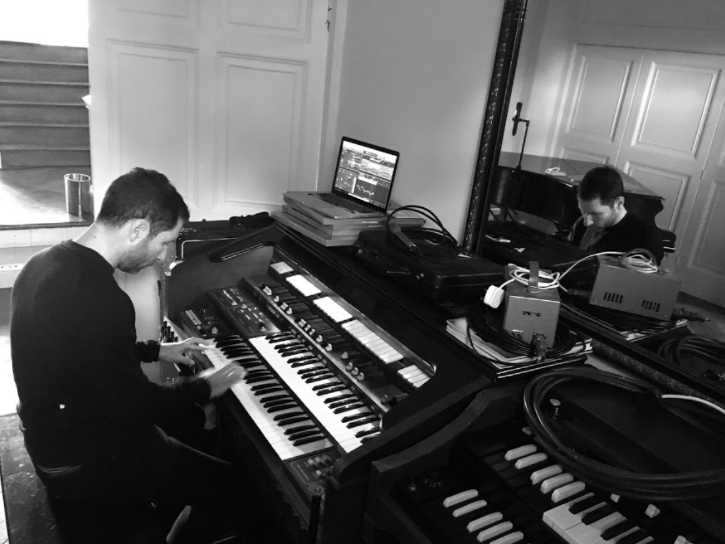 Steve Queralt on keys, Vale Sessions, 2016
Working with Erol Alkan was, in some ways, a revelation. We worked quickly with him - spending only 14 days together in the studio in September/October 2016. In any gaps between, the band would continue to work as a unit. Yet the productivity of those days spent working together with Erol was unprecedented.
To return to my previous idea of a production line, the momentum is key; you need to keep things moving. We were lucky to find that crucial creative pace with Erol. The whole project was building from the moment we started working together on the first song "Charm Assault".

Planning at the end of the Vale Sessions, 2016
Although creating something can and should take time, it can also take someone to draw it all together and to focus efforts. It is not to be taken for granted that any appointed producer will have or even be given authority to lead but for us it just seemed as if Erol was always steering us towards our highest aspirations. In the title track "Weather Diaries" Erol literally "conducted" us in a symphony of noise - something we have never done before. Throughout the production process Erol drove us, guided us, encouraged us, and questioned us through all of these decisions - and yet we always felt part of the process.
5. Release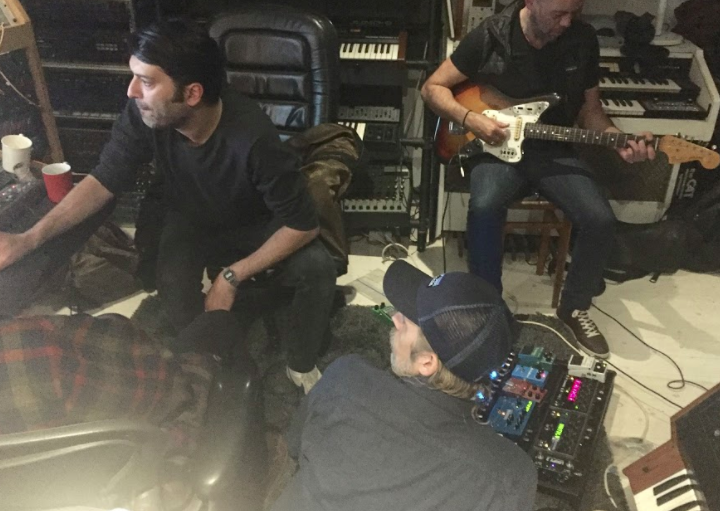 Upstairs at Erols, 2016
Like I said in the beginning of this Weather Diary, looking back, some rhythms aren't repetitive: they involve stages that are parts of the larger turnings of the world. Since Ride began, much in the world has changed, but the same goes for ourselves. We've done something different to a band with a regular and repetitive release cycle. We haven't released an album every two years but instead have gone through different experiences and phases to get to this point. These stages were not only worth it but crucial to our creative journey.
In "White Sands", Mark sings "...we came the long way around" which sums up our journey as a band. It's taken the turning of great circles to get to this album. With our fifth album, we've gone further from our original starting point, only to bring more back into it for the future. The great gulps of experience and the snatches of circumstance we've taken along the way all pour and are laced into the songs you will hear on it. The storm clouds have been building over the past twenty years…