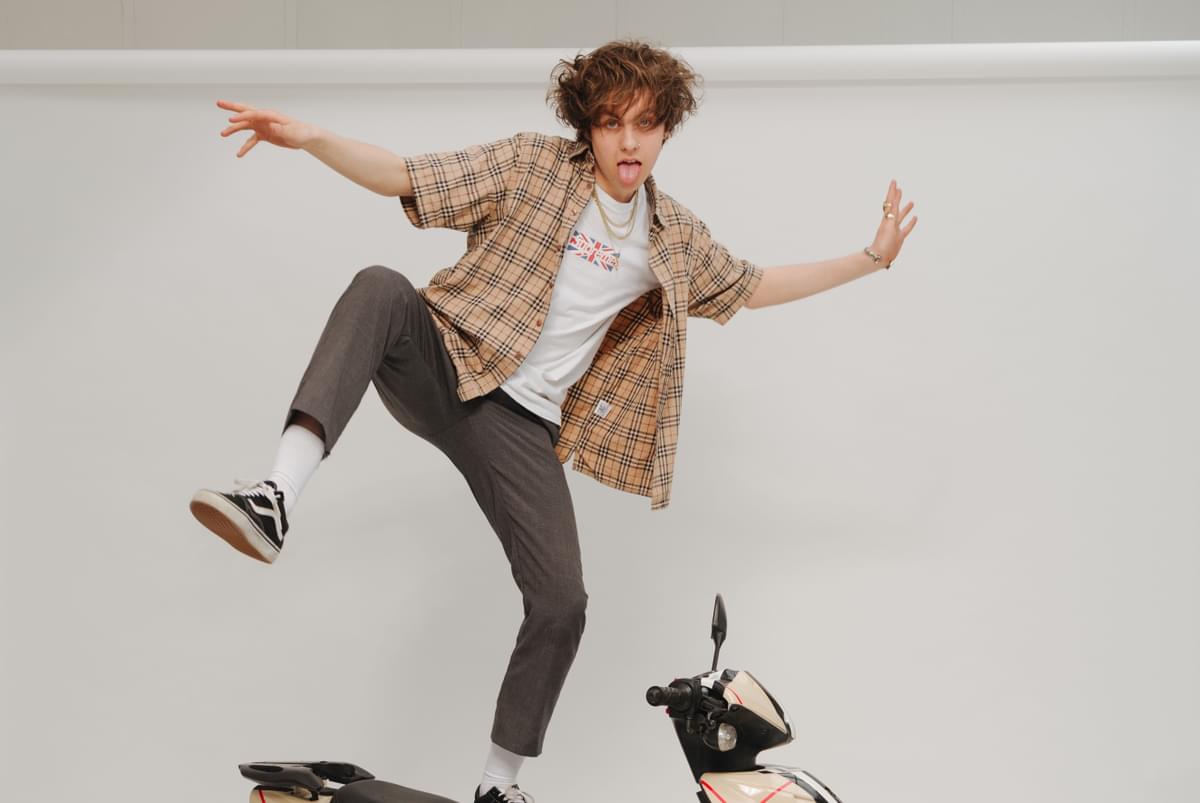 Rat Boy on Skate Artist Mark Gonzales
08 August 2017, 09:00
Jordan Cardy writes for us about the influence of the skate scene and its visual style on his artwork, music and DIY ethos.
I always drew and always painted when I was a kid because that was the only thing I could do. So at school I'd just doodle because it was just more fun than doing other work.
When I was really young I'd draw Tintin, but I was probably around twelve-years-old when I got into skating. When I was a kid I remember my dad was into hot rod culture and I remember I found like these hot rod arts books and was like 'Ah, these are cool!' The American hot rod scene got me into skating because I think that stuff kind of goes together. Then I really got into Mark Gonzales, Coop and a guy called Ed Roth.
Mark Gonzales owns a company called Krooked which releases all of his skate graphics. There are loads of skate companies and they all have their graphics on the boards, but his art really stood out. His style is more freehand, it seemed more carefree and the colours are bright, so I thought it was really cool. I got a Krooked board when I was thirteen and it had these two eyes on it, which is like his trademark.
He started doing skate graphics in the 80s for a company called Vision, but he was doing a lot of skate competitions at the time too. It was all vert skating then, but then street got big in the 90s. He then started his own company called Blind which was supposed to be the opposite of Vision because he was so against that whole commercial thing. He wanted to make something which was the opposite of what he had been a part of, so he did Blind which was sick. The graphics were taking the piss out of Vision which was cool.
Whenever I'm drawing I sit and watch documentaries on him and other skate artists. I try to make my artwork a bit like his. I don't want to rip him off, but I'm definitely inspired by him. One thing I learned from his work is that I would spend ages doing a little bit of detail on something and if it looked like shit, I'd think, why couldn't I have just done some massive big spray painting with really bright colours? If I'm doing the lines it's so in-the-moment, but I prefer doing that sort of art because it's a lot more free.
I would love to work with Mark and I think it would be cool to make a music video with him, like filming me and him making a load of art. He worked with Spike Jonze on some painting for a music video for The Pharcyde ['Drop'] and it's got The Beastie Boys in it as well. I would love to do something with him – just go mental and do some amination and loads of weird stuff. I think that would really inspire me to try new things too.
I've tried reaching out to him before, but I think he's just some mad character. He's done a ton of stuff for Adidas recently, as well as collaborations with NaCo and Supreme. He's been in movies like Gummo which was directed by Harmony Korine who's one of my favourite directors. There's a scene that always links together around skate, art and film, and Mark Gonzales is a figure that's always involved. I sort of see him as not a real person, but some sort of fictional character because of all the stories you hear about him. I can't imagine being him 24/7, he must wear himself out.
The whole skate scene has been a massive inspiration for me. I wouldn't be doing music if it wasn't for that whole world because it made me realise you can do things on your own. I remember watching skate videos as a kid and they were so DIY, so it made me think I could get a camera, get some paint and just make my own art, videos and clothes. But my parents got really angry every time the clothes were washed because the ink leaks everywhere!
At the moment I'm inspired by Big Brother magazine which turned into Jackass. Me and my friends aren't the best skateboarders, but we've done it for half our lives now. We just fuck about and make videos wherever we go on tour. With skating it's not about how good you are, but it's the thing that brought us all together. Like I met Noah [Booth, drums] through skating, we just really enjoy it.
Skating got me into a lot of music too. I remember going on a skate trip and everyone was singing "Time For Livin" and "Brass Monkey" by The Beastie Boys, and I'd never heard that before. There was a skating game called EA Skate that got me into hardcore punk because it had Agent Orange ["No Such Thing"] and Bad Brains ["I Against I"] on the soundtrack, as well as "The Funeral" by Band of Horses which is one of the sickest songs ever. So skating, hip-hop and punk are all linked, and you can hear that influence on my new record Scum.
Rat Boy's debut album Scum is released this Friday August 11th.
More information here
. All artwork by Rat Boy.
Get the Best Fit take on the week in music direct to your inbox every Friday