In my early twenties I lived in Reno and worked in a warehouse loading trucks with mining chemicals. I couldn't smell for two years because of that job. The chemicals just shut your nose down. But it paid good. Every week I made enough to live by myself, get drunk on Friday and Saturday nights, and buy a record and a book a week.
I ran like clockwork: get drunk on Friday, eat breakfast at a casino on Saturday morning, and then go record and book shopping. There was a bookstore called Bold Print and one Saturday I saw a life-sized black and white cardboard cut-out of a crazed looking cowboy pointing a gun. It wasn't a western old timey cowboy; this guy was about to murder someone or just had. In his cardboard chest were novels by Jim Thompson. I'd never even heard of Jim Thompson but I couldn't stop looking at the covers. All of them were black and white photos. Hell of a Woman: a prostitute, The Killer Inside Me: a sheriff who should be in a loony bin but isn't, The Grifters: a dreamy seductive femme fatale, and Savage Night: a man who looks like he's been thrown down a mine shaft and is about to get shot.
The books were thin, under two hundred pages, and strikingly beautiful. I couldn't help myself and bought all four in the cowboy's chest. I sat at my kitchen table that afternoon and read Savage Night, the story Charles Bigger – a TB-infected hitman who wears platform shoes and has a toupee. He ain't much to look at but it turns out he's a real lady's man. Chicks dig him, the main one being the woman who works at the rooming house where he's staying while he's casing the guy he's supposed to kill. The woman has a baby foot at the end of her knee and her little toes go nuts when they have sex. Oh and I forgot to mention that throughout the story the hitman starts shrinking. Literally.
My God! Pure madness. Funny, sick, wild, but page turners. Non-stop page turning excitement. I had never read anything like it. Noir stories written about and for psychologically damaged people. Thompson was a lifelong alcoholic who had his first nervous breakdown at nineteen. Jesus, he and I were meant to be! I remember after finishing Savage Night how lucky I felt to have stumbled into that bookstore that day because the four novels I brought home were only the beginning. Thompson wrote more than thirty of them.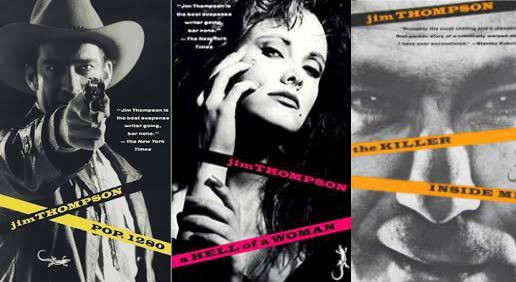 For a time I had his complete collection and kept them by my bed as a shrine. I loved his novels so much I'd always give them away trying to spread the gospel of Jim Thompson. But nearly no one I gave them to liked or understood them. No repeat customers. I couldn't believe it. I really couldn't.
What I started noticing was that fans of Thompson were like pill addicts. You can't necessarily pick out what type of person is or isn't one. I knew an old lady who collected Thompson novels and I knew a guy who lived with his mom who had a shrine like mine kept hidden in his closet. There was a good-looking girl who used work at the movie theater who always had a Thompson in her purse. There was an English professor who, when drunk, declared Thompson his favorite writer, and a speed freak electrician I met at a party who had The Transgressors tattooed on his arm.
Thompson died from alcoholism with none of his books in print. His life story is just as rough and wild as his novels, minus maybe the woman with the baby foot. They say as a kid he worked at a mortuary and used to keep his beer cold by sticking them between the legs of the frozen cadavers. I mean, what's not to like? So please, please, please give him a shot. Here's a few titles to start with Savage Night, Pop. 1280, The Killer Inside Me, Recoil, The Alcoholics, A Swell-Looking Babe, A Hell of a Woman, After Dark, My Sweet, The Kill-Off, The Getaway, The Transgressors, and The Grifters.
The Delines' new record The Imperial is released this Friday, 11 January via Decor records