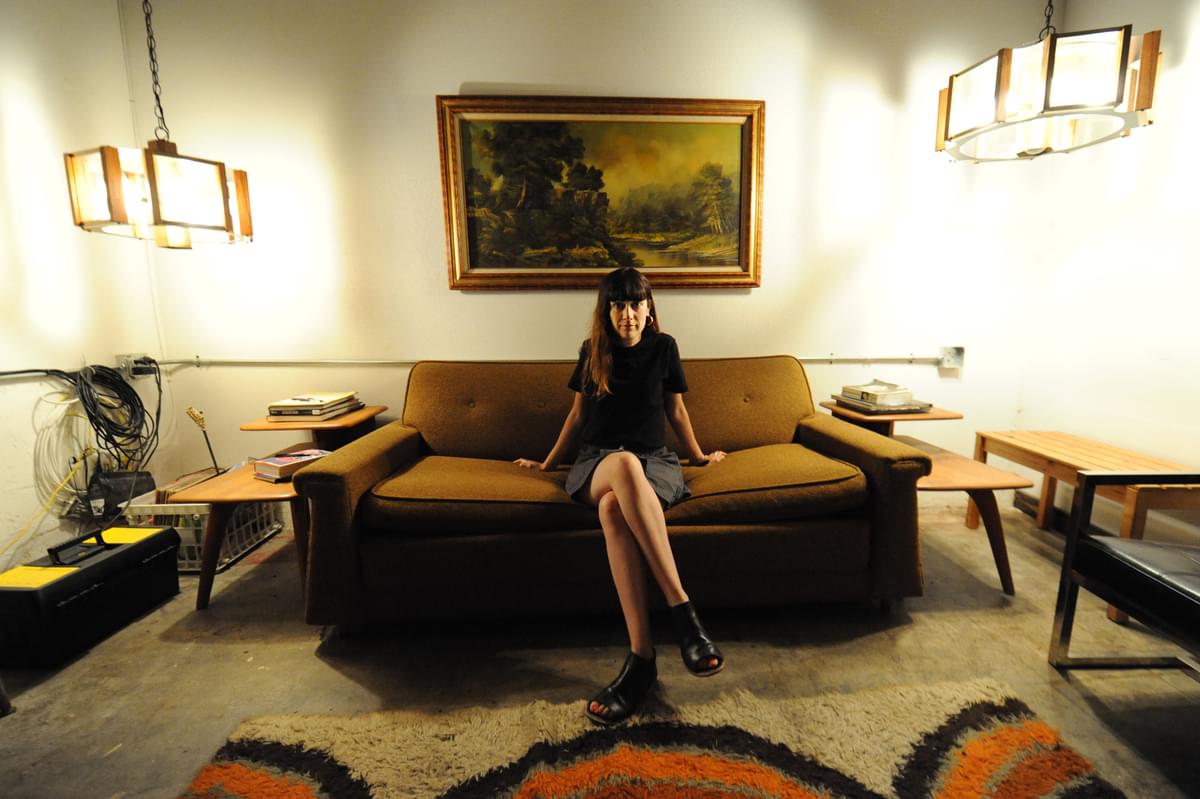 Bryde on why her gender matters when running a record label
16 April 2018, 08:00
Sarah Howells, who records as Bryde and runs Seahorse Music, tells Best Fit why it matters that she's part of a new wave of women running things.
I bought my first Fender (Squier) Strat at 15 from a girl about five years older than me in a guitar shop in Haverfordwest, Pembrokeshire a few miles from my hometown. Her lovely boss lingered as I tried out a couple of guitars. He told me I was good at guitar for a girl which I took as a compliment; because it was meant as one, and because back then people didn't think it was a stupid thing to say or to think. There were maybe two other girls playing guitar in our school and my band member Alex had taught me to play a tricky riff from a Pearl Jam song especially so I could play it in guitar shops. I was the rhythm guitarist and didn't (and still don't) care about playing anything just to impress. These days I'd like to think that I'm good at guitar for a lead singer.
After more than 15 years in the music industry – writing, touring performing in various different guises – I've seen it come a long way in terms of equality and gender balance. Radio stations (well, most radio stations) play three, maybe four female voices consecutively and no one gets anxious about it. That said, there's still a way to go (see festival line-ups of 80% men; see scanning down the line-up to find the women; see female popstars barely clothed in their own videos while their male counterparts get models undressing in theirs; see... the list is endless).
When I started Seahorse Music, however, I didn't think, "I know what would be a conversation starter! A woman running a record label!" I just thought that a few friends and acquaintances of mine had made some really strong music and I had ideas, had learnt from tons of mistakes and triumphs, and wanted to help them. It would frustrate me not to.
It turns out that a woman running a record label is not all that common. Who knew?! Well, we all kind of knew, but now that figures surrounding the gender pay gap have been released it's something that can no longer be ignored. While it wasn't my primary reason for starting the label, I feel that just doing something small like this in the music industry will constantly help to challenge unconscious biases that we all hold towards gender roles. I'm up for speaking about music on any panel. We need more women on panels – and not to speak about feminism or about being-a-woman-in-music, but to speak about releasing music, funding music-making, what guitar pedals they use.
Running a small label as an artist means that it's done a little differently. When you stay on top of how your own music career is run and delve into every aspect of it, there's a whole font of geeky knowledge to take a bird bath in. The way we work is that one artist's success is seen as everyone else's. Any opportunities I get as Bryde I see as opportunities I can possibly pass onto another artist – if it fits. I'm learning on the job, just like everyone else, but being an artist lends itself well to running a label. It is a labour of love, it feeds the part of my brain that's addicted to lists and planning, and yes, I get to be part of a new tide of women running labels – women running things.
Sometimes I'm so busy being self-employed I forget that my gender still matters. I'm quickly reminded of it again when someone makes a bee-line to one of the boys in my band to talk business. The undermining can often be very subtle. Men have often reacted with disbelief that I run a record label and I've seen the same reaction when telling people that a (very successful) woman mixed my album and another mastered it. Being labeled "bewitching" or "enchanting" is something very few men will have to gag into their post-show beer over after bending and hammering an electric guitar for half their set... and don't get me started on sound engineers!
When programming a Seahorse event last year, I had to spend a large part of an email chain repeatedly explaining my experience and knowledge before I could get perfectly suitable acts onto a bill. I'm sure this isn't just because of gender, and sometimes I double check with the men close to me that I'm not being overly sensitive, but I think as the current #metoo and #timesup climate is illustrating, most women are done with letting the little things slide.
Many of the female-run labels will be coming up for air from behind their laptops on 16th June at the first female-led Indie Label Market in London's Berwick Street. I both love that this is happening... and can't wait for it to not be necessary.
Bryde's Like An Island is out now on Seahorse Music.
Get the Best Fit take on the week in music direct to your inbox every Friday