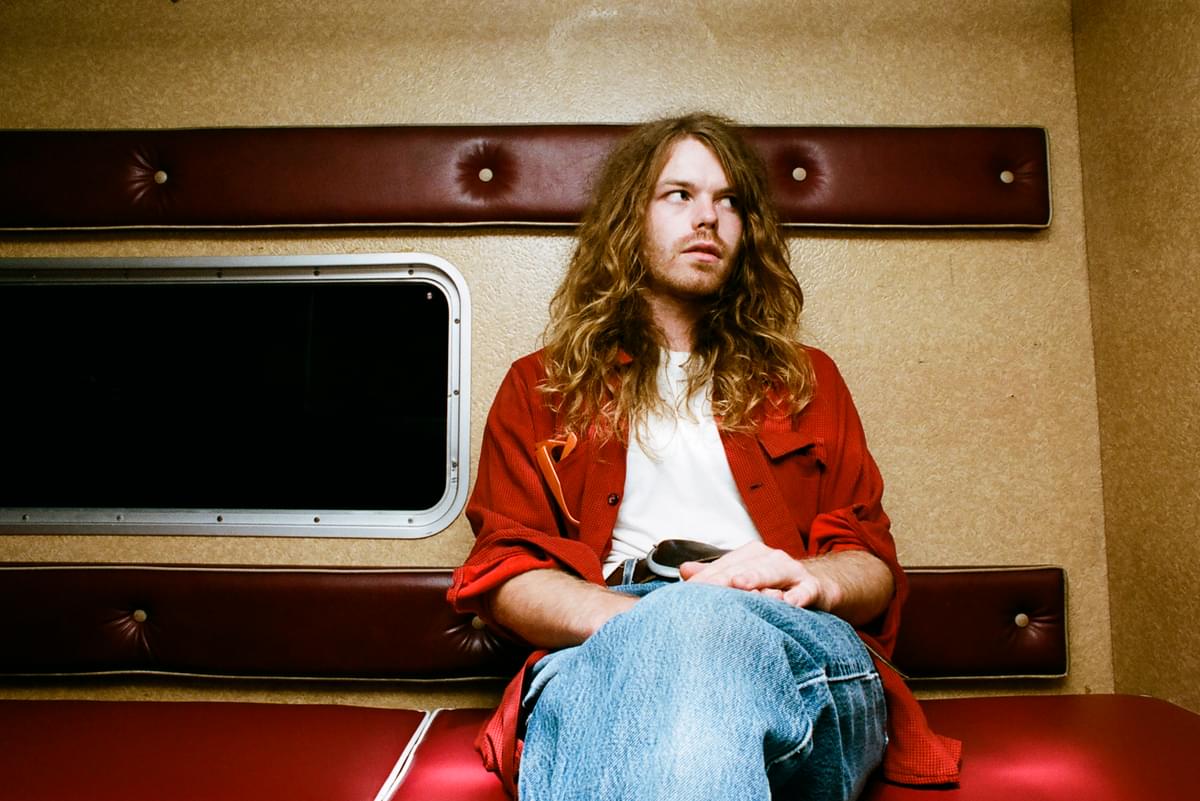 Welles is putting Arkansas rock'n'roll on the map
14 June 2018, 09:30
Jesse Wells tells Murray Stassen how he's drawn inspiration from every era of rock to produce the signature psychedelic grunge of Welles' debut album.
When we catch up with Jesse Wells it's 11am Nashville time In his composed and polite manner, he tells us he's just getting "up and around" and ready to go to work at a coffee house close to where he lives in East Nashville.
"Whenever I'm not on the road I work at the coffee house," he explains. "It's just down the street from me, so literally a ten-minute walk, or sometimes I ride my bike."
The 23-year-old rock musician has been living in East Nashville for "about a year and half", moving there from the college town of Fayetteville.
"Fayetteville is really just a blue spot in a red state," he says. "A lot of artists are there. It's the place to be. They have venues that you can go out and play shows in, which really no other place in the state can offer you.
"It has a college and an influx of young people who are constantly coming in and out. Every four years we would get a whole new group of kids and a whole new scene develops. Is it more or less the same as the one before it? Yeah. But it's fresh."
He's still getting used to living in Nashville he says, which he notes has "a lot more people and a lot less fishing holes" than Arkansas. "The people are the best part and the people are also the worst part [about the city]," he muses. "You don't get this small town vibe that you're used to," he adds, but concedes that the coffee shop has been a great place to meet other musicians.
Welles' debut album Red Trees And White Trashes is out this week and follows his Codeine EP released last year. A powerful five-track statement of intent, the EP demonstrates mature, classic rock songwriting abilities with captivating fuzzy guitar riffs, intertwined with intoxicating messages of repentance and deep introspection.
The EP's opening track (ninth on the new album) is his grunge-pop anthem "Life Like Mine", an instant and honest introduction to the songwriter's melodic sensibilities and his distinct raspy voice, in which he delivers a psychedelic, dream-like tale of regret and remorse in the verse and asks "How fucked up do you have to be / To live a life like mine?" in the chorus. The song's video, directed by Mafalda Millies (who worked on MS MR's 2016 clip for "Wrong Victory) bring the dream to life in vivid colours, candlelight and intricate flower arrangements.
The EP and his enchanting live performances have been so well received by rock fans and the music press that Welles secured an invitation to open for Royal Blood on their US tour last year and Highly Suspect's UK and European tour at the start of 2018. He ended the tour with a raucous headline gig at London's Shacklewell Arms, following in the footsteps of countless other successful transatlantic garage-rock and psych acts that have performed on that stage.
"It was really cool," he says, of the east London venue, which he recalls was "like a funny little dungeon".
"It's about 100 years older than anything we step foot in on a daily basis. "We had just been doing the Highly Suspect tour and every evening it was between 1,000 and 2,000 people and then we came to Shacklewell Arms and played our own headline show. It was a great way to end the tour for us."
"My definition of rock and roll has had to change over the years...it's had to become more a style, it embodies something a lot larger than a leather jacket and smoking cigarettes now."
Welles drew inspiration for the new reord from the likes of The Slider by T-Rex and David Bowie's The Rise And Fall Of Ziggy Stardust And The Spiders From Mars, two albums he says that he was listening to a lot at that time. This influence is clear from the likes of the classic rock and roll-style shuffle of the album's first (and aptly-named) single "Rock N Roll" where he defiantly proclaims that "Rock and roll doesn't eat / And rock and roll doesn't sleep / Rock and roll does drugs / And rock and roll just shrugs / And says leave me be."
Indicative of his wide range of influences from the history of rock however, the opening track, "How Sweet It Is To Live" pays tribute to a sound more akin to late '80s/early '90s Seattle grunge, with hints of Kurt Cobain's signature snarl over a Nirvana-esque droning, guitar rhythm.
"We've got all of rock and roll to draw from and make new music now," he says. "My definition of rock and roll has had to change over the years. It's had to become more a style, it embodies something a lot larger than a leather jacket and smoking cigarettes now."
Commenting on the current state of rock and roll and the various offshoot genres ranging from grunge, to garage, to psych in the US and globally, he says it's in "a great place", which he suggests is owed in part to the current political climate at home and abroad.
"I think any time there's a lot of conflict, and a lot of war, the arts are going to flourish as the means to burn off steam," he says. "That's how I feel it's been the past few years. Some of the best music that's been made in the past 20 years has been made in the past five years. I feel lucky and blessed to be making music at the same time that Ty Segall is making music or King Gizzard & The Lizard Wizard are making music."
When asked to describe his music for someone who has never heard it before he says: "The Beatles and Black Sabbath - try to put those two together. It's a painting of a sun shining in a field in a frame that's made out of black ebony and it's evil."
He adds that he likes Black Sabbath a lot for their "sound, aesthetic and everything", referencing "Master Of Reality" in Volume 4 and "Sabbath Bloody Sabbath" in particular as "some of the best music that's ever been made".
"All I have to do is think about the title 'Wheels Of Confusion' and I smell gasoline and I want to beat some shit up," he says. "I want to play some rock and roll and I don't even know what it is. I think Black Sabbath clicks something off in your brain that turns you into a full blown animal."
"I write the tunes from top to bottom and it made more sense when I moved to Nashville to come in and use some hired guns who over time I have become friends with."
His introduction to some of his favourite music - which ranges from The Beatles to Credence Clearwater Revival, The Kinks, The Turtles - was when his grandfather gave him cassettes that he'd taped from old LPs, starting with Sgt. Pepper's Lonely Hearts Club Band in the first grade.
"That was pretty much it," he says. "I was sold and from there on out, each year usually around my birthday I got a new record. I guess it's an old school way of burning music. He'd have the LP on the top and then he would hit record on the cassette tape. I then got the White Album and Revolver after those two, which I remember thinking was odd. I didn't know about the order, I just became obsessed with The Beatles. There were four little books in the elementary school library, each one of them was about one of The Beatles, a little timeline collection.
"They had illustrations of The Beatles inside and I turned those around and traced pictures of John Lennon out of it in the second grade. I must have been just a bizarre kid, you know? I just really thought The Beatles were all of it."
After that was his "emo phase" in which he spent time with Simon & Garfunkel and American folk music, "got obsessed with Bob Dylan and Joan Baez" and the "notion of that whole crew running around in the early 60s" in Greenwich Village, New York. It was also around this time that he got his first guitar and has "had one in the room since".
"I had Alan and John Lomax's book that they made when they crossed the country recording people at the penitentiaries and prisons," he remembers. "I read the manuscripts there of little folk tunes and tried to learn those. I thought I was going to be a folk song collector for the state of Arkansas or something. I enjoyed writing songs too. In the eighth grade I played 'The Times They Are A Changin' at a county fair and I didn't even place. I remember thinking, I'm the only kid here who is even accompanying himself, everyone else got up and 'karaoked' it."
The folk influences can be heard on the new album via the acoustic guitar-based story telling on tracks like "Summer", in which he states poetically that "Nothing sings like the smoke of a cigarette in the sun", as well as elements of Seventeen (the album's lead single), which was produced by Dave Cobb (Sturgill Simpson, Chris Stapleton) and mixed by Grammy award winning mixer Andrew Scheps who has worked with everyone from Red Hot Chilli Peppers to Adele.
After his folk phase, he says he decided to try form a "very loud" rock and roll band: "I started getting my buddies together and we would just learn little things on the drum set and teach them to each other and those were our backing tracks" he recalls. "We really just didn't know what we were doing at all. We were all self-taught. We played like that for years and years until we were a bona fide rock and roll group."
The membership of the current Welles live band is "really fluid", he says, with various musicians filling in over the years. "I write the tunes from top to bottom and it made more sense when I moved to Nashville to come in and use some hired guns who over time I have become friends with," he explains.
Although Welles is now a Nashville resident, the majority of the debut album was written when he was living in a communal living space back in Fayetteville, which he and his friends dubbed 'Space Mountain'.
"It's still standing. I was just there a couple weeks ago," he laughs. "Me and my buddy James moved into this apartment complex built up in the '50s and it wasn't [completely] renovated. It had two rooms that were [fitted out] and the rest of it wasn't ready to go.
"Because of that, we got incredibly cheap rent and we had access to the rooms next to ours that weren't finished and we used those spaces as a gallery and a studio. James does a lot of ceramics and visual arts and then of course I was recording music constantly. All of this record that's coming out was written over there in Space Mountain."
He explains that he "never set out to write an album per se", and that he usually just writes a song at a time and tries to make as many as possible, which he then shows to his management and the people around him he trusts. "Sometimes I'll write a song and it doesn't need anything changed, it's good as it is. But, as far as the philosophy behind making the tunes, I just hear songs I like and try to make my version of it," he says, explaining his songwriting process.
"The more you make, the more creativity you have to work with."
"A lot of it is just me and an acoustic guitar, I've got a notebook I keep lyrics in and I'm constantly writing. I've always got a stanza or two I can visit to write a tune with. I don't know if the words will always work with the melody, but sometimes when I'm writing, I think it's too wordy and I overwork it so I'll just come up with the words in my head on the spot, which is a lot simpler, a lot less overthought."
His lyrics, are "for the most part, pretty matter of fact", focusing on things that are happening in his life right now. "I like to take that Kinks approach," he says. "If you think of 'Waterloo Sunset' or 'Sunny Afternoon', those are just songs that couldn't have taken place anywhere other than during a sunset at Waterloo or drinking a beer in a sunny yard. I try to write songs like that about my real life."
But, being a big fan of songwriters like John Lennon and Marc Bolan of T Rex, he says that abstract lyricism and more vibrant, yet subversive imagery are definitely something he'd like to explore on future projects to tell stories.
He cites the likes of the The Beatles' White Album track "Cry Baby Cry", in which Lennon uses fable-esque imagery to tell a story of the "The King of Marigold [who] was in the kitchen / Cooking breakfast for the Queen" as being the type of song writing and lyrical style he's also fascinated by. "I listen to that pretty consistently," he says. "Especially the demo version and it's all about a fairy-tale, the king and the queen and this Lewis Carroll scenery. "I want to get into that. That's what I want to explore, to be able to write absolute nonsense and then sneak the fucking truth in there."
Welles says that since the release of his EP last year, he has found that the more he writes songs the easier it becomes to sit down and write others: "The more you make, the more creativity you have to work with."
His creative output has been altered a lot since moving to Nashville and he cites the cost of living there in addition to changes in his daily routine as factors inhibiting his creation of the same number of new songs he used to write. "My environment has changed and my schedule has changed too," he says. "Now I live in Nashville where it costs twice as much than Space Mountain. I spend twice as much for a bedroom here in Nashville and I have a laptop and a drum set and I'm trying to write riffs over beats. I've written about 60 tunes in the past year since I've been here. That's lower than what I had back in Arkansas, I'd have about 100.
"Also, you have to take into account I've been on the road touring more than in my entire life. I had never even been on the road at that point [when he was living back in Arkansas). I was strictly a studio artist at that point and not even a studio artist, but a home-studio artist. There should be a distinction. I get wary of people who consider themselves some kind of savant in their bedrooms."
When asked when he thinks he'll be touring in Europe again, he laughs and says that we should "call Paradigm Talent Agency and ask them".
"I would love to ASAP," he says excitedly. "I'd get on the plane tomorrow." He also says that he loves being on the road so much that he aspires to "be the man that plays a show every night."
"In the past year, I've grown accustomed to being on the road and being busy in that way and I want to keep that momentum. It keeps me healthy too because, you do it for the people," he says. "You want to show the folks that are working 9-5 every day and buying a ticket to see the show, like, hey, I gave it all up. I'm insane. Watch this! Get free from your dull-ass life for a second, we are going to die young people, come on. Have a good time. We're doing this for you."
Red Trees And White Trashes is released via 300 Entertainment on 15 June
Get the Best Fit take on the week in music direct to your inbox every Friday