Back home in Blackpool, he's enjoying a quiet moment as the storm quickly gathers pace around him. Well, at least his folks are. "I think it's the longest time I've been at home for like three years. Parents are fucking loving it," he laughs.
For the past few years Gregory has been making a name for himself in Germany having inked a deal in Hamburg with Kontor Records, predominantly known for their dance roster. But the 'new Scooter' Gregory is not.
Instead he's being touted as the 'next Capaldi' with a rich, commanding voice and rousing songs that hook themselves around insanely instant choruses. It's a comparison that's easy, but not entirely unfair. Gregory certainly has a quick and charming wit, but his music's more informed by classic mid-00s indie, the songwriting of the big radio balladeering bands rather than one man and a guitar. We can thank his dad for that.
Growing up in Blackpool with little cash, jumping on a train to see a show in Manchester or Liverpool wasn't an option. Instead, he fed his growing addiction to music with a bag of CDs passed down from his father. "Blackpool's quite an impoverished place, it's not particularly pleasant in parts, although I love it and it's my home and it always will be," he says. "Music, personally, just took me to a completely different place and that's how it all started for me. Shit weather, nothing to do and a bag full of second-hand CDs."
Travis, Keane and James Taylor became the cornerstones of Gregory's musical education: "Without realising it I was studying all these guys for years, like Fran Healy and Tom Chaplin. That's kind of how it all started for me, just by mistake and having fuck all to do," he deadpans.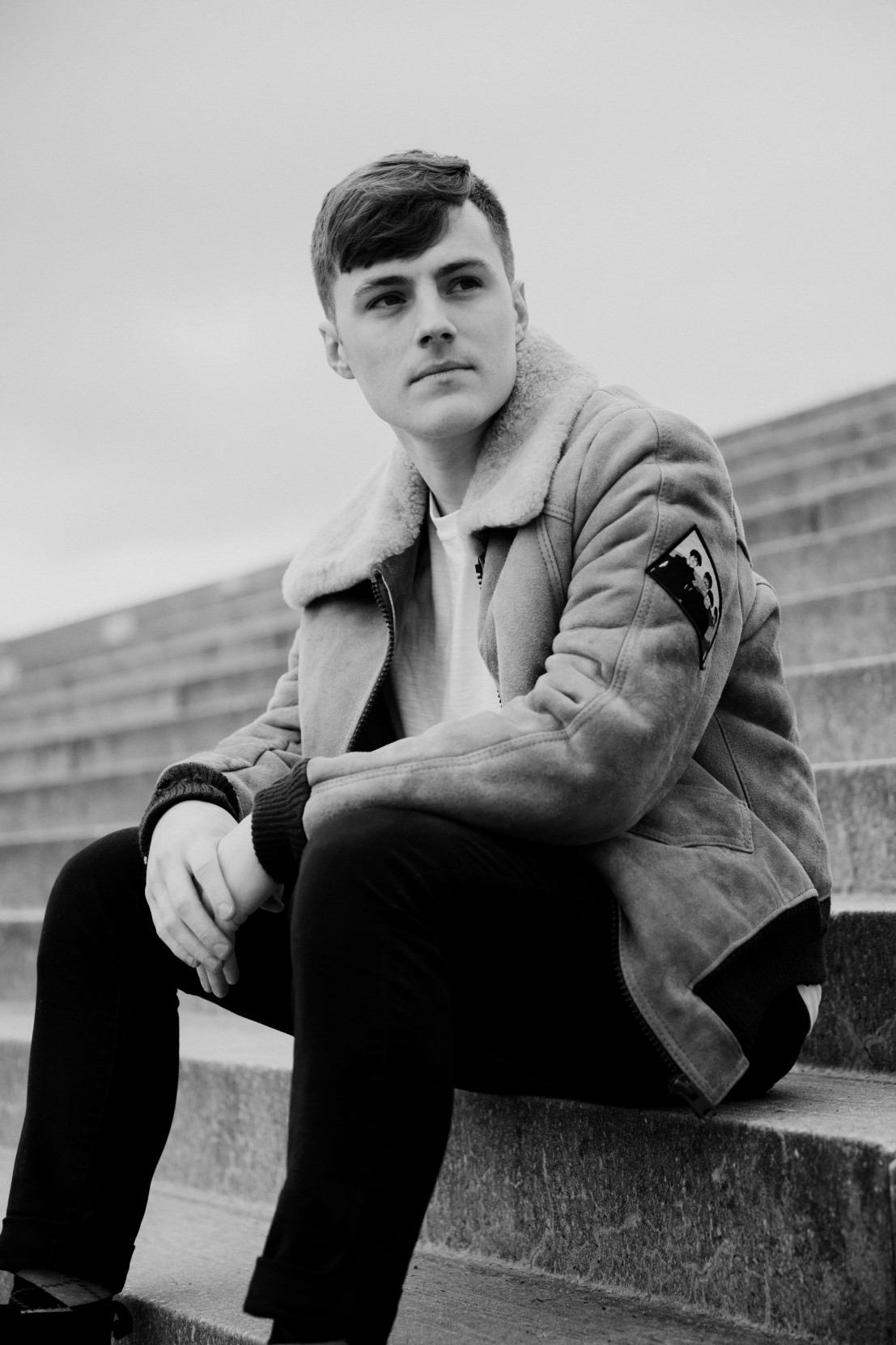 The story of how Gregory made it reads like the plot to a British blockbuster. Passionate kid from a poor town tries to make it big on the telly, gets knocked back, works a shit job, finds a friend who helps him get back on his feet, and signs an international record deal. And the way Gregory tells it there's all the romance too, with a few distracted tangents and all at breakneck speed.
"Thing is, this was ten years ago nearly, The Voice," he begins. "My dad saw an advert on Facebook and he actually just signed me up. It's really cliché to say that, but I was only sixteen so I wasn't massively into watching all that stuff."
Not taking it too seriously, they drove to Manchester one weekend for an open audition alongside several-thousand other hopefuls. "When I look back, and being sixteen, the audition process was fucking brutal," he says. "I remember being stood in a room with some absolutely amazing singers. We all had to stand in a line and we were given twenty seconds each to sing whatever we wanted. And then afterwards they'd say - yes, no, yes, no, yes, no no no no yes no, and they'd go along everyone. It was quite humiliating in a sense for some of the people in the room, so god knows how I dealt with that at sixteen. I just remember being stood in this big line and it being my turn and I think I just sang a really old album track of Paolo Nutini. And they fucking loved it and they were like, oh cool, right, yes!"
Gregory ended up being invited to London to perform on the live show, celebrity judges and spinning chairs in tow. "At that point you start thinking, ah yeah, shit - world domination," he laughs. "I'm gonna be on BBC One, get to sing in front of will.i.am, Jessie J, Tom Jones and Danny O'Donoghue from The Script was on it as well. So it's like fucking hell, sixteen year old me, I'm gonna go down an absolute treat at school."
In a particularly ballsy move he picked a song by The Script from the pre-approved list the production team supplied. "I sang it... and they didn't turn." He shakes his head. "To be fair, I absolutely butchered it. I was nervous, but I was sixteen. Them not turning was like a massive kick in the balls, really. It is the end of the world when you're that age and they don't turn around. I was completely devastated and that sense of rejection stayed with me. But I managed to turn that into something quite positive because when it came to travelling around and messaging people to try and get a record or publishing deal, them saying no really never felt as bad as getting a no from will.i.am. It kind of just lit this thing inside of me where I thought well, fuck it, there's something out there for me and it will come and nothing can ever make me feel as bad as getting a big fat NO from those four guys."
On Gregory's debut album Heaven In A World So Cold, the track "Far Away" namechecks The Black Eyed Peas. I ask if recording that felt like coming full circle on his childhood trauma? "It's kind of a nice full circle," he nods. "I did a festival in Switzerland just before Christmas and The Script were playing after me in a big arena full of like twenty-thousand people. I called my mum and dad and I was like, yeah, for all the success of the moment, this is the best feeling from all of it. Just knowing I'd idolised someone that I'm now sharing the stage with. That's a little bit fucking crazy for me."
Unfortunately, Gregory didn't get the chance to say hi to O'Donoghue, or to give him the middle finger. "In a way it's like a thank you," he counters. "Because I wasn't ready at sixteen, and it actually pissed me off to the point where it got me here and gave me a sense of drive. Because you can have all the talent in the world, but if you haven't got the urge to wake up and get out of bed in the morning and be proper skint... when you're walking into Subway, scrapping around in your pocket for a bit of change and you can't get a footlong, you can only get a six inch. I've been there. It gave me a bit of fucking fire in the belly to be honest. For years and years I could only get the six inch at Subway, and Nando's was a treat once every two months."
Again with the silver linings. You could give Gregory a bag of lemons and he'd come back at you with a case of Lemon & Herb PERi PERi, chicken, chips and twelve sides of macho peas.
"The dynamic of a band is actually a great one because it teaches you a lot about the dos and donts of music."
After The Voice humiliation, Gregory returned to his studies and tried to keep his head down. "I just wanted to finish school. I was a depressed teenager after that for quite a short while," he says. But it wasn't long before he got an itch to perform, and on finishing his A Levels Gregory formed a band, looking to make a bit of cash singing covers in local pubs. Slowly, they began writing and playing their own material.
"The dynamic of a band is actually a great one because it teaches you a lot about the do's and donts of music," he explains. "That twelve months of me doing that band and writing an EP and the arguments at four am about a first verse lyric and what the fucking logo should be and whether it should be a Korg or a fucking piano in the chorus. The fights, the creative fucking duals that we'd have, they really taught me a lot about who I wanted to be as a musician."
They named themselves Kiings, released the EP, and picked up some good press and a few plays from Huw Stephens on Radio 1. "We were originally called Golden Wings but we slowly realised that was a fucking shit name because it just sounded like a local Chinese," laughs Gregory, admitting that Kiings isn't much better. "But back then it was like the coolest thing ever and we were gonna be the biggest band in the world. We were gonna play Glastonbury and take over the world, but that never happened."
He specifically remembers one seminal performance that marked their fall. "We travelled to Leicester to play this festival and they pitched us near the fucking techno tent. We were up until seven in the morning with the thud of a bass drum and drunken Leicestershire teenagers partying til the early hours, and then we had to go on stage at like, twelve o'clock. It was a really shit slot. And we went on stage and the five of us were looking out to a four-man crowd, and we'd driven four hours. I was just like, do I really want to do this? And then coming off the stage, I remember packing the car up and somebody just said, 'You're shit.' The band died for me that summer and I decided that I wanted to do it all on my own."
"I think really having to grind... teaches you values."
But Gregory being Gregory, he has to find some positive takeaway. "When I'm looking out on that stage and I'm playing for a couple of thousand people, I always remember that feeling of playing to four, and filling in the gaps in my mind of the people that weren't there on that day. It's unbelievable how you can go from that to, the most I think I've played for is thirty-thousand. Absolutely mental. I have more people in my team that come and help me set the show up now than were in the crowd on that day, so it's an unbelievable feeling that I can get to do that. And it's ultimately the reason why I'll always appreciate the job and never be a dickhead about it. I think really having to grind like that teaches you values."
With the band finished, Gregory decided to go to University, even though he didn't really want to. "I felt this social pressure to do it," he explains. Picking the closest music production course at UCLan in Preston, and with very little money in his pocket, off he went… for about eight days. "I remember being sat at Uni, looking round the room and thinking, fucking hell, this is not gonna get me a record deal," he laughs. "So I decided that day that I was gonna quit. At this time I was fucking skint, living week to week like a tenner, twenty quid. I was just scrambling around to see what I could do to earn a bit of money and my cousin had just got a part on Coronation Street, and I thought, fucking hell - I could do a bit of that."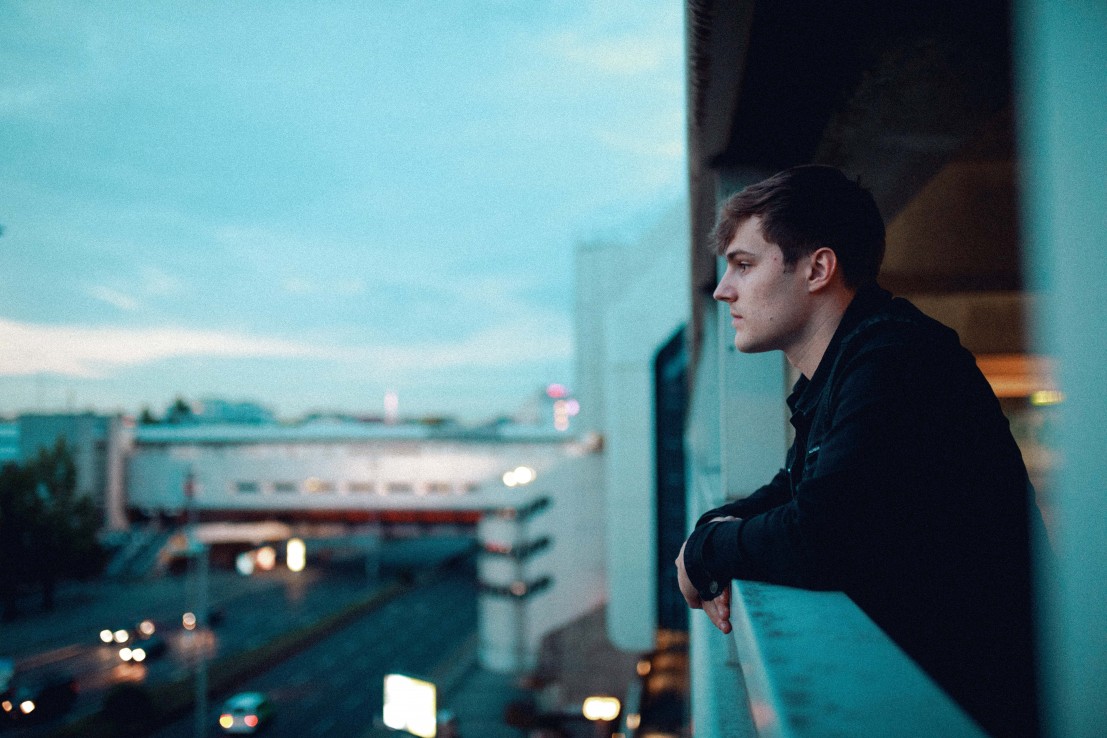 Walking to the train station, leaving his short lived Uni life behind, Gregory got a call from a casting agent. He'd landed a part in a BBC drama. "It's just typical wheeler-dealer me that I managed to land it," he laughs. "I hadn't even read the script properly. I didn't know what it was about. I was like, fucking hell, shit. I can now go home and justify to my parents why I quit, coz I was really dreading and thinking about what I was gonna say to them. So now I had this excuse that wasn't, I just wanted to go off and be a rockstar."
The A Word ran for two seasons on BBC One. However - spoiler alert - Gregory's character didn't make it past the first season. "So I had to go from a BBC One series to a week later getting a normal job at The Grand Theatre in Blackpool, because I knew that I wanted to be a musician, I didn't want to be an actor. It wasn't for me. And to be honest, learning lines is fucking annoying," he jokes.
One of Gregory's school friends had an older brother who offered his services as a manager. "When you're eighteen, you'll just fucking work with anyone who says they wanna manage you coz it's like, woah - I've got a manager," laughs Gregory. Together they started to reach out to labels and publishers on Soundcloud. "I had to work my job at the theatre where I was earning like a fiver an hour. It'd cost me a fiver to get there so the first hour was always free, I specifically remember that. And yeah, I'd kind of float in between earning £200 and then spending it straight away to record a demo.
"Eventually I recorded this one demo and it somehow, by some stroke of luck, got into the hands of the right people. I then saved up enough money to fly out to Germany because some producers were interested in working with me who had worked on some quite big stuff. I then flew home and by process of messaging and hounding people online and on Soundcloud I managed to meet my now label and now publisher."
"Being from Blackpool, I didn't grow up with much so it's a nice feeling that I can make something from something that I love so much."
It sounds simple enough, but Gregory describes it as a romantic grind. "I signed my record deal and that wasn't security for me," he explains. "Nobody will mind me saying that I wasn't paid life-changing money. It was all about me just getting a deal and if it works, then great. I'd worked a load of shit jobs so somebody just putting a little bit of money into my bank account was like, fucking hell, wow, yeah, at least I don't have to sweep popcorn from underneath theatre seats and clean toilets anymore."
Money is a recurring theme when you speak with Gregory, a measure of success he's not embarrassed to admit. "Being from Blackpool, I didn't grow up with much so it's a nice feeling that I can make something from something that I love so much," he explains. "So I guess those little anecdotes and jokes are a part of that. I just find all of this completely hilarious in a sense that I can write something in a garage in Cleveley and it be my life."
Since signing in Germany, Gregory has been enjoying growing success across Europe from huge radio hits to tours supporting the likes of Max Giesinger and James Morrison. His debut single "Run To You" is nearing 24 million streams on Spotify alone. And now Gregory is starting to make tracks in the UK with new single "Fingertips" picking up plays on BBC Radio and interest from an industry that has seen German signings like Rag'n'Bone Man and Lana Del Rey excel worldwide.
Does success at home feel different to success abroad? "It does feel different but not in the sense that in Germany it feels less," he explains. "It is different because of course you grow up listening to Graham Norton and Scott Mills and all these guys who are absolutely huge in the UK. I didn't grow up in Germany so it's hard to measure how big some of your achievements are in terms of the numbers and how big a certain radio station is. But it feels weirder that now Radio 2 wants to play me and I see my name under Justin Beieber. That's really strange because I've never felt good enough to be there. And I still don't. It always feels like I'm passing through. The success in the UK only feels different in that it's easier to measure."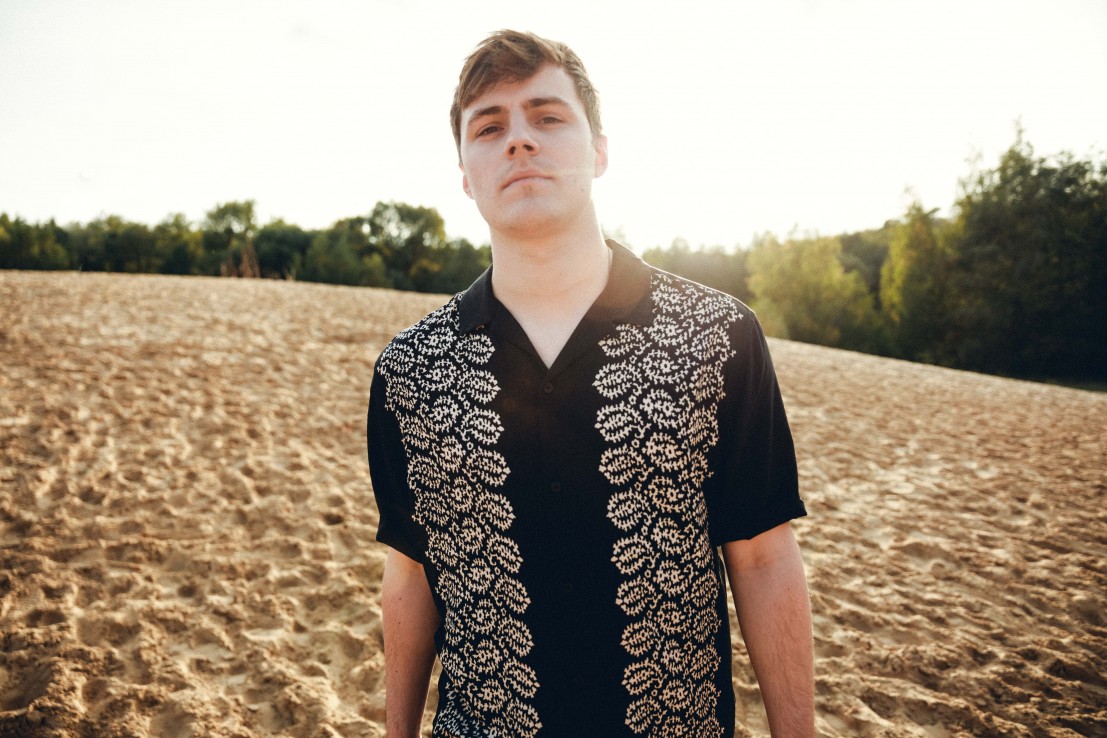 Heaven In A World So Cold comes out later this year. It's a record packed full of big songwriting, frustratingly hooky choruses, and production that plays with the song, as much as helps it along. Singles like "Small Steps" and "Fingertips" feel like you've known them for years, while album tracks like "Grow Up" have a searing honesty that's almost at odds with the buoyant melodies.
Even though he was signed in Hamburg, make no mistake, this is a Blackpool record. "Eighty percent of the album was written and recorded in Blackpool which I absolutely love," he grins. "That actually means the most to me. The guy who I work with on all of my records, he's a producer from Blackpool called Matt Humphrey, part of a production duo called M-22. By some stroke of luck it took me to move out of Blackpool and go and find different labels and publishers to then be drawn back to working with someone who is from the area I grew up in. So I can literally sit there in a house five minutes up from my road and write songs that are being blasted on radio all over Europe. That's kind of surreal for me because you think when you're younger of iconic studios like RAK Studios, Abbey Road in London, Metropolis. And I haven't done any of that. I've just been recording out of a converted garage in Cleveley. It's just funny how the stars can align in that way."
And it's quite handy when you're locked down in your home town to have your producer five minutes up the road. But how does Gregory feel about releasing his debut album into this strange new world? I'll always look back on this time, not as the moment I turned a corner with my records, just as the Covid-19 time," he sighs. "It's quite strange. I think it's dampened everything that's gone on around me... which actually could be a good thing coz I'm just getting on with it."
Is there anything he can't put a positive spin on?
"Fingertips" is out now. Heaven In A World So Cold is released later this year via 3Beat.