Their story is indelibly linked to the stage and their childhood saw them juggling school with acting, learning to play countless instruments, and writing songs. On the eve of releasing their debut album, all of their formative experiences have contributed to the duo's band The Lemon Twigs being proclaimed as the most exciting band on the planet.
Produced by Foxygen's Jonathan Rado, Do Hollywood is a record so blissfully smitten with the power of song it makes you fall in love with music all over again. Over ten tracks the D'Addario brothers show their breakthrough "As Long As We're Together" was neither a fluke nor that they're a one trick pony. The bubblegum pop of "I Wanna Prove To You" would have been a perfect fit on the Grease soundtrack, "How Lucky Am I" is a 21st Century take on The Beach Boys' "God Only Knows". Many of their songs start in one time signature before changing direction and going to a whole different place. Their music speaks the language of classic rock 'n' roll, wrapped in beautiful harmonies and a mass of instrumentation.
The influence of their theatrical background is also at the heart of their aesthetic and their debut video for "These Words" neatly links to their time as child actors. Brian confirms it's a nod to the film Amadeus. With Michael playing the more dastardly character, was he channelling Salieri to Brian's Mozart?
"Not necessarily! We just had pictures of Amadeus as a reference because it's funny. We were getting a lot of '60s and '70s pigeonholing, which is totally fine, we're asking for it you know? But we didn't want the first video to be a retro throwback; it's more anonymous, it shows less of the aesthetic, more of the personality of us. Once you see it you're like 'Oh, they're wearing those outfits' and once you get past that you mostly just hear the music."
The video grabbed the attention of Elton John who - when he recently interviewed Christine and the Queens' Héloïse Letissier - discovered they shared the same favourite new band. Letissier told him "They seem to have appeared out of nowhere, they are two weird, fantastically beautiful kids, their songwriting is amazing It makes me think about Bowie, The Beatles." She also declared her love for them on Twitter. John knew all about them, "They're very cute; they're brothers from Long Island. I think they have an amazingly bright future."
What did it feel like hearing him say that? Michael unleashes the first of his many manic cackles. "That was cool man, it was just cool, we were pretty excited… we were like, 'ALRIGHT!!!!!!'"
We meet at London's ICA, where they're playing show for their label 4AD alongside Pixx and Methyl Ethel, and head to St. James' Park to talk. I point out that the Queen owns the land we're walking on, prompting Michael to remark, "I might pee here you know."
An hour in their company flies by: they're witty and deadpan but also deadly serious about their music. They have the odd bicker, as all siblings do, and finish each other's sentences, but above all they're touchingly respectful of what each brings to their music. As Brian puts it: "I'm just glad that we can do something that's fully the two of us, it doesn't feel like there's a missing element to it."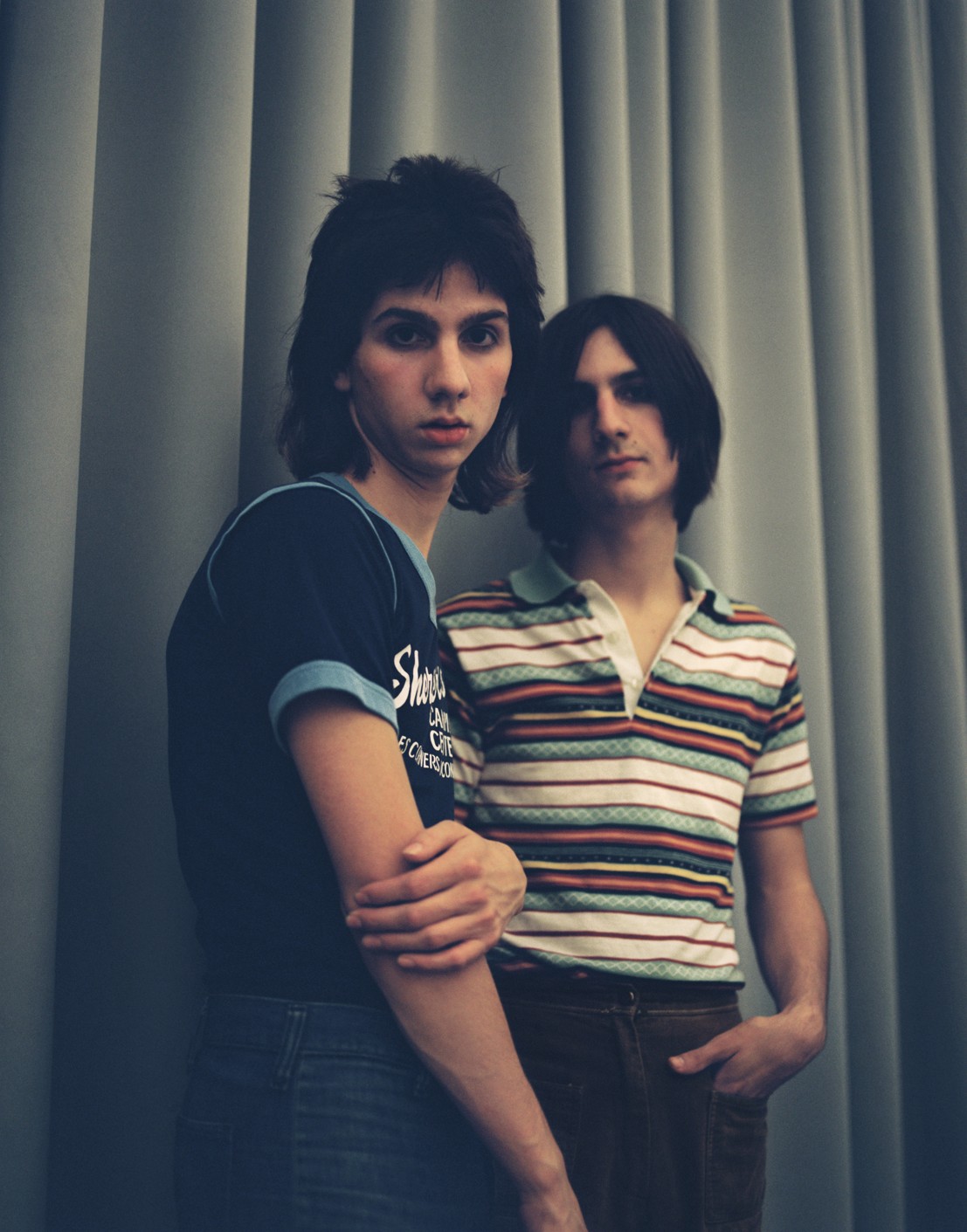 They write their songs apart, with both contributing five to Do Hollywood. Spending time with them you quickly realise their personality matches their music: Brian is composed and considered while Michael is a whirl of hyperactivity and rebelliousness. In the process of trying to find a bench in the park to sit down, Michael walks to the riverbank to take a closer look at a swan, prompting Brian to tell him "Don't get attacked...", and then, with the authority of being the older brother, "Michael!"
Michael tells us with a shrug, "I wasn't going to fuck with it…"
Seeing them live later in the evening brings their personalities and years on stage into an even sharper focus Brian is the frontman for the first half of the set and delivers a masterclass in control before Michael takes to the front for the second part, during which his high-kicks prompt the front rows to duck. Flanked by keyboardist Danny Ayala and Megan Zeankowski, they put in a performance that's a contender for concert of the year, so deft is the playing and the infectiousness of the songs.
Michael says they've been asked a lot about their image: "The question they ask all the time is 'Why do you dress like that, is it really important?' We just say that it's not that important. It's like why do they dress the way they do? We don't have rules about it; we just don't wear things that we don't like." When I tell them I want to talk about how they grew up he says "Cool, well then go crazy, I don't care."
Before we explore their backstory I'm curious as to what questions they've not been asked yet, which prompts one of many rallies of verbal tennis.
Brian: "People never ask too much about the classical stuff, if the classical guitar has had an effect on the music."
Michael: "But Brian, how much do you know? Now you're a really good player, but what else?"
Brian: "It's the way they break up the chords, the voicings are really intricate and it teaches you a lot. You listen to a Bach piece and then you listen to Pet Sounds you kind of know what Brian Wilson is taking from Bach. Instead of just being influenced by Pet Sounds you can be influenced by the music that influenced it. I listen to Henry Purcell, a couple of operas and Albéniz. It's not very interesting!" He tells me "You can write 'he was desperate to talk about his pretentious love of classical music!'"
Their vast knowledge originates from growing up in a home saturated with music. The boys' father Ronnie was an aspiring musician who constantly played records, and there was a multitude of recording equipment and instruments around the home, which they started playing as soon as they could pick up a guitar or hold a drumstick. Brian says "it was there for us to get into. It wasn't like we had specific instruments, such as exclusively the guitar or the drums. We started playing drums at five; I was seven when I started playing the guitar. I developed that along with drums and bass and then I started playing keyboards around the age of 10. Michael stuck with the drums until he was 13 because he got obsessed with Keith Moon and Dave Grohl."
Michael says their parents always knew their two sons "were going to try to do music, that was what it was going to be. Dad tried music and Mum tried acting and even though they didn't succeed in the way they wanted to do, they succeeded in other ways." Their parents may not have made it in show business but their sons are incredibly proud of them, with Brian beaming about their achievements. "My Dad got a job doing music in a school and that's impressive for someone who didn't go to college for music." Michael continues, "My Mum's a psychologist, she went to school for a long time but nobody in the family was ever successful in the entertainment business. We always knew we were going to try to do it, but we didn't know if we were going to be successful at all."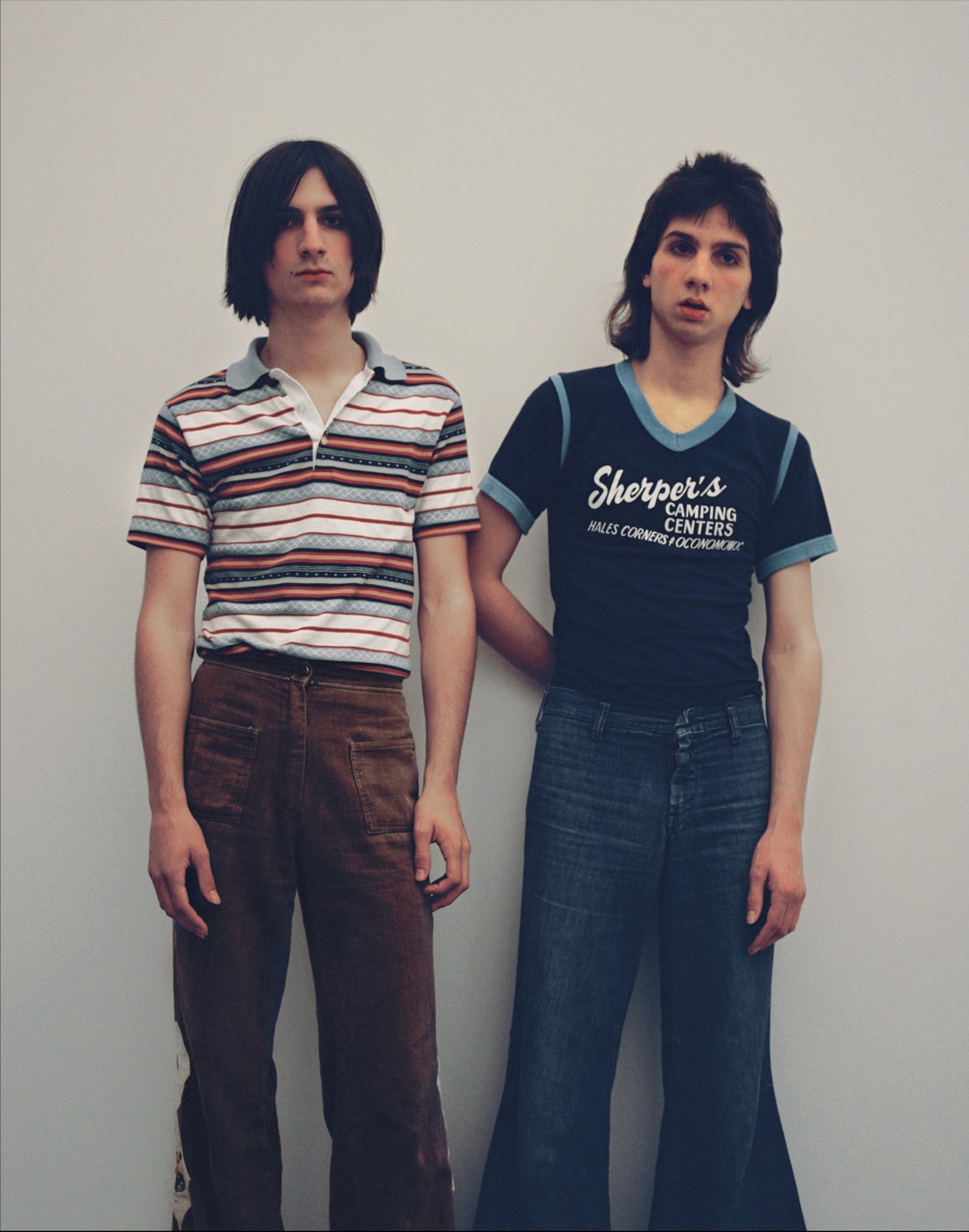 When Michael compares their musical abilities with that of their dad, he's matter of fact about it; there's no sense of bragging. "I'm a little better at drums than him but he plays great bass, great guitar. He's pretty good at keyboards but Brian's a little better." Their Dad would show them the basics of each instrument, but left them to their own devices to learn them, Brian ends the sentence this time. "He took the time to show us but it was mainly when we came to him. I started taking classical guitar lessons when I was 12 and that was something my Mum wanted me to do."
Their acting careers started when their Mum asked them to attend the local community acting theatre with her, and the brothers were quickly signed up by a casting agent when they were five and seven years old. Brian makes light of it. "We just auditioned, she took us on and then we went for all these parts. I remember I auditioned for a U.S. tour of Les Misérables, I didn't get it and I was kind of upset."
Michael: "And then you auditioned for the Broadway version and you got it!"
Brian: "I got it and after that I was in the stage version of The Little Mermaid, I was Flounder; he's the little yellow and blue fish. I sang a cool '60s song called 'She's in Love' (which you can watch above) which was written for the play." Michael spots his brother's modesty and adds "The cast version on the CD is Brian singing." Michael acted in a series of high profile stage productions. "I did a play called All My Sons by Arthur Miller on Broadway with John Lithgow and Dianne Wiest and all these great actors, and [Tom Stoppard's Tony Award-winning] The Coast of Utopia. I did a couple of movies and the Radio City Christmas Spectacular, where I was suspended in mid-air on a harness flying over the stage."
Acting at such a young age meant that their schooling had to be flexible. They had a tutor on set to help them keep up with classes, but both of them state they didn't have a passion for school, with Michael explaining: "We were doing the acting for so long we never had a mindset about school…"
Brian continues: "…we were never going to super-excel at school. We got As in English and the music classes, but Bs in the others."
Their acting roles created a hectic schedule; they attended school during the day, went home for dinner, performed at night and then got up for school the next morning, if they had a matinee show they'd arrange to leave school early. Given that we can only judge our upbringing on our own experiences, for Brian their lifestyle wasn't anything out of the ordinary. "Other than that it was a normal school schedule, it was a public school and they were cool about it."
They both stopped acting at 13, but disagree about why. Brian says it was to focus on music, but Michael thinks it was because they'd reached 'The Dead Age' that it is to be a 13-year-old actor.
Brian: "I don't know if it's called that..."
Michael: "It is called The Dead Age. It's where you start going through puberty and then you don't get anything. We never tried when we were doing it, we just happened to get a bunch of stuff because sometimes they liked that… they liked that I didn't try."
Brian: "I wouldn't say that we didn't try, we tried when we got the parts."
Michael reaches a compromise of sorts. "Yeah, we tried when we got there, but we weren't the type who memorised the lines before the auditions."
Brian remembers going to an audition he felt pretty confident about "but the kid after me walks in and says 'What's up everybody!' He started shaking the hand of all the people and he had all this charisma. We weren't overly friendly or actory or whatever."
Michael would get close to landing certain roles but his refusal to compromise scuppered his chances. "They'd be like 'Would you cut your hair for the part?' and I'd say 'No' and that's when they say you don't get the role."
Brian reminds Michael of the time he dyed his hair orange. "Oh yeah, that was kind of when it was all over! I went into the agent's office and they said 'What the hell did you do? You're not going to get any parts like that.' So they call it The Dead Age, you can still get parts if you really try, but it gets really competitive. Once you're thirteen you're not a kid actor anymore. The people trying to get those roles are hungry, they want to be real actors, they memorise the lines and everything."
He says that even though they enjoyed acting, their true calling was to be musicians, which guided their choice of roles. "When I was a little kid I didn't want to do acting at all, I wanted to just do music. I thought if I ever got famous as an actor nobody would take my music seriously. So I was like, 'I never want to do anything too big'."
Brian was also thinking of the long game. "We didn't want to do anything that involved music. We'd always get auditions for a band kind of thing on Nickelodeon or something and we were like 'We don't want to do that because we'd be like The Naked Brothers Band or Hanson… well Hanson's pretty cool…"
Their hunger to become musicians prompted Michael to get his high school diploma ahead of schedule to concentrate on the band. "Yeah, I got it early. I doubled up on school last year. We recorded the album in my sophomore year. There's freshman, sophomore, junior and senior year. Brian was mixing during my whole junior year and playing the strings and stuff, so I did school and night school and just knocked out all the subjects."
While they were still at school they recorded an album of sorts called What We Know, released on cassette in a limited edition of 100 copies. Michael views it as part of their learning process rather than an official release. "You don't need to hear it; it doesn't sound like the record we just made. It's this neo-psychedelic thing that was recorded and written at the same time. On my songs I was layering things and coming up with the melody after. We didn't write the songs and then record it and that's important for us."
For Brian it's not as 'song-centric' as the way they write now. "We were 14 and 16 and we loved, and still love, MGMT and The Flaming Lips and we were trying to do that. We were focusing more on the production and the trippy aspect of it, and that's not true to the kind of people we are and the kind of music we were meant to make. We're not psychedelic people." With such a line he gets to the confidence and sense of destiny that lies at the heart of The Lemon Twigs. It reminds you of the fact they've been preparing for this their whole lives, and why the acting, though undoubtedly part of their performance education, was just part of the story.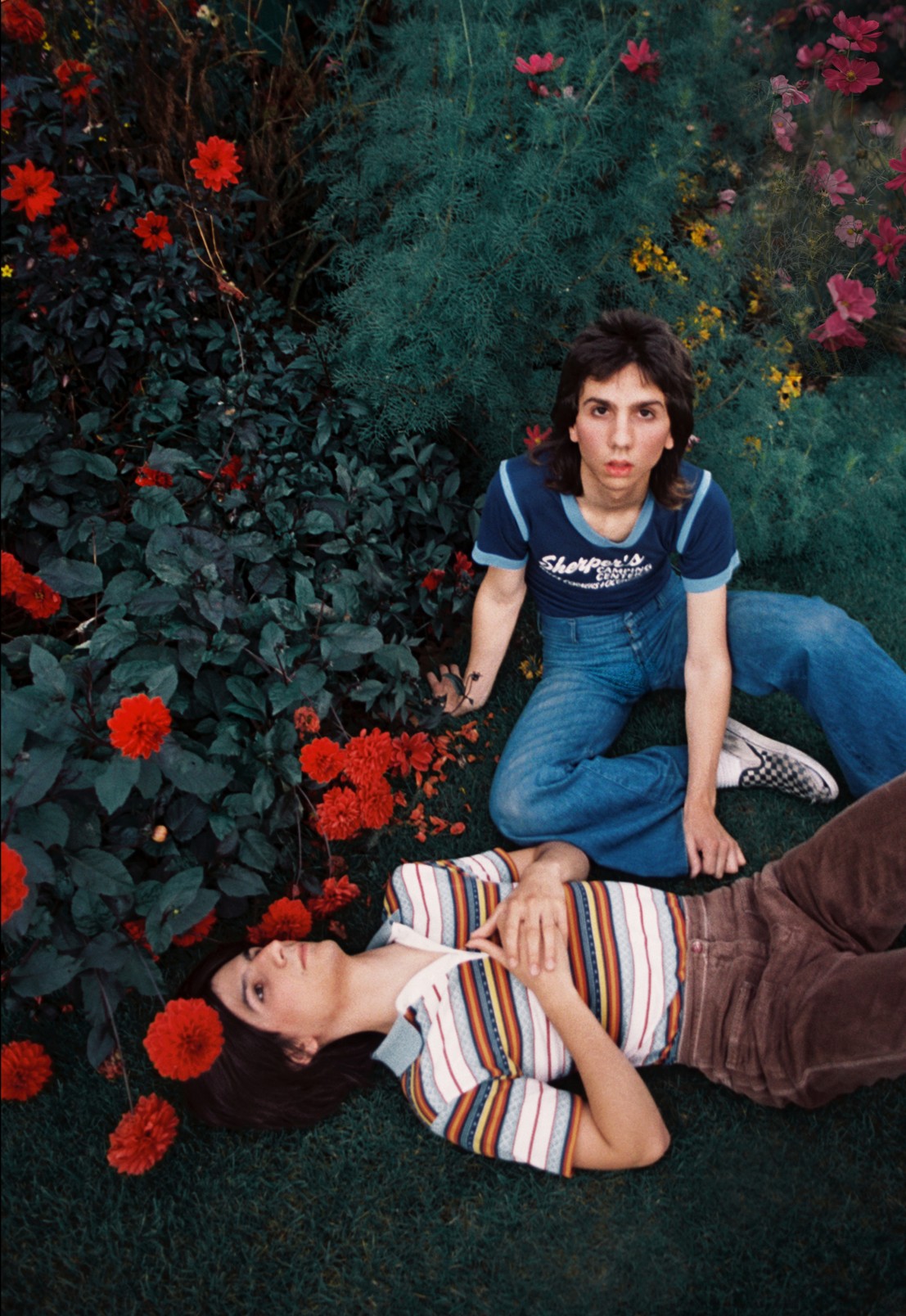 Even though Do Hollywood isn't out yet, they talk about the next record, which Brian thinks is going to have a lot more songs that are classical or Broadway leaning. Michael chips in, "It's going to have more rock songs so our live shows won't suffer."
Would they consider going all out and writing a musical? Michael's keen on the idea but says they'd need someone to write the lyrics, Brian half-jokingly suggests Tim Rice. "I've acted in plays but I wouldn't know how to write them, I never attempted to read any of the plays! I read Death Of A Salesman at school, it was so good. Arthur Miller is really good so then I read All My Sons, but because I'd been in the show I'd never read the play. I saw it once; I had an understudy who never played the role... I pretended to be sick so he could be in it and watched it."
Brian loved to write stories at school, and when I ask if he still writes them he adopts a theatrical voice and says "Every lyric is a story!" In keeping with their love of music, Michael explains their favourite writers are song lyricists, "I like Lou Reed and Brian likes Leonard Cohen," which prompts another hilarious debate between them.
Brian: "I've read poems that Leonard Cohen's written and I think he's just amazing."
Michael: "He tries to write his lyrics like Leonard Cohen!"
Brian: "I wouldn't say I try to write lyrics like Leonard Cohen, I just try to write lyrics."
Michael: "Yeah you do. I try to write like Lou Reed."
Brian: "Well then, that's what you do, I don't do the same thing."
As with all of their discussions it ends with Michael bursting into his maniacal laughter.
Whilst they're aware of the hype, it's not something they dwell on. Brian says: "It's weird, I guess we wanted to give the record the best shot, so that people can hear it, but it's hard for me to know what's generating it, if it's the music itself, if it's the image, if it's the label… I hope it's the music."
For Michael, even though the critics have been glowing in their praise, it's the public that really matter. "Everyone who's writing about what they think of it right now says the same thing - they mostly say that it's good, but that doesn't mean anything about what people are going to say after the album comes out. Until we put out the record we don't know what the real deal is." Which brings me to the question of what success would look like for The Lemon Twigs. For Michael what they've achieved so far is sufficient. "This is enough, just doing it, able to tour around and putting out records without spending money to do it."
Neither of them thinks that their relative youth is important, with Michael citing Tyler, The Creator and Earl Sweatshirt. "All those dudes started when they were young." Brian comes back to how people will respond to the album as being more important. "The age thing, it's fine, it's whatever, I don't give a shit! To me, I just feel once the album is out it will all be fine, there'll be a complete thing and I won't care about all of this build up anymore. We're definitely anticipating people will have opinions about the record. I don't know what they're going to say and that's where I get a little bit weirded out."
For all the comparisons to other bands, for me the beauty of Do Hollywood is that they've found their own voice - that it's The Lemon Twigs music rather than homage. "Exactly, thank you," Brian says. "That's what we feel about it. When people ask what our influences are, we want to tell them honestly, but I feel there are moments on the record that sound different than something you can point at and say 'Hey, that's The Stones, that's The Beatles'... I hope when people hear it they'll look beyond the influences and I think they should be able to. I don't think you'll get bored, because there's a lot of different feelings and influences about it."
As we make our way back to the ICA, with Michael jumping onto every bench we pass, I ask how they feel about their background in acting now they're on the verge of releasing their debut. Michael thinks they were "fortunate to have had those experiences, especially on Broadway. Now we've got, I suppose, a career path in this and I already know what it's like to be an actor, so if I ever want to go and do that again I know what it's like. Music and acting are the only things that are interesting to me and the only things that I'd want to do… I'm not really good at other stuff."
This September they appeared on The Jimmy Fallon Show, with a spellbinding performance of "These Words". They looked so at ease on camera, you'd never have guessed it was their debut TV performance as a group, but their background in acting goes some way to explaining how accomplished they are. Stereogum dubbed the performance "Broadway rock".
The brothers D'Addario are just at the start of a musical adventure that could see them ending up in the echelon of music occupied by their heroes. The acting world's loss is music's very considerable gain. As the likes of Elton John, Héloïse Letissier and anyone who's seen them play can tell you, The Lemon Twigs are in a league of their own.
Do Hollywood by The Lemon Twigs is released on 14 Octonber via 4AD. Get it on iTunes, Amazon or Spotify.