Poppy Ajudha is a representative of the new breed of female singers who recognise their opportunity to empower other women, and she is acutely aware of her power to address the issues that she sees in society. Having released some of the most refreshingly distinctive music of the past twelve months, the mastery of Ajudha's jazz-fuelled songs comes in her ability to mould the beauty of her soulful vocals with the challenging content of her lyrics that actively encourages you to think.
"When I started, it was more about whatever came to mind and whatever I felt like writing about. Whereas now, it's more about what I want to talk about. It's not so much about what is easiest to write about, it's stuff I feel I need to write about," Ajudha explains, with the same kind of elegant ease that flows through her lyrics. She has always written poetry, and recalls writing poems in primary school and gradually adding in melodies as she got older, but it wasn't until her two older sisters were in a band that she envisioned herself as a musician and felt inspired to pick up the guitar and decided that she wanted to sing.
"I just really wanted to get it out somehow" she recollects - and thank God she did find a way. It didn't start out easily, and Ajudha explains she had some hard times as a teenager: "I used to sing with this really weird accent, which has probably helped me with my style now, but I didn't want anyone to know what I was singing about." However, in the past few years, these early songwriting attempts have blossomed into songs which hold a far deeper meaning and Ajudha has really honed in on a style that feels both new, bold and intricate.
In many ways, chatting to the South London singer is intoxicating and interesting; you can feel her sense of purpose permeating through everything she does. In "Tepid Soul", she addresses the intricacies of her own identity as being a woman of dual heritage, asking at the end of the song "am I the right shade for you?" Meanwhile, songs such as "Spilling Into You" seek to deconstruct life and relationships, and although there is a complexity to it Ajudha is careful to avoid diluting her message. "I'm wary of over-simplifying things so that people like it." Her music is not just about getting the message across and making it digestible - it's about forcing you to think deeper about it.
"I think that it's important to aspire to bigger things that you can attain because at some point you will be able to attain them."
When we talk, Ajudha is sitting on a balcony in St Lucia surrounded by coconut trees, mountains and colourful houses, taking a much deserved rest from a very exciting year, but even in such a stunning environment, her mind is still on the issues that she feels she must confront with her music. Her new songs are further seeking to explore her ideas. "It's about how women become included, sucked into the problems that men have with toxic masculinity and how we enable it and prop it up in some ways without realising it or calling it out." She describes the way she sees the power other creative women have, telling me "you could do so much more with that platform that you have and I'm always like - you obviously hold that opinion and have those experiences as a woman, why don't you talk about it more?" There's a sense of duty in what the artist is doing, and part of that is definitively about opening up these conversations and bringing them into a wider arena.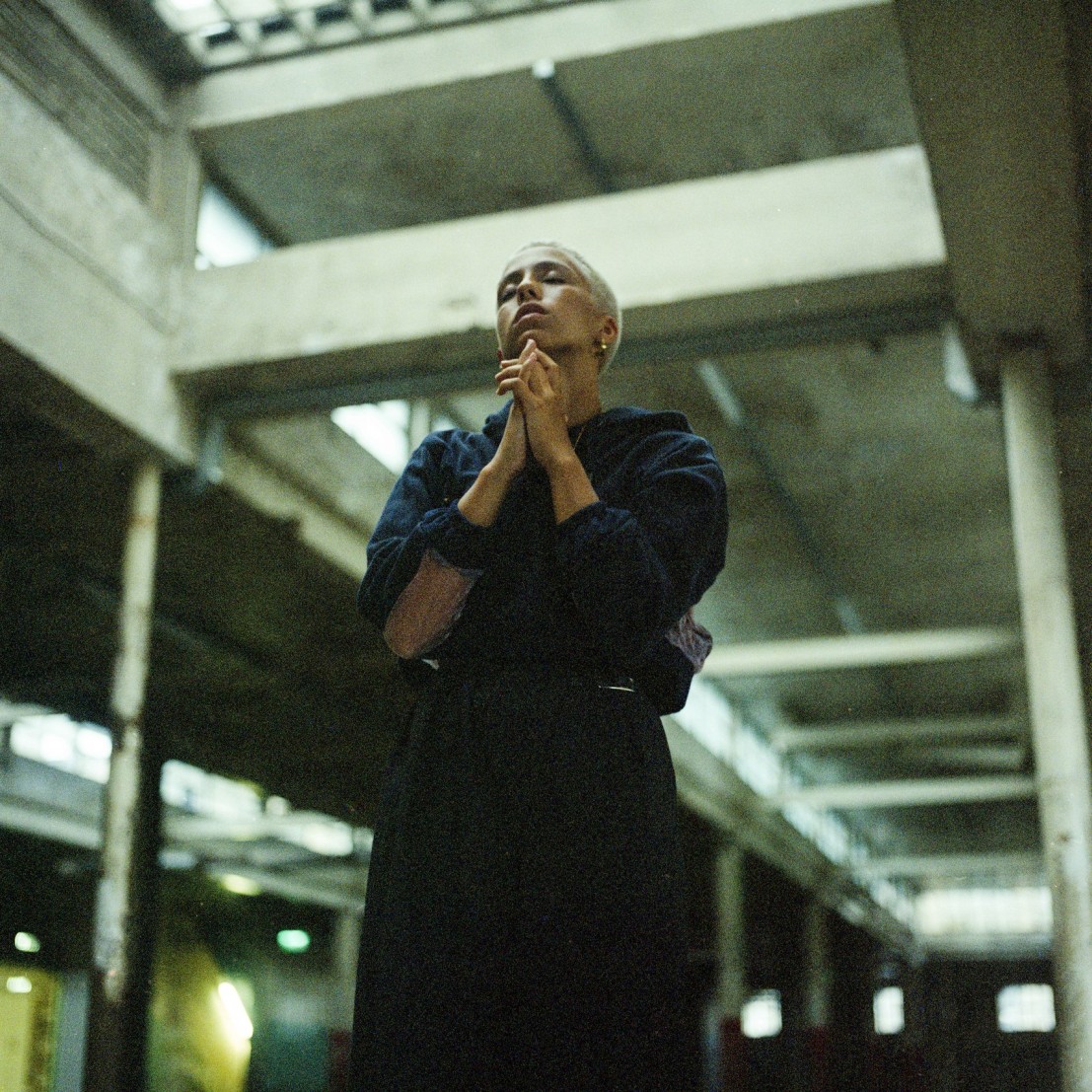 It seems to be part of Ajudha's inherent nature to push the limits and explore as far as she can, as she admits "I have a tendency to over-complicate things", whether that's the striking visuals for her songs or her weighty ambitions. "I think about the biggest thing that I could possibly do, and after being told that I could not do it and I will still be trying anyway and do my best to reach anywhere near that. I think that it's important to aspire to bigger things that you can attain because at some point you will be able to attain them." Ajudha is wholly in control of her craft and is undoubtedly a woman on a mission, but that does not mean that she is clambering over others in order to reach her goal.
There's a thing that women do when they do things together that does feel very related to solidarity and support."
An integral part of her journey so far has been characterised by the creative people that she surrounds herself with and making sure that she is working within creative communities that recognise their responsibility to support one another. Her stunning video for "Spilling Into You" features the likes of gal-dem founder Liv Little, jewellery designer Suhaiyla Shakuwra and model Helene Kleih and more recently she invited Connie Constance on stage with her at her headline show. "I think there's a thing that women do when they do things together that does feel very related to solidarity and support. I think that a lot of women these days aren't trying to be competitive and they want to support each other because they realise that we all have such an infinite ability to do incredible things and if we're on the journey together then it's easier for everyone."
Her collaboration with poet and rapper Kojey Radical also marked a significant creative high point of 2017, and provides another example of Ajudha's ability to work creatively with others that recognise the potential to do more. Describing Kojey as a "creative genius", it appears once again that these collaborations come about so naturally for Ajudha and you can only assume that this has something to do with this inherent magnetism that surrounds her music, image and purpose. Even with fashion industry heavyweights such as Henry Holland paying attention, Ajudha is aware of where her message fits in to the wider appeal, "I really like their new tees - a lot of them are very politically charged, one of them reads 'women are more than muses' and I really liked that in terms of my creative image as an artist."
With 2017 already being a massive year for the artist, what will 2018 have in store and what does the idea of "success" look like for her? "I'm ticking off things that I can't wait to do and things that I can't even imagine that I'd get to do, and that's when, I guess, when I feel like I really reached the success that I've always dreamed of." 2018 will see her release her first EP, which will no doubt take Ajudha to new heights again whilst later in the year will see her venture off on her first European tour and then take to the festival circuit. Her creative journey is going from strength-to-strength at breathtaking speed, and this year is going to be some ride.
Poppy Ajudha plays the Five Day Forecast on Monday 8 January. Tickets are available here.