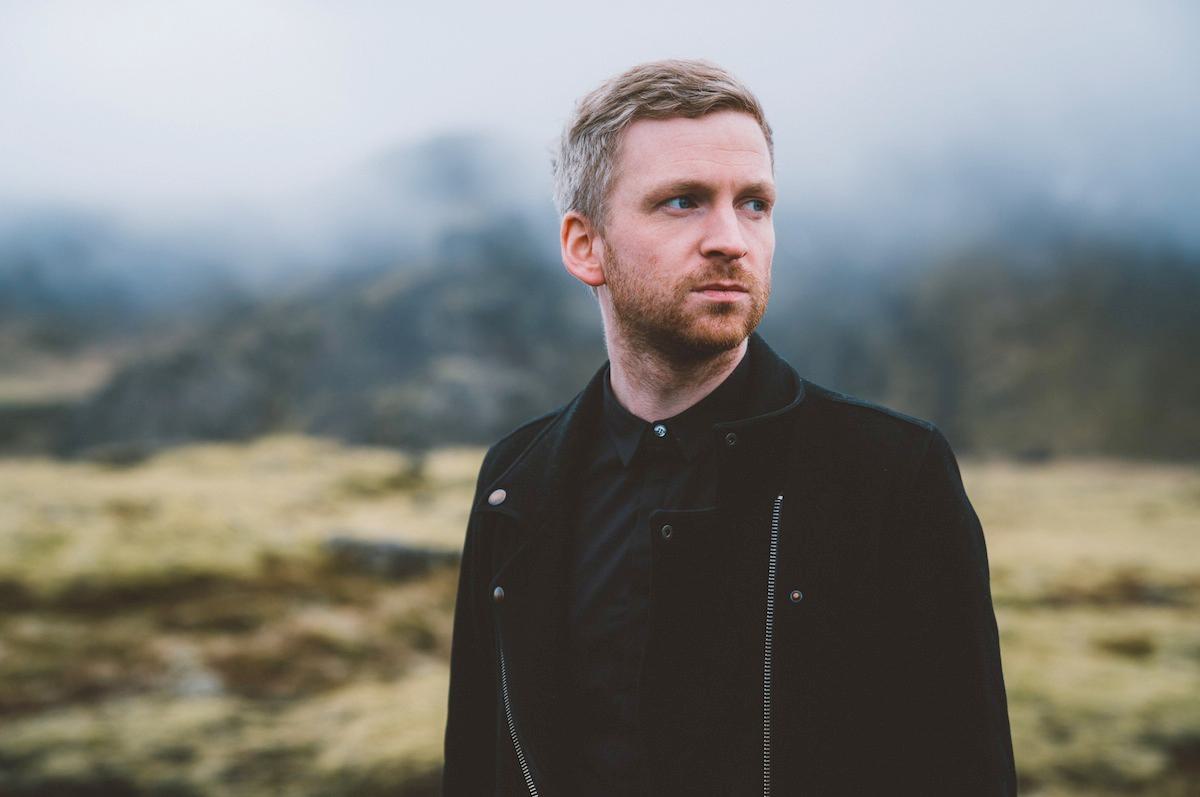 Local Heroes
04 August 2016, 12:00
Ólafur Arnalds connected with local musicians across his home country to create a community-based portrait of Icelandic music on Island Songs, he tells Gabríel Benjamin.
As the rain beats heavily down outside on a soggy Reykjavík afternoon, Ólafur Arnalds stops telling me how much he loves Twitter to proclaim "that's me" when an instrumental starts playing in the café - only to turn his ear towards the music and then laughingly say: "no wait, it's not, that's Jóhann Jóhannsson. I listened a lot to him seven years ago… Damn it, this shit all sounds the same."
I ask if we should move when a child starts playing the piano next to us, but Arnalds says it's okay, telling me how despite being a famous composer, he only ever trained for half a year when he was six. "I took a few classes when I was 14," he adds, "but I never really learned to play. I don't know how to play any other way than the way I do."
The reason we're meeting is because Arnalds just released the sixth out of seven videos for his unusual project, Island Songs. It sees him travel around the country, collaborating with locals to perform and record songs. The songs are released every Monday for free, with a feature film released this winter that includes in depth interviews between Arnalds and the collaborators.
The latest entry [above] sees him collaborate with Of Monster and Men's Nanna Bryndís Hilmarsdóttir inside her hometown's lighthouse. The song "Particles" had been created during a studio session the two had earlier in the year, and Arnalds says he had been blown away by her singing prowess. "It's not that I had thought she was a bad singer, but OMAM music isn't particularly 'flashy' or 'challenging'. Hearing her in the studio was great fun! She's an absolute one-take person, and working with that kind of person is the dream of every producer."
Over a couple of cuppas we discuss his project, Icelandic nature, tourism, and music.
Why did you specifically decide to record in seven different locations around the country?
"It's a passion project of mine to create a portrait of Icelandic music that's not just what the tourist board promotes. I want to paint a picture of small town communities, because I find it to be interesting that these people don't strive to become rock stars, but to serve a role in their communities. They're organist, choirmaster, and so on, and I want to examine these connections in this project. In less abstract terms, I wanted to go out to the countryside, meet people, make music with them, and record and distribute it as quickly as possible.
"It's a passion project of mine to create a portrait of Icelandic music that's not just what the tourist board promotes."
"It meant changing roles. In looking at the music from my point of view, I got to ask the questions I was interested in. I wrote the music for the project, and in playing it with the collaborators you get a certain kind of expression, and I feel like that's part of the interview itself."
Was there anything that surprised you with the interviews?
"Oh yes! [Laughs] Throughout the interviews, there was a running theme. It wasn't just me asking a question and them answering, but more like a casual chat over coffee. When I'd tell people about the project, these strange connections between people would surface. I knew, for example, that Einar Georg was Ásgeir Trausti's father, but I didn't know he was also Þórir Georg's grandfather, who I had been in a lot of punk bands with back in the day. Choirmaster Georg Kári from Selvogur and Þorkell from Mosfellsdalur are also in a punk band together. Everyone's connections became apparent on camera, and we're hoping we can somehow fit it into the film."
What can you tell me about the people you picked to collaborate with? Were they the ones you had in mind when the idea of the project was being made?
"No, we only started thinking of who to work with this spring. A lot of it had to do with what I thought would be cool to do, not who to work with. The first song [above] is a tribute to a scene from Vonarstræti (Life in a Fishbowl), where the character Móri reads a poem at a bar and the soundtrack starts playing. Then as the poem finishes, the song intensifies and you get a montage with the character.
"The idea was to recreate this scene, but with a real poet and a real location, so we started looking and narrowing down candidates. We wanted someone who was a character, performed well on film, and was an interesting poet with a good location. We looked at about a hundred different people before deciding on Einar Georg."
You've mentioned the Vonarstræti connection before, and then in the second week [above] there was the connection to the 1995 avalanche in Flateyri. When you were making the music, did you always have a story and narrative in mind?
"No, not always, but sometimes. "Árbakkinn" is just a new version of the Vonarstræti's central theme. The melody is the same, and because the soundtrack was never released we wanted to acknowledge it. With the other videos, the narrative came afterwards. In Flateyri I knew I had to have an organ because it was in a church and church music in Iceland always sounds like you're at a funeral. There's a memorial outside the church for the people that lost their lives in the avalanche, and so the song and concept were sort of created together."
Did you find it to be different writing music that you knew would be accompanied by a visual element?
"A lot of it was written with visual concepts that me and director Baldvin Z had in mind when coming up with the visual elements. Like the song that was released last week [below], we had the idea of me playing a piano indoors while a full brass band played outside in the garden. Because they're outside, it sounds melancholic, like the distant echo of happiness. It was an idea I got that I thought would be cool on video, so for the first minute it's just piano and the brass players aren't visible until the end."
In the videos you're mostly kept in the background, almost as if your only purpose is to tie all the videos together, but in the aforementioned video you play a more central role. Is it because it was filmed in your hometown?
"No, not really, I just like being in the background. Even though it's my music, I feel like I'm specifically making it about other people than myself; I have no interest in being thrust into the foreground, I'm generally much more interested in putting other people into the spotlight. Me being so prevalent in that video is kind of an accident, but you mostly just see my back in it.
"There is a lot that goes into each video, and I'm honestly not sure I know all the ins and outs. The regular crew consists of me, Baldvin, Sólveig Ásta who is my assistant, Vigfús who is Baldvin's production assistant, three members in the camera crew, and three members in the sound crew. Generally speaking Baldvin and Jói, the director of photography, go to all the locations and make screenplays for them using demos of the songs I prepared at home. The videos are all single takes, so a lot of work goes into scripting who stands where and at what time. Then we also have to get everything ready. Sometimes a piano needs to be tuned or transported, performers need to get booked and fed, cars need to be arranged, and it's usually my lovely assistant Sólveig who that arranges for all of that. The day before, we polish the song, and then I meet the people and do a pre-interview.
"Even though it's my music, I feel like I'm specifically making it about other people than myself."
"On the day itself, which is a Tuesday, we look at the location, set up our equipment, record the interview, and then practice. None of the performers have heard the song before, so we rehearse for a few hours, have lunch, and then record it. The sound gets sent straight to the studio, where it's put together and any extra sounds cut out, and then in the morning I mix it. It's a 24-hour job, and then Wednesday night we have to send it off.
When my people get the finished product, it's been graded and everything. Then we decide when it begins and ends, make a trailer, and then my people put it up online, compose the newsletter, and arrange for the worldwide release on Monday, which is a massive undertaking even though the year is 2016 [laughs]."
So you don't overseeing the video element that much?
"Baldvin and I decide everything together beforehand, and while some of the ideas are mine, the rest are mostly his, as he's the director. Because it's all filmed in one take, though, there's not much directing to be done afterwards, just colour grading. I'm not going to pretend to know anything about colour grading, so I don't even try to oversee that."
You've worked with Baldvin before, scoring two of his films. Is it different to collaborate on a project where you're calling the shots and not him?
"It's a role reversal, but our collaboration has always been really easy going and we don't tend to need a lot of back and forth with our ideas—usually when we decide on an idea, it's decided. I don't know any other director that gives me as few comments as he does, it's just: "Great, that's it!" [Laughs] He's never tried to micromanage me, or pretend to know something he doesn't, and that's why I love working with him, and I try to act the same way, but [laughs] I'm not as good at it."
Now that you only have one video left to go, how do you feel? Does the project exhaust or replenish you?
"It's a bit of both, actually. I'm tired, because it's been six weeks of work without a break, and we had been preparing the project nonstop since January. Every Tuesday has been great, but the work around it is just exhausting, like getting the mix in on time and the routine around it. It's so complicated releasing the videos every Monday, and there's always something that comes up, so I'll be happy when it's done. I get a lot of energy from the travelling and the interviews, and working with this random collection of people. I'm learning a lot from it, and have gotten a lot of ideas from working with them."
Are these ideas for your solo project, Kiasmos, or something else?
"They're not developed enough for me to say just yet, I first need to sit down and think through them to know for sure. I can say that I'm really interested in working with a choir again, which I'd like to do with my solo project. I was very enchanted, because I hadn't ever worked with a choir before, and suddenly all of these people showed up and sung my notes and they became music. It was just but scribbles on a sheet, and then they took that and sang it like angels… It was amazing."
Did you find it was different than composing for other instruments?
"Maybe it's just that I'm so used to composing for strings and orchestras, where I can hear what the music sounds like in my head when I compose it. I had never composed a choir piece before, so there was a bit of guesswork figuring out how the voices and harmonies would work. Then to hear it for the first time blew my mind. I remember the first time I arranged music for a large orchestra, and it was a similar feeling seeing the piece go from the sheet to live music—it didn't sound like the MIDI sounds from my Sibelius music programme, but something much greater. I don't get that feeling from the orchestra any more, but I did with the choir."
Watching the first three videos, I felt like the subject matter was incredibly fragile, and the cinematography and shaky cam made everything feel very intimate. Was it at all a metaphor for these remote locations and the culture that thrives there?
"Not purposefully, but it's undeniably Baldvin's style. I wanted to work with him because his style is all about that proximity, about characters and the little movements in their faces that make you sympathise with them. He's amazing at approaching people with a camera. I didn't want to make a film about Icelandic nature, because this wasn't supposed to be grand or epic, but instead about the heart and personality. The only thing I did was put Baldvin into this role, because I knew he could accomplish exactly that without being asked to."
What's your opinion on the tourism boom that Iceland is experiencing?
"Hmm… I think everything is perfectly okay the way it is right now with regards to tourists and their numbers, but what we're lacking is a comprehensive policy on where we're going, where we're going to stop, and how we're going to manage everything. Right now, it's doing amazing things for Iceland, and downtown Reykjavík has completely changed. You can go out and have a nine course meal at a gastro pub on a Tuesday, which you couldn't even imagine ten years ago. All of these bars have popped up as a direct result, as well as concerts, theatre and stand up shows, and the film industry has been rejuvenated because of it.
"There are problems that come with it, like the concentration of hotels in a small area. The environmental perspective is being ignored, and those in charge need to address it before it's too late. Until they do, I think we should implement a cap… We can't stop people from entering the country, but we can stop spending money on ads and the like."
What about your opinion of what's happening with the Icelandic music scene?
"I feel like Icelandic music is all over the place, and I love it. Hip-hop is ruling the scene right now, and I think that's great. Nobody is trying to follow popular trends or getting stuck in old traditions. There's a reason why I'm making a documentary about Icelandic music, and it's because I think it's really astonishing.
"Of course, I don't like all Icelandic music but that's totally besides the point because people are doing really ambitious things here. Look at for example Emmsjé Gauti who just had his album release show in [celebrated venue] NASA with incredible production value and bold ideas like moving the stage into the centre, and just going all in. It's a wonderful development, and people dare to be ambitious even when they're singing in Icelandic and not even trying to get into the international market. The standard has been raised."
The development here seems to be more about artists having a big internet presence, posting videos, making cool merch, and engaging with fans rather than releasing albums.
"Exactly. You could argue that the idea of the album had been holding people back, because it's such a rigid format. I've personally never liked CDs… When they were first introduced, albums started getting too long, because all of the sudden you could release 72 minute CDs, so every everyone wanted to fill that shit. Now you can just release one song at a time.
"There are so many things I don't like about the album as a concept, which I think shines through in my career. When I think of it, the last time I released a basic album was in 2013. I've had seven releases since then, but no album, instead making this seven week project, an improvised album with Nils Fram, a collaboration with Alice Sara Ott, and more. I have no interest in making an album; I'd much rather make art, cool installations, video pieces, and the like."