Blanco built their reputation off the back of years of relentless touring. With a DIY attitude and a visceral live show, theirs was a name synonymous with sweaty crowds and fervent energy. But music wasn't an obvious career path for an early-twenty-something Blanco.
Growing up between North Carolina and California, Blanco was a creative child and loved the arts. They loved performing and set their sights on art school, landing scholarships to two different colleges, the School of the Art Institute of Chicago and Parsons School of Design. Even though they dropped out of both, they stayed focused on a career in contemporary arts through the mediums of conceptual, installation and performance, basing themselves in New York.
In 2011, art gallery OHWOW published Blanco's first poetry chapbook, From the Silence of Duchamp to the Noise of Boys, written under their birth name of Michael David Quattlebaum Jr. "This was really important for me, because I basically had this existential moment in New York where I was discovering that I wasn't as resourceful a contemporary artist as I thought, I wasn't really as talented at visual art as I had believed, and then New York City was so expensive," they explain. "I couldn't afford a studio, I couldn't afford art supplies. All of these things that I was trying to do, to create this framework of being this interdisciplinary, contemporary young artist was not working out. I was just far too poor."
A notable gallery, the publication picked up attention and press, scoring Blanco invitations to give readings. However, they were less inspired by the slam style, and more by New York punk and No Wave icons like Patti Smith and Richard Hell. Blanco began to create industrial loops on GarageBand, eventually working with friends Jeff Joyle, and Daniel Fisher who now produces as Physical Therapy. Together they formed Mykki Blanco & The Mutant Angels, with Blanco delivering poetry from their chapbook over a sea of Throbbing Gristle-inspired noise-psyche.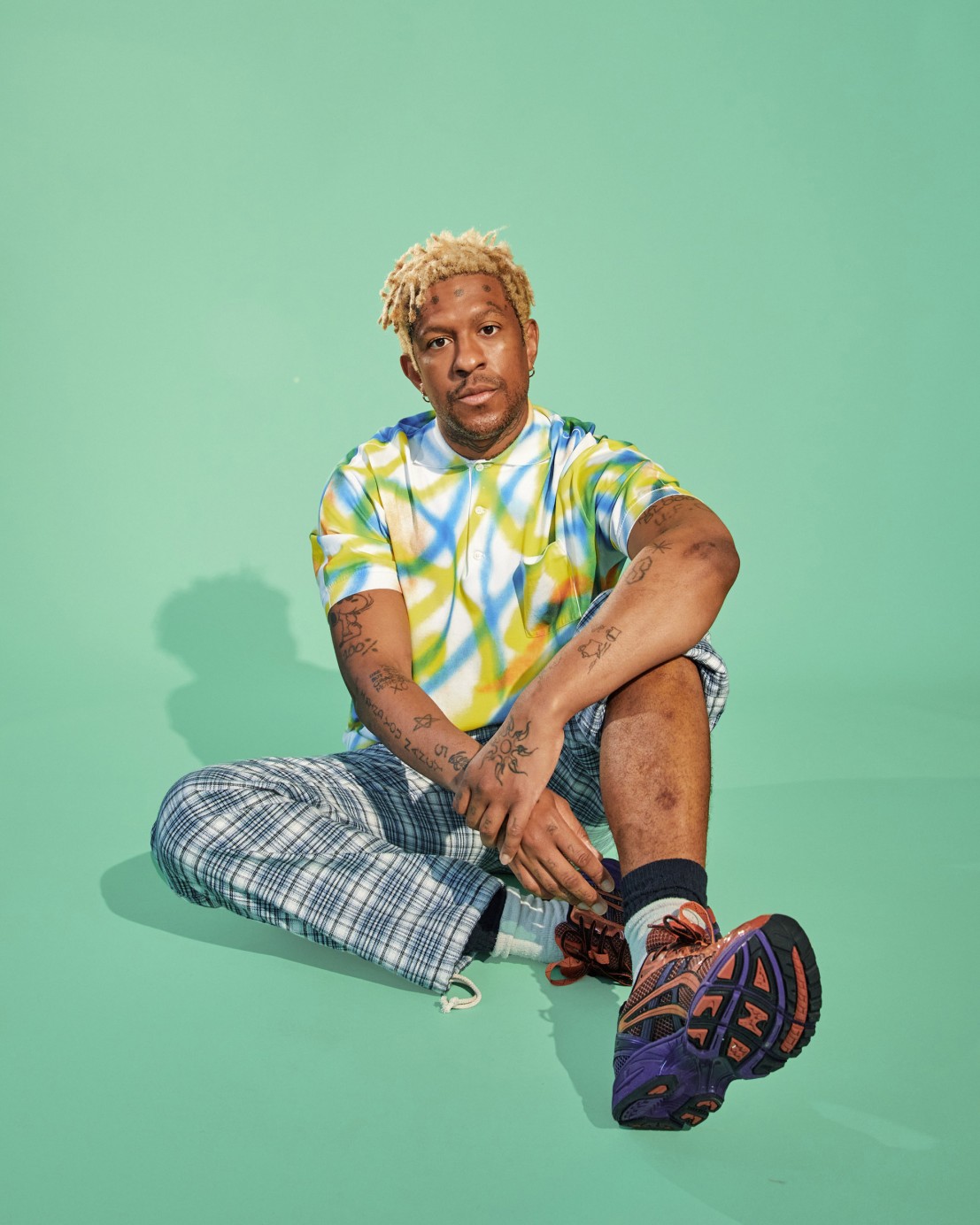 Still experimenting in visual arts, Blanco started a video project creating the character of Mykki Blanco, a nod to Nicki Minaj and Lil Kim's alter ego Kimmy Blanco. They began posting short raps to social media, using their GarageBand experience to make hip hop beats. "What happened was that people were actually telling me that they enjoyed the rapping. They were like, 'Do you know you're actually good at this? These are witty, these are quick', smiles Blanco. "I was still thinking about everything from this contemporary art context. I was like, oh yeah, the music is just a component to the video art project."
But Blanco decided to bring the Mykki character into real life, playing a short set of raps across TLC and Missy Elliot instrumentals, as well as their own GarageBand creations. "I'll never forget the reaction I had from people," they laugh. "I was like, huh, people are way more into this and way more interested in this than this hard punk noise stuff I'm doing."
However, it took a meeting with Charles Damga of NYC label UNO to really get Blanco thinking about their Mykki character as an artist in its own right. Damga suggested that Blanco try working with producers on a release, eventually taking them on as a management client. He paired Blanco with electronic musician Gobby, and together they worked on "Betty Rubble" which went viral, propelling Blanco in the world of social media fandom.
"A lot of people who usually help pioneer something in music or culture, a lot of times they never get their roses, they never get their due."
At the time, Twitter, Instagram and Tumblr were more curious, supportive spaces, and the perfect networks for sharing Blanco's work before the mainstream was ready. Working in a genre where homophobia, misogyny and transphobia are rife, it allowed Blanco to connect and form an international scene. "I realised that I could rap and that my music could exist, but that I wasn't necessarily going to be embraced by the hip hop community that a lot of those straight young rappers are," they explain. "When I was just starting out people thought I was so, so, so taboo. And one of the things that's happened is that in the course of my career, I'm aware that, with some other peers of mine like Le1f or Big Freedia or Cakes da killa, I'm aware that we really helped pioneer this queer rap moment."
However, this progression doesn't just exist within the confines of form or genre, it was also being reflected in wider society. "I think what's interesting is that my career has really followed this timeline where my career started in 2012, and then in 2014 Obama approved gay marriage in the United States. And then there was this transgender tipping point, even though maybe it wasn't necessarily the tipping point that everyone believed it was at the time, it's still brought a lot of these conversations around gender and sexuality into the mainstream," they say. "I almost feel like I've ridden this wave of my success and my further success in this really adjacent to society way. The more accepting society's become, the more successful I've become. With this new chapter, I feel like I'm going to be able to experience the success of this atmosphere that I helped usher in, that I helped pioneer. I think that's really special and I don't take that for granted. Because a lot of people who usually help pioneer something in music or culture, a lot of times they never get their roses, they never get their due."
Blanco released a run of mixtapes and EPs, rich in social commentary, hyperactive production and razor sharp wit, culminating in 2016's debut album Mykki. As the releases stacked up, so did Blanco's touring schedule, which found them on the road consistently for two years. "After the Mykki album came out, I had another kind of big existential moment where I thought to myself, I love my life, I love performing, I love doing this. But what areas need work? Where do I need to grow?" They explain. "I thought maybe in enjoying all this touring, I haven't been in the studio enough, and maybe I'm not growing musically in the way that I would want to, or that I'm giving myself the space and creative freedom and time to. So I thought after I finished touring, I was going to move in a different way, I was going to spend more time in the studio."
Half a decade later Blanco is ready to share new music in the form of mini-album Broken Hearts & Beauty Sleep. Signed to Transgressive Records, it's the first release not to run through Blanco's own Dogfood imprint. It also marks a change in their way of working, eschewing sampling and digital creation for a more hands on experience. "With this record, one of the first things I knew I wanted to do was that I never wanted to sample again, right? Because in sampling, the music is not entirely your own," says Blanco. "So much of the music that I made previously had been really sample heavy. And I knew that I wanted to try to work in a much more organic way, but I didn't necessarily know how."
As Blanco was sorting through old instrumentals on their laptop, they came across a track by New York-based producer Drew Lustman, better known as FaltyDL. Blanco reached out to Lustman and the two began swapping ideas. "Almost all the references that I was talking with him about were all based around live. So when Drew and I first got together, we agreed that in all of our music the foundation was going to be live," they nod. "So we started working with session players, and then we recruited backup singers and vocalists. We would have these jam sessions. We would have a saxophone player or a guitar player, maybe someone on the Rhodes, and we would build the music that way. We would go back, pick the bits and pieces that worked, and then start to build instrumentals in that way."
On Broken Hearts & Beauty Sleep Blanco blurs genre lines, shifts tone and creates a body of work that feels confident and complete. Even in the choice of terminology, mini-album over mixtape, it feels as though they're making a conscious move towards a broader audience. "I knew that I really wanted to move more into this indie space. I knew that sonically, I needed my work to mature," they explain. "I feel proud of this music in a way that I hadn't before with other other projects. It's just the level of songwriting and everything. It feels so, so good."
The record is certainly a fresh approach for Blanco. Their delivery is still swift and idiosyncratic, but there's an eloquence and directness in their lyrics. Their humour feels lighter, their sentiment more hopeful. Their composition and musicality is rich and mature, with tracks full of harmonious vocals and melodic interplay. Lead single "Free Ride" is joyously instant and addictive, Blanco's flow fluid and rhythmic. The co-production between Hudson Mohawke and FaltyDL evolves with the song, managing to be playful without compromising its integrity or impact. "Summer Fling" is light and vibrant, Blanco bouncing back and forth with Kari Faux, their lyrics bitingly witty. Album closer "That's Folks" finds Big Freedia's powerful verse complementing Blanco's playfulness. The production is equally cinematic and kitsch, expanding under the tight rhythm of the track's main hook. Broken Hearts & Beauty Sleep feels like a huge step forward for Blanco, proving they've benefited extensively from the time and care that comes with a touring-absent schedule.
However, this is not a pandemic album. The majority of the material was written prior to the world shutting down, in 2018 and 2019. Instead, Blanco used the lockdown months to revisit material. "For me, 2020 was more about editing, revising, thinking that maybe, just because something seems finished, maybe it's not," they explain.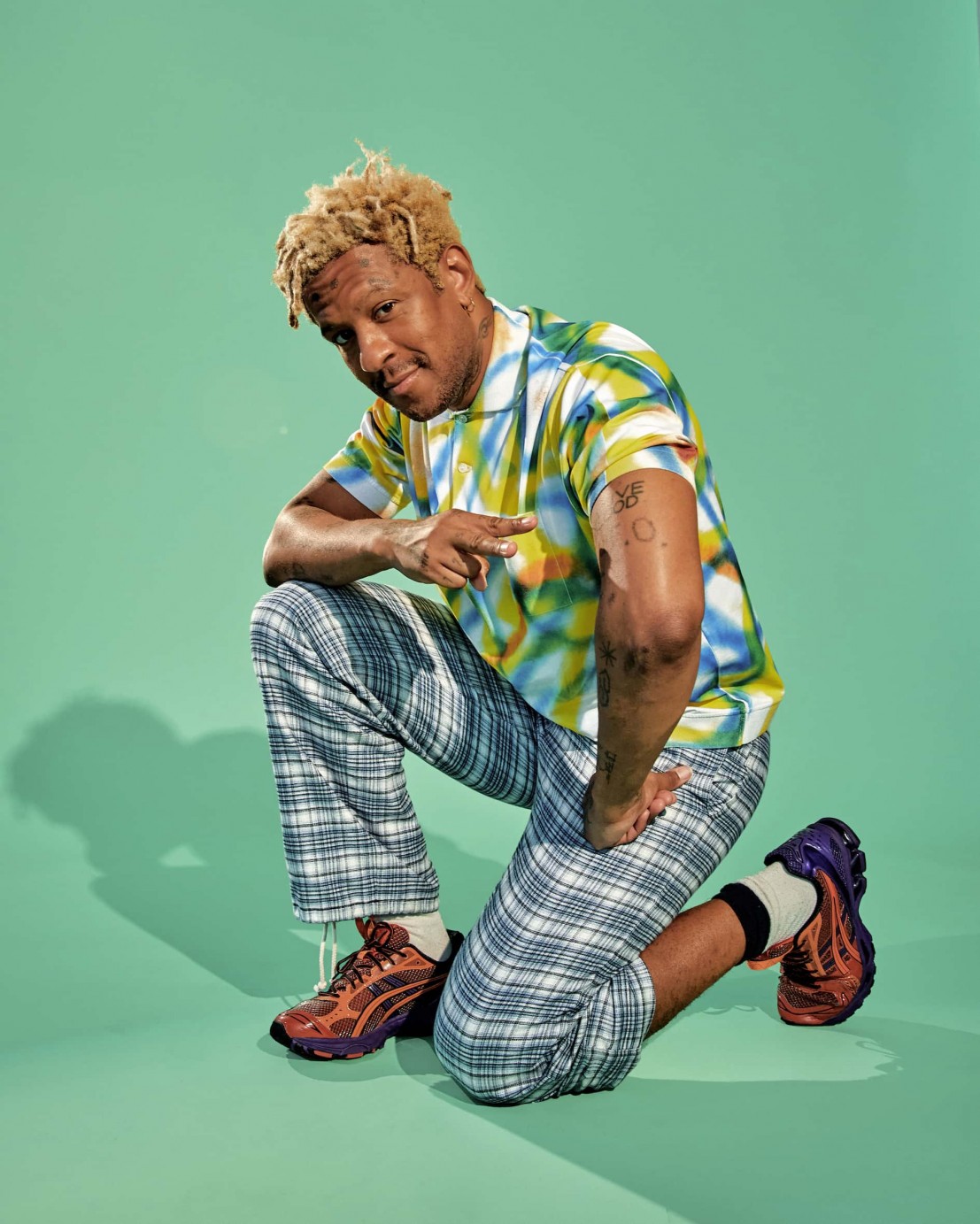 Their collaboration with Hudson Mohawke on lead single "Free Ride" is one example of Blanco's lockdown inspiration. "I liked the song, I thought it was really good, I thought it was done," they say. "And then the longer I listened to it, I thought, you know what? This can actually be expanded upon."
Similarly, "It's Not My Choice" was originally sung by backing vocalist Mykal Kilgore, an actor and Grammy-nominated artist in his own right. However, the pandemic gave space for Blanco to enlist the help of Blood Orange. "Devon's a very busy person. With everything on hold, I was just able to talk with him and work with him in a much faster way than I know I would have in a normal year," they explain.
However, it's also an indication of the creative manner in which Blanco curates their collaborators, picking and choosing from an eclectic and diverse pool of talent. "In the world that I come from, when I choose a collaborator, honestly, it's based on the vibe of the track," they say. "On the original demo version of that track, it's Mykal Kilgore singing, right? He's stunning, so I would have felt really strong about just leaving him on. But when I started thinking about features, I was like, I could really also hear Blood Orange contributing in this way. And then when I gave him the song, not only did he end up singing the hook but he ended up also co-producing, adding some cello, doing certain things inside of the track."
Blanco's Big Freedia collaboration "That's Folks" was one that had long been on the cards. "I always wanted that moment to happen," they smile.
Working with Kari Faux on "Summer Fling" grew from Blanco's curiosity and opportunistic ear. "I was not familiar with Kari until her mixtape Lowkey Superstar. And I just remember hearing it and being like, oh, she's on the rise and like, she's gonna blow up," they explain. "That's how I work, you know? There's a variety of things, but it's usually never who is this person in this zeitgeist moment? It's usually not that."
However, Blanco does have a remarkable talent at picking the right artists to collaborate with. Across their history they've aligned themselves on record with some striking names. "I do have friends that joke that a lot of people have come up through the Mykki Blanco school," they laugh. "One of my earlier tracks was with Princess Nokia when she was still a teenager, I recorded with Arca when she was still a freshman at NYU, and I got to work with and toured for two years with Yves Tumor. I don't have a hand in these people's trajectories. I don't have a hand in their god given talent, because these people are always going to be stars in their own right. But it is really interesting that I've worked with certain people very, very, very early in their life trajectory, and it's just been really awesome to see."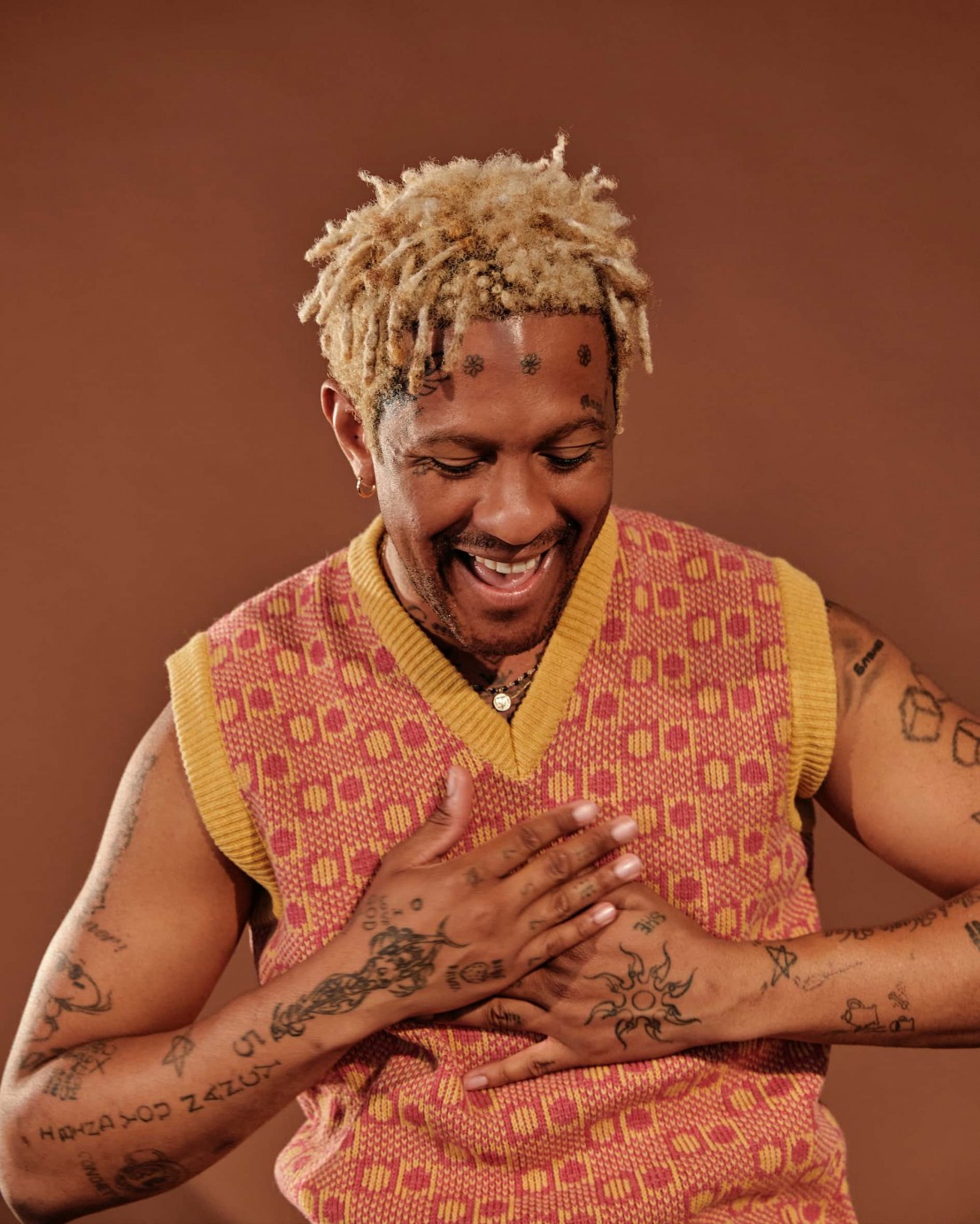 Alongside the likes of Bruno Ribeiro and Jamila Woods is Jay Cue, Blanco's biological brother. Guesting on the track "Love Me", it feels like an emotionally charged appearance. "I love my brother a lot, but we weren't really raised to be close. We've had to create this relationship as adults," Blanco explains. "A few years ago he played me some of his music and it was absolutely excellent. So that was another thing where like, I want to get in the studio with Josh. Josh is really doing some cool stuff. I had already recorded with Jamila in Chicago, and then Drew and I had come out to LA to have some sessions. I had my brother come in, and he just knocked it out of the water. I mean, really knocked it out of the water. And it just feels so good to be able to come together as adults and do something creative. Trust me, I want to work with my brother again."
Partly informed by their childhood and partly by a recent relationship and break-up, Blanco says the inspiration for themes across the mini-album were subtle and subconscious, only showing their colours during the editing process. "I'm not really one of those people that is going to go into the studio really sad one day like, let me write a breakup song. I don't really work that way," they explain. "I think what happened was that you have these epiphanies while you're writing in studio, and you think, this is just an idea or a theme, or something that came to me. And then the longer that you sit with it, you realise that maybe it was something from your subconscious that was bubbling up. It wasn't until I had to make the tracklisting and listen to the full body of work over and over again did I actually realise that so many of these songs were love songs. Listening to this entire thing front to back, I was like, oh my god. I fully was processing all of these subconscious layers. I mean, some of the most vulnerable lyrics I've ever written in my life are on this release."
"I always try to go into the studio having absolutely no restraint about what's going to happen. And then sitting with it later and then working on it that way."
Blanco then raps the first bars of album opener "Trust A Little Bit" in all its raw honesty. "What you see when you look at me? What you think when you blink and cannot breathe, I cannot leave. The feeling is inconclusive, so elusive, borderline damn abusive. Hold your heart while you hold my hand, these situations we cannot plan. Faith in me, shorty, faith indeed. Let's be one, no forsaking me."
Emotionally intimate and vulnerable, it's the kind of openness that could feel exposing in even the most private of conversations, but to bare all in public is a bold and brave statement. "I think if there's anything that I've learned in the last three years, as far as my creative process and this new way of working, it's like just really anything goes. Just let anything fly and then really have no restraints in the studio, because I've been doing this long enough to know that each song that you create doesn't have to be this precious moment," says Blanco. "What I see with a lot of younger musicians is that they go into the studio thinking that like, this one song has to be the hit, or this one song has to hit a certain formula, or this one song has to somehow be the be all moment for them. I read somewhere that human beings experience two-hundred-and-fifty-six variations of emotions in one day. Well, that's really in my opinion what a song is, and so I always try to go into the studio having absolutely no restraint about what's going to happen. And then sitting with it later and then working on it that way."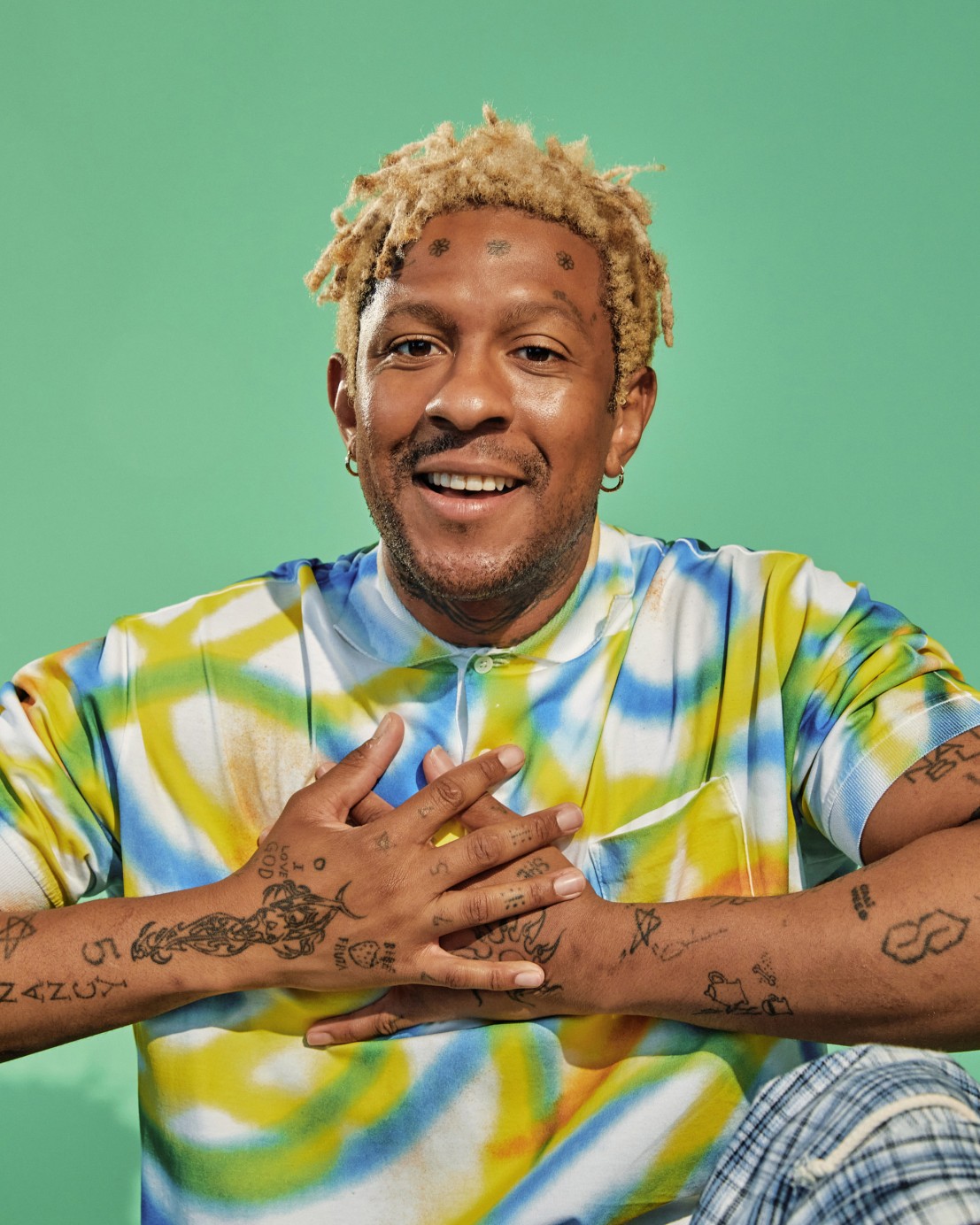 Across the album, the lyrics shift from the charged to the cutting, the heartfelt to the comically on point. "Yo, you used all my soy milk? Told me that you used it in some coffee. Had some people over from yoga, you really made smoothies, what the fuck is that, what the fuck is that?" Blanco berates on the aptly titled "Fuck Your Choices". "I just always, in all my work, try to make my queer community feel very seen," they laugh.
Broken Hearts & Beauty Sleep is a perfectly rounded record, balancing heart-on-sleeve sentiment with tongue-in-cheek shade. It shows that they can be just as comfortable and confident in the studio as they are on stage. "These last three years, I have realised that taking the time to be more nurturing, to do more self care, and to make sure that I'm spending more time in the studio," they explain. "I mean, that for me is really the next few years of that trajectory. Because I know now in doing that, that really is how the best music is made."
Broken Hearts & Beauty Sleep is released on 18 June via Transgressive Records/PIAS