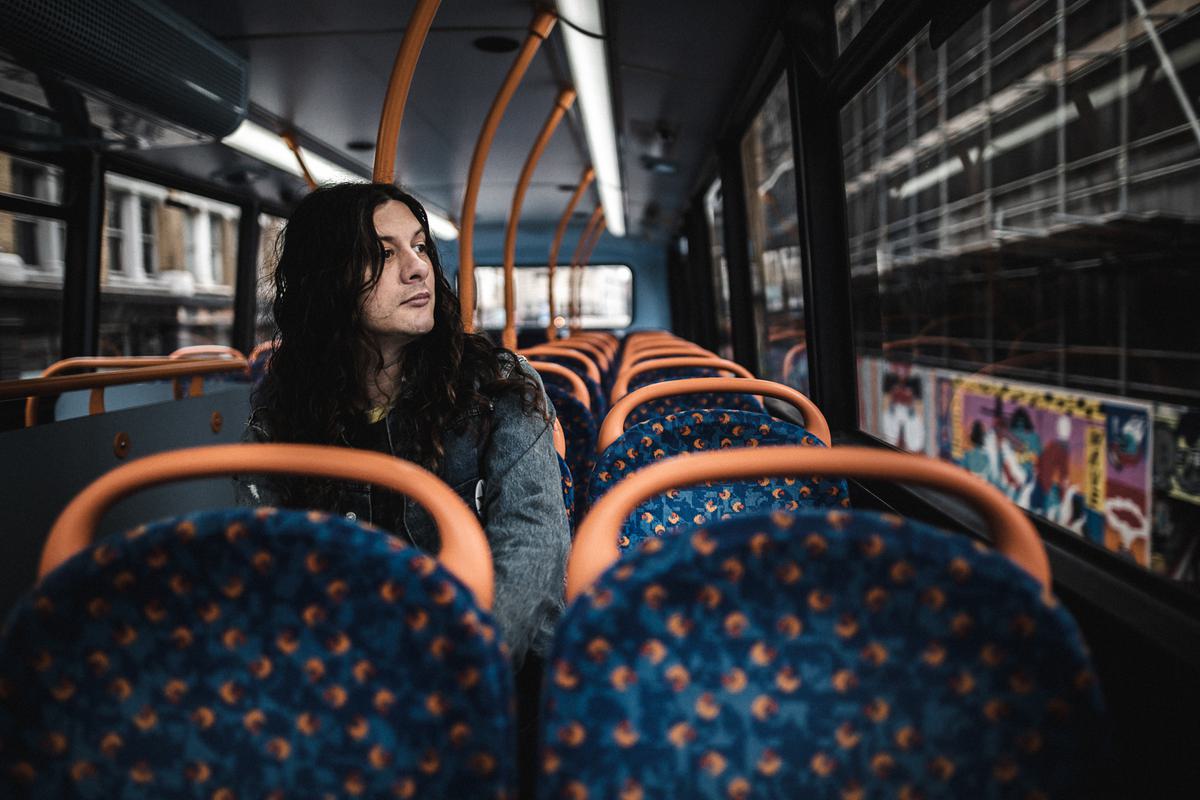 Always rollin' with the flow
09 October 2018, 08:00
Kurt Vile's latest album mixes classic songwriting with ambitious production as well as featuring a host of extraordinarily talented guest stars. He tells Eleanor Philpot why Bottle It In is his most epic album yet.
When an artist drops their breakthrough album, there tends to be an air of apprehension pervading the release of its follow up. When I meet with Kurt Vile to discuss the imminent release of his new album, he isn't too concerned with how fans of B'lieve I'm Going Down will respond to the sprawling, jam loaded, country-rock epic Bottle It In.
"I understand that people have different tastes. If someone just wants a pop tune then I can probably tell them that there isn't a 'Pretty Pimpin' on this album, so my more casual audience who like that track may be disappointed, but I don't care. I just want my work to be better…this one's more of an epic statement anyway."
Of course, Bottle It In shares some similarities with its immensely popular and radio friendly predecessor - it maintains Vile's distinct sound of jangly, wistful guitars brimming with country sass, as well as his unique confessional lyrics that look at the world with a wry, sideways glance.
Its difference comes from a new sense of ambition, this epic-ness that Vile speaks of, finds itself colouring the album in two distinct ways. The first of which is found in the work's overall production and instrumentation. When listening to the album you can't help but get lost in Vile's inner world. There is an underwater quality to the sound as if the listener is emerged in a hazy folk-country dreamland; subtle whirling distortion and soft guitars tones are made into languid, meditative experiences where the listener can disappear for a while.
"I've always been sonically ambitious," he says, deep in thought when I ask about the sound's uniqueness in comparison to the rest of his discography, "like with synths and weird sounds but [on this album] there's more trippy guitars and things get pushed to epic proportions. But I'm always trying to bring it back to my roots….I suppose I wanted to get it somewhere between what you do at home when your guard is down and then take it further, to be working with some producers but being more comfortable to do my own thing. At this point in my career no one's really telling me to wrap it up."
"If you're on tour and you're near a studio you should just record as that's the natural way to do things…we're all a little bit older and it becomes a little forced if you all meet to record, it just becomes a bit contrived…things need to be organic."
In addition to its ambitious sound, the album's epic style comes from its autobiographical nature. Collaborations with multiple musicians and producers, as well as the albums confessional lyrics, mirror the sprawling adventure of Vile's day to day life as a working and touring musician. There is indeed a vast list of impressive talent featured on the album - from producer Rob Schnapf (Beck's Mellow Gold, Elliott Smith's Either/Or and XO), engineer/producer Sean Everett (The War On Drugs and Alabama Shakes), Stella Mozgawa of Warpaint, Sonic Youth's very own Kim Gordon and folk singer/songwriter Cass Mcombs as well as Kurt's own longtime backing back, The Violaters. When Vile speaks about these collaborations - whether it be the time he spent with Steve Everett after the Violators tour ended in Utah or his sessions with Schnapf in his Mant Sounds studio in L.A - he emphasis the importance of an organic atmosphere, and its need to fit around and be apart of his day to day life. '
"I seldom go to L.A just to record," he explains, "I'd combine it with other trips, so the first time I went to L.A to work with Schnapf who did Pretty Pimpin, I'd just finished a Japanese tour so I met my family in Hawaii had a vacation and then I flew to L.A to record. Then I came back another time for something else and I like to just see who's around. If you're on tour and you're near a studio you should just record as that's the natural way to do things…we're all a little bit older and it becomes a little forced if you all meet to record, it just becomes a bit contrived…things need to be organic."
One of Vile's most valued recording sessions was the album's title track. "'Bottle It In' was such a magical moment. Everyone I worked with on it I just adore, first it was just me and Stella, then my friend Mary from Philly played harp live in like one take and then Cass McCombs showed up…I've been admiring Cass for years… it's hard to get too close to him, but what an amazing guy! I'm in awe, you can't touch his songwriting. If I had to pick a modern songwriter whose like a mysterious person it would be him! Rob Snapp had worked on his Mangy Love album, and Cass just happened to be in L.A so he swung by and did the vocals. No one really knew what they were doing but it was just all so soulful, everybody was one take. Ideally, you don't have to tell people what to play, once people are asking too many questions it just becomes completely unnatural… That's just the kinda music I like to play."
I ask him why it was that he choose that the song as the title. Was it because the rambling length emphasises the album's themes of the journey of life? He shakes his head, and explains how its magic nature, the pure power of the track sums up the energy of the work: "Because it's the centre piece of the album," he tells me. " was having difficulty naming the album so I thought of Neil Young's classic albums and how they are named after individual songs. So I was like 'is there one track that I don't want people to miss?' The sentiment conjures up the record. Someone could miss the song because it's so long and if it didn't have more significance it would be more tragic."
This organic nature of working was not only applicable to how Vile sought collaborations for the album, but was also tantamount in the writing process. He speaks of his writing style as a way of working with and around his life as a touring musician, which amounts to hours spent inhabiting that in between space between setting off and arriving:
"Everything's a journey, so if you're making the record at the same time as living your life, which means you have to travel sometimes it means you're moving and writing music whilst you're in between. A new favourite Willie Nelson of mine addresses that actually, it's called 'Still Is Still Moving To Me', it's that idea that even if you're still your brain can still be flying."
Speaking of flying, Vile admits to having written the lyrics to dreamy track, 'Hysteria' on the plane but he says that the song is not really about the literal experience of flying so much as it about the calming head space it allows him to inhabit: "I wrote the lyrics all over… at home, on the way to somewhere but I get so inspired when I'm on the way to a certain place, I had this song written and then I'm on the plane, not that I said to myself 'I'll finish this on the plane'…I don't like to force things, it just came to me, but I wrote some of my favourite lyrics that way. I can't force anything. I realised that a few years ago…."
The album's theme of epic travel - mirroring the richness of Vile's life from his close-knit family to his rewarding working life working alongside talented musicians - is of course significant when it comes to understanding the passion of the album - in a sense, it is the album's blood. But to really understand the bones, to understand the songwriting itself, how it came about and from where it flows is to look at Vile's influences. He tells me about his reading during the making of Bottle It In, how he sought out certain country music biographies: "This album is me geeking out and reading books on country music, books by Nick Tasha like Country, or Twisted Nature of Rock N Roll, George Jones' autobiography, Waylon Jennings autobiography, a book called Lost Highway by Peter Guralnick, it was all this reading about the roots of american music - definitely leaning towards the country side of things."
"I've been getting deeper into country music over the past few years - from Jimmy Rogers to George Jones - it's just pure music, some of it's cheesy but there's so much in there."
There is even a cover of Charlie Rich's "Rollin With The Flow" half way through the album which acts as the work's beating heart, unifying and highlighting that use of chirpy yet soothing guitar and poetic, wide-eyed lyrics that are synonymous with Vile's writing, as well as the country genre that he holds close to his heart: "It just all falls in line with all the books I was reading. I was just consuming tones of country music and that Charlie Rich cover just from a random, used Best Of CD, and his version is really awesome, it's a bit cheesy with the girls singing and these syrupy strings like it goes a little far with the cheese [laughs] but still the root of the song is sick! I presumed it would be the very last song on the album, that was part of my original concept but the record evolved."
Vile constantly reflects back to the idea of "going back to his roots" throughout our conversation, he mentions it earlier when we speak about his desire to write as if in private, but he uses the term again when delving further into his love of country music: "I grew up with my dad playing bluegrass and old time music, early stuff like Hank Williams but then I always appreciated that. But I've been getting deeper into country music over the past few years like from Jimmy Rogers to George Jones, it's just pure music, some of it's cheesy but there's so much in there. It's minimal posing! It's the bare bones and roots of songwriting."
That, is in fact what makes Vile's writing so excellent - although Bottle It In boasts a wealth of talented musicians and trippy, otherworldly production - its true beauty lies in the bare bones of the songwriting. It's classic craftsmanship with melodies that rouse the soul and drive through epic choruses. Vile has always had an obsession with the masters of songwriting and I ask him out his favourite artists? "It's be better to ask me about a particular artist and I'll tell you if I like them," he replies. "Theere's just so many that I love."
I touch on his admiration for hero Neil Young and Vile lights up and jumps into a tale about the two almost meeting: "The last time it was at the show I played, after the encore me and my wife followed them down the ramp, and he was followed by all these people and there's a zig-zag after the stage. He was on one level and we were on another one. So I was just like, 'You should give him this Sadies CD' - which is a friend of mine's band who he knows and it's their latest album that I played on. I just jumped off the ramp and went 'Neil here's this Sadies CD' and everyone was just like 'No!' like they didn't tackle me but they thought I was just some crazy fan, but I had literally just opened for him."
Vile isn't necessarily one to be forthcoming - like most artists who inhabit a rich inner world he isn't necessarily at home in an interview environment, but when he speaks of Neil Young he is animated and excitable, showing how those roots he speaks of, his unfiltered passion for music, wether that be writing it, study it or falling in love with it, will always be with him. How does he manage to stay motivated despite churning out albums since his teenage-hood? He answers me with a confused look on his face: "Well, It's just what I'm made to do, y'know?"
Bottle It In is out on 12 October via Matador