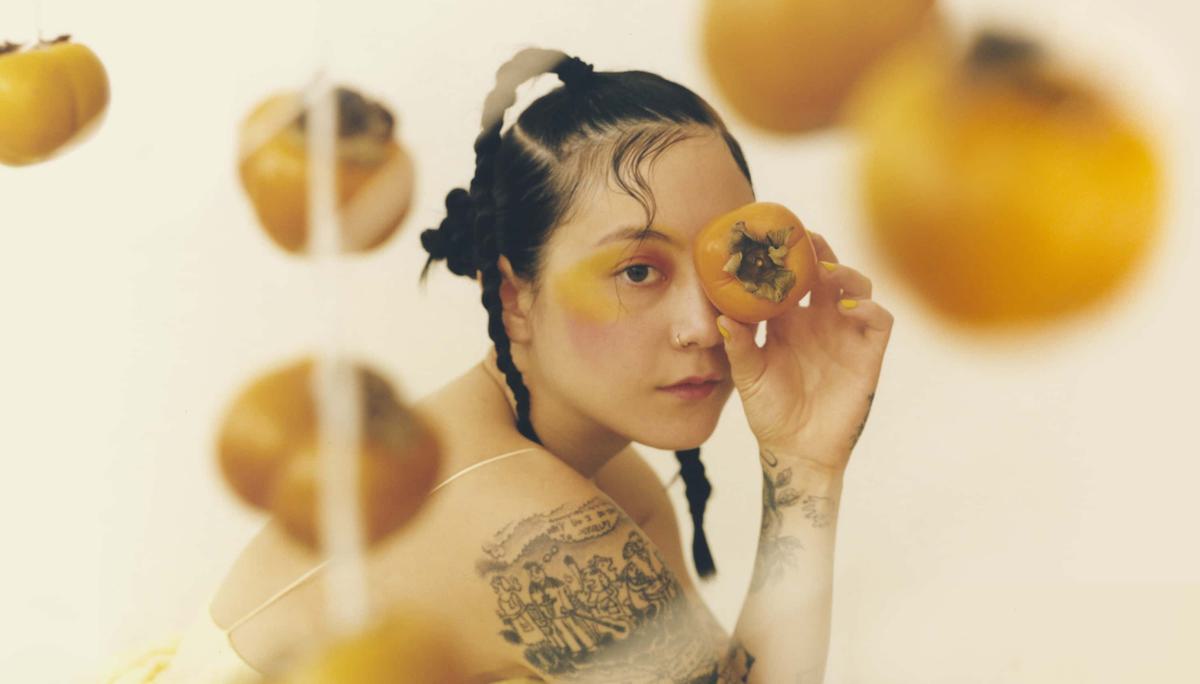 Japanese Breakfast and the ambiguities of joy
07 June 2021, 17:45
Japanese Breakfast's Michelle Zauner tells Conor Lochrie how she channelled bittersweetness into a record of celebration and joy.
"There's this stereotype that you have to mine tragedy in order to make great art. I've written about tragedy, I've written about grief, I've spent a lot of time writing about those things. But I still have joy in my life and I want to write about that too. It just seemed like a fun way to fuck with the narrative of sad indie music in general."​
So begins Michelle Zauner, otherwise known as Japanese Breakfast, as we discuss her new record Jubilee. Released last week, it's a significant departure for an artist who has been defined only by sadness and tragedy: after the death of her mother from cancer in 2014, Zauner's first two records under the Japanese Breakfast moniker, 2016's Psychopomp and 2017's Soft Sounds from Another Planet, were searing and untethered reckonings with the grief that overcame Zauner in the aftermath.
It was a cruel twist of fate for Zauner, who had hustled to make a living from music in her early twenties fronting the underrated Philadelphia indie rock band Little Big League before her mother's passing. You don't necessarily have to mine tragedy to make great art but it's what's led Zauner to the level of success that she now finds herself at; "happiness is beneficial for the body, but it's grief that develops the power of the mind," said Proust, and so Zauner fashioned her pain into art, making two records that were frank and forthright in their discussion of her mother's death.
While she continued to make music, Zauner also committed to exploring her grief through another medium. Her memoir Crying in H Mart, a homage to her mother and the Korean cooking that binds them together, was released this spring and debuted at number two on The New York Times' Best Sellers list. Born in Seoul to a Korean mother and a Jewish-American father before being raised in Oregon, the loss of her mother from her life provoked a larger identity crisis. The memoir, then, was a written act of resistance, Zauner's way of commemorating the connection that she shared with her mother as well as keeping in touch with her Korean-American identity.
After unpacking trauma for so long, you don't begrudge Zauner the catharsis of Jubilee, an exuberant and exultant record overflowing with sparkling arrangements and buoyant spirit. The album was always going to be called Jubilee, Zauner informs me over Zoom, the title being her way of emphasising a sense of celebration and joy. "My narrative as an artist is so rooted in grief and loss that I thought it would be a surprising direction to take to write an album about joy," she notes. "It's what I wanted in my life and what I wanted to write about."
Grief and loss, though, is inevitably accompanied by guilt: how can you continue to live your life, to experience moments of comfort and happiness, when a person that you loved can't experience these feelings beside you? When I ask Zauner if it was difficult to reach that headspace where she didn't feel so guilty about experiencing joy, she acknowledges that such tension isn't a new occurrence. "That's a great question because it's so difficult. It obviously gets easier with time but I actually had so much joy in my life even immediately after my mum passed. It was very bittersweet and confusing to experience any kind of happiness after something like that. I think a lot of the record is about how some of the things that you think are going to bring you joy don't end up bringing you joy in the long run."
To look at the three Japanese Breakfast album covers is to view a triptych of tragedy: Psychopomp, created in the aftermath of her mum's passing, features a picture of her mum against a melancholic blue backdrop, her hand reaching out to a person and a world that she can no longer touch; Soft Sounds from Another Planet, all dark red and black hues, moody and pensive, Zauner still ensconced in her grief; and now the bright yellow palette of Jubilee, a far more happy colour, Zauner sitting under hanging persimmons, a popular fruit in East Asian cultures. And this touch was entirely premeditated. "I thought it was a wonderful metaphor," she explains, "because persimmons start out as something bitter and unpalatable and then mature into something ripe and sweet."
No song on Jubilee defines its mission statement more than its opener, 'Paprika'. It bursts with bright brass and declarative horns, sounding like the euphoric chamber folk of artists like Beirut from the early noughties, really heralding the new epoch of Japanese Breakfast. And to place it right at the start of the album was an intentional act. "It's funny because I've seen definitions of a 'Jubilee' before as being a trumpet black of victory' so I really liked the idea of incorporating a lot more brass into this album. Once we put it together, 'Paprika' was very clearly the thesis statement of the album, both sonically and lyrically."
Zauner allows herself to be relieved of the weight of her personal life, inhabiting several vivid characters in Jubilee, including in the tender 'Kokomo, IN'. I ask Zauner if she's ever been to this place but its origins came instead from someone at her label, Evan, who grew up there. "It's not really about him but it's what we imagined this guy from Indiana's childhood would have been like! It's about a small town high school boy saying goodbye to his girlfriend who's going off to a foreign exchange programme. I thought it was a sweet sentiment, to be in love as a teenager knowing that what you have is precious and good but it can't last forever. That it's the mature and right thing to say goodbye." That the town where Evan grew up also shared its name with a classic Beach Boys song was too good for Zauner to ignore. "Beach Boys songs are always about teenage longing, naive sweetness, so it felt like a great name for that song on the record."
Talking of joy, getting Michael Imperioli to star in the video for 'Savage Good Boy' was a sublime thing for a lifelong Sopranos fan. "I had read a Pitchfork article and it was just cool to see this cool, iconic actor that was into shoegaze and Moses Sumney!" Zauner remembers. "I loved The Sopranos, my cinematographer did too, so when we thought about a dream celebrity cameo, it was Imperioli. He's also aged into a handsome silver fox of a man. And it's not really a role that he usually plays either (in 'Savage Good Boy')."
The role in question is that of a reclusive billionaire, inspired by a headline Zauner once read about billionaires building bunkers. The lyrics discuss a billionaire trying to lure a woman into coming to live with him underground. And while Zauner plays the young woman in the music video, she sings from the perspective of the billionaire, rather than the victim. When I express surprise at this, she's firm with her decision. "I've done this before. In my old band Little Big League I wrote this song called 'Lindsey' and it was written from a jealous man's perspective. I'm really fascinated by the villain's perspective. There are parts of the human condition that are exaggerated that leads them to do what they do, be it a murder or a theft. In the case of a billionaire, what rationalised them to hoard all this money when there's so much suffering in the world? I thought it was a really interesting perspective to take on, pondering how they rationalise this."
Nothing, to Zauner, is black and white, belonging instead to a conflicted middle ground. "I think with great narratives, there is no true right or wrong. Actually The Sopranos is a great example of that: these are killers, these are abusive men, but you're rooting for these anti-heroes in a way. I think that's what makes it so scary, you can see parts of yourself in people that do such bad things. Every person is capable of killing someone, or doing bad things. What keeps us from doing these things is what I was fascinated in exploring." This ambiguity shines in "Savage Good Boy's" lyrics: the lines "When everybody's gone / Want you to be the one that I come home to / The one that's up waiting," at first glance, are imbued with a romantic yearning that one would never suspect came from such a dark story.
Grief, however, is never too far away; as the writer David Foster Wallace said, "Everything I ever let go of had claw marks on it." And the second half of Jubilee is notably darker, understandably so. "In Hell" (a companion piece to 'In Heaven' from Psychopomp) is about euthanizing her dog and comparing this to what it was like to snow my mum under with hydrocodone when she was in a coma. "Just light, fluffy stuff," Zauner remarks wryly. Her expansive and expressive sombre guitar solo at the end of "Posing for Cars", at the very end of the album, was inspired by Wilco. "There's a song of theirs called 'At Least That's What You Said' which is a quiet and stripped down scene between two people really struggling to communicate with one another. I always felt that the guitar solo expressed everything that couldn't be said and I felt that was what I was trying to do with my own solo."
Living in Eugene, Oregon, Zauner grew up listening to classic Pacific Northwest artists such as Death Cab for Cutie, Built to Spill, and Elliott Smith. In their intense exploration of processing grief, it strikes me that Japanese Breakfast bears some similarity to the work of Mount Eerie, whose 2016 album A Crow Looked At Me, written in the wake of of Phil Elverum's wife's death from cancer aged just 35, is one of the most harrowingly beautiful meditations on grief and loss in recent memory. "I love Mount Eerie, oh my god," Zauner says, her tone one of deeply felt appreciation. "I have a picture of me pulled over on the side of the road with tears streaming down my face after listening to that record. Driving back from Costco! That album was a huge influence on me. I think there's this really intense and mundane confessional style to his writing that really resonates with me.
To garner inspiration for the sonic grandeur of Jubilee, though, Zauner had to look elsewhere. "I was really into Kate Bush," she admits. "I really like how bombastic she can be sonically, how bizarre and surreal her lyrics are. I wanted to find a version of that for myself in some way." When talk turns to what genre to classify Jubilee under (she's very much an indie rock performer drifting through pop in the album, touching on everything from dream pop to synth pop), Zauner has a bone to pick. "It's funny because people have been saying to me, 'this record has more of an eighties feel', but it's literally just one song that has that feel! I think that the rest of the record feels classic to me, that's what I was after. Songs like 'Tactics', 'Kokomo, IN', even 'Paprika' to a certain extent, have this timeless, almost Beatles, Beach Boys, Randy Newman kind of vibe. I just wanted to make a good and timeless album."
The conversation inevitably swivels to her memoir. Zauner has essentially been caught up in two press cycles over the past few months, meaning some overlap was always going to occur between the two; it's why her general receptiveness and conviviality during our conversation, coming as it did at the denouement of the album press cycle, is appreciated. It always felt to Zauner that she had more left to say about her mother's death away from music. "It's such a big moment," she says. "My whole life and family fell apart. I can really look at that moment as before and after, you know? I also started writing about it because it was an interesting thing that had happened. It started with this acute idea of 'why am I cooking Korean food'. I wrote about that experience in long form prose and it won an essay contest at Glamour magazine. Around that time though, Psychopomp was starting to take off so I put the writing on hold for a while."
The road to Crying in H Mart's publication had several other stages to pass through. In 2017, Zauner spent six weeks travelling and writing in Korea, and it was here that she really felt that it could become a book. One year later, the New Yorker published the first chapter and a whirlwind of response followed: she got a literary agent, sold the rights to the book, and started writing it in earnest. "It was a really long process that was intertwined with all three of my records in some way or another," she remembers.
Having another artistic outlet to explore her grief presented challenges. "The book was a more comprehensive look at everything that had happened. It wasn't enough just to write a record about it. It was a very different experience. There's not much left for interpretation in a book which is both a comfort and a liability. Would Jubilee have sounded different if she hadn't written the memoir? "Maybe," Zauner concedes. "It really felt that I had finally said everything I needed to say about grief and loss after I wrote this book. That definitely assisted in Jubilee being what it is. Even when I made Soft Sounds from Another Planet, I was like, 'I've got to stop writing about grief'.
With Korean culture inclined to privacy, there was always a worry as to how the book would be received. "I was most worried about the memoir," Zauner says. "With the memoir, there wasn't as much to hide behind so I was definitely nervous about it being translated into Korean and how Korean people would receive it. When Korean-Americans started reaching out about how much they identified with the memoir though, she was placated. "It's been very touching to see how the book's impacted the Korean-American community. I was probably most concerned about what they would think about."
Jubilee was supposed to come out in the summer of 2020 but it was pushed back a year because of the coronavirus pandemic. Considering it from this side of things, though, it feels like a lucky twist of fate for the album. "I think narratively it makes a lot more sense for the album to come out after the book in a way," she insists. If the three Japanese Breakfast records are a triptych, Crying in H Mart is the overarching companion piece that says in words what all three, in their own inimitable way, say in sound.
As she enters this new decade, the future of Zauner feels filled with unrestrained possibilities, something that was lacking when her art had to be devoted to processing grief. She could make a fourth Japanese Breakfast album, building on this joyous landscape that she's now created; she could focus on writing, perhaps even exploring fiction for the first time. "I hope that I never have to choose one over the other," Zauner maintains. "I feel very much part of both and I want to continue to do both things in the future."
Given that she's directed many of her own music videos as well, could filmmaking be an avenue to explore? "Filmmaking is so hard, it feels like the apex of the mountain in the creative arts in some way. It's the most expensive, widely-interacted medium that we have. It's very intimidating." When I ask if she'd like to adapt her memoir, Zauner says that she thinks that it may happen one day. Now 32, Zauner expresses her happiness with where things are at for her currently. "It's hard not to feel ancient in this industry when you're in your 30's but I'm at a place in my life where I'm happy. Obviously, you're always just curious about how people will look back on you and your legacy but I'm pretty happy with where I've landed."
To return to Jubilee's best song, "Paprika", there's a section that feels key to capturing the distinction between Zauner the artist and Zauner the person. "How's it feel to stand at the height of your powers / To captivate every heart?...Oh, it's a rush!" she cries out, before coming back down in the interlude: "But alone it feels like dying / All alone I feel so much." "It's wild to me the strange ways that music journalists - although you did it more correctly - have interpreted the lyrics," she laughs. "That's what it is, it's about the two parts of me. My work is still my work, it's still a job. Sometimes I forget to relish what I do. Like the feeling of playing a show to thousands of people who all know the lyrics and you mean something to them. I forget to enjoy that feeling sometimes. So the song is a conversation between these two: to remember to work hard but also to take a moment and really appreciate it all." As she moves into this bright new period for her art, unburdened of the restrictions of having to focus on grief and pain, perhaps it will be easier for Zauner to look around and enjoy it all. It's certainly something that she deserves.
Jubilee is out now via Dead Oceans